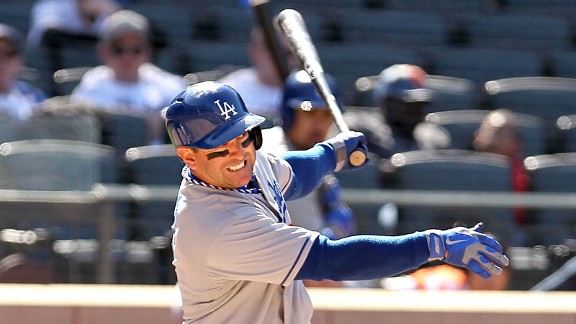 Mike Stobe/Getty Images
LOS ANGELES -- It tells you a little something about this Dodgers season that Nick Punto has as many home runs, one, as Matt Kemp. It tells you a little something that he has a higher OPS than Kemp, Adrian Gonzalez and Andre Ethier, that he has more walks than leadoff man Carl Crawford.
It tells you something that Tuesday night, some fans at Dodger Stadium were chanting for Punto while others were booing Kemp.
Those things tell you, of course, that this has been a dreadful start for the Dodgers offense, averaging 3.4 runs per game, worse than all but the Chicago White Sox and Miami Marlins.
But it also tells you Punto is having a pretty nice little run for himself. In fact, at age 35, one of the scrappiest of the scrappy utility guys is having a career run, reminiscent of his play for the St. Louis Cardinals World Series team two years ago.
Punto is batting .361 and has been so hot, manager Don Mattingly has used him as the superglue of his injury-ravaged infield, moving him around, but playing him in 14 straight games.
Where on Earth did this come from? It was imported from Italy, sort of. Punto played for the Italian team in the World Baseball Classic. After just a few weeks of spring training, Punto left the Dodgers to play for his grandparents' homeland.
Right away, he had to face major-league caliber pitching -- some of the best in the tournament, from the USA, Mexico and Canada, the teams in Italy's bracket. It's not easy to jump off the couch and go face Ryan Vogelsong.
"You're not ready for that. You're not ready for those games," Punto said. "I just said, 'You know, I'll just stand here, not take a step and see the ball, hit the ball.'"
Punto did what any veteran ballplayer would -- or maybe, should -- do in that situation. He simplified. He shortened his swing, eliminating his stride and giving him a quicker path to the ball.
Punto batted .421 in the WBC and it didn't stop when the Puerto Ricans knocked Punto and Italy out of the tournament. When he got back to Dodgers camp, he showed his new swing to hitting coaches Mark McGwire and John Valentin, who both loved it. Now, he's riding it as long as it lasts.
"It's a lot of fun, but I wish I would have thought of this 10 years ago," Punto said.
In a perfect world, of course, Punto wouldn't be playing every day. In a perfect world, Hanley Ramirez wouldn't have been injured twice in the first six weeks, Luis Cruz wouldn't be batting .090 and Mark Ellis wouldn't have hit the disabled list. The Dodgers' world, as we've seen by their 13-20 start, is far from perfect at the moment.
"When you go into a season, you don't plan on playing Nick Punto six days a week," Mattingly said. "You feel like you're better off if he plays three."
Mattingly wasn't criticizing Punto's abilities. He was pointing out his value as a spot starter and double-switch candidate. He was also expressing the worry -- never far from Mattingly'x cortex these days -- that playing the veteran so frequently could get him hurt. That's what Mattingly thinks happened with Jerry Hairston Jr. last season. Before last August's trade with the Boston Red Sox, Punto would sit for nearly two weeks without playing. The life of an American League bench player can be a dull one.
"You don't want to run him into the ground," Mattingly said.
But, as long as Punto stays healthy and as long as almost everyone else stays hurt, he's given Mattingly and the Dodgers a pleasant surprise. They haven't had many of those.