Highlights from the Dodgers' Cactus League loss to the Giants on Tuesday:
Or, more to the point, lowlights.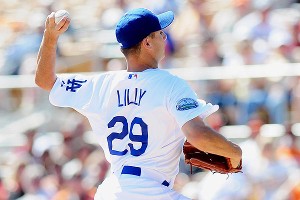 Jennifer Hilderbrand/US Presswire
Ted Lilly got rocked for five runs on six hits over two innings
Ted Lilly wasn't very good. The veteran lefty got rocked for five runs on six hits over two innings, including, in typical Lilly fashion, two home runs in the first inning alone. In fact, the first batter he faced this spring, Melky Cabrera, yanked one not only over the wall, but out of the ballpark, into the front yard of the Dodgers' offices beyond left field.
"I know it's spring training, but you're still looking for (good) results,'' Lilly said. "I went into it planning on really trying to execute my fastball to both sides of the plate, and I really didn't intend to throw very many breaking balls. But when you can't locate your fastball, it puts you in a position where you have to throw the breaking ball.'' ...
Ronald Belisario took the mound in a Dodgers uniform for the first time in a year and a half, coming out of the bullpen to pitch the fourth inning. He gave up a couple of two-out hits, one of which was an infield single by Brett Pill, but no runs. He still has a long road back, though. Belisario has to serve a 25-game suspension when the regular season starts, and at some point the Dodgers have to move him off the restricted list onto what already is a crowded 40-man roster.
Manager Don Mattingly was asked after the game what he thought of Belisario. "He was all right,'' Mattingly said, adding that it's way to early to start making judgments on any relief pitcher. ...
Tim Federowicz, the Dodgers' catcher-in-waiting who has no shot at the Opening Day roster but a reasonable chance to be in the majors sometime this year, has caught the final five innings of each of the team's first two Cactus League games. In keeping with pretty much everything I hear about him, he has yet to hit a ball out of the infield but possesses solid defensive ability.
Federowicz threw out Gary Brown trying to steal second in the eighth inning, this after Federowicz actually bobbled the ball in transferring it from his mitt to his hand. The throw was an absolute bullet -- as was the one he threw into center field later that inning trying to nab Juan Perez, although that didn't count because the batter had struck out for the final out of the inning.
That's the other thing I'm hearing about Federowicz, from both Lorenzo Bundy, his manager at Triple-A Albuqerque after the Dodgers acquired Federowicz from Boston at last year's trading deadline, and from Travis Barbary, the Dodgers' roving minor league catching instructor: Federowicz, like pretty much every prospect in camp, needs to make sure he doesn't try too hard to impress the coaching staff and instead just be who he is and show what he can do. His time will come, whether it's this year or next year.
Of course, it will come sooner if he shows he is ready to produce offensively at the major league level. He was great at Albuquerque after the trade -- .325 average, six homers, 17 RBI in 25 games and a stellar .431 on-base percentage -- but that's one of the most hitter-friendly environs in all of pro ball. Called up in September, Fedex, as they call him, had just two hits in 13 at-bats, a small sample size that proves nothing other than that his future is still ahead of him.
Right now, though, he is in big league camp. And he will play a lot, enough for Don Mattingly and Ned Colletti to develop informed opinions about what he is and how much further he has to go. ...
The Dodgers (1-1) hit the road for the first time on Wednesday, playing Manny Ramirez and the Oakland Athletics at Phoenix Municipal Stadium. Aaron Harang will make his Dodgers debut.