This post won't be well received. That much, I feel safe in predicting.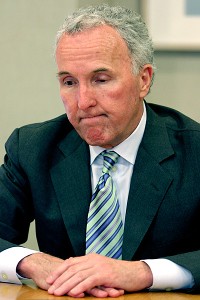 AP Photo/Mary Altaffer
Frank McCourt hasn't left the Dodgers' cupboard bare on his way out. Quite the contrary.
But here's the deal: I want to say a few nice words about Frank McCourt.
I know, I know. I have piled on as much as anybody over the past couple of years. And no, there is nothing, absolutely nothing, that can save McCourt's legacy as owner of the Dodgers at this point. No amount of spin, from inside or outside the McCourt camp, can change the fact that the past eight years will be remembered as one of the darkest periods in the franchise's otherwise proud history, the four playoff appearances notwithstanding.
But the widely held assumption going into the winter -- including the assumption here -- was that the cupboard would be left totally bare, that McCourt would gut the team in preparation for the sale, leaving it in such bare-bones shape that it might take the new owner a couple of years to build it back to a competitive level.
Well, that hasn't happened.
The Dodgers signed nine free agents this winter to a total of $45.35 million worth of contracts. And yes, all but $18.85 million of that won't be paid out until 2013, long after McCourt is gone, but general manager Ned Colletti was able to fill the holes he had to fill. The Dodgers also avoided going to any arbitration hearings by signing their five eligible players to a total of $198.325 million in contracts -- including that monstrous eight-year, $160 million deal given to Matt Kemp -- although admittedly, only $35.175 million of that will be paid out this year.
With an April 30 deadline in place for completing the sale of the team, McCourt isn't even going to be on the hook for much more than a tiny percentage of this year's payroll, so in effect, he was spending someone else's money by ponying up for all those contracts. But an argument can be made that he could have increased the value of the franchise for sale purposes by keeping the payroll as low as possible -- remember the whole Vladimir Guerrero fiasco, back when Frank was in the process of buying the team?
There were two recent developments, though, that seem to cement the idea that McCourt wanted to at least leave the franchise in a position to compete.
First, the Dodgers really did make a run at free-agent first baseman Prince Fielder, who was still unsigned by late January, and they might even have gotten him to accept their seven-year, $160 million offer if the Detroit Tigers hadn't lost Victor Martinez for the season, necessitating their late entry into the Fielder sweepstakes. They signed him for nine years and $214 million.
Second, the Dodgers avoided arbitration with reigning National League Cy Young Award winner Clayton Kershaw by signing him to a two-year, $19 million deal that McCourt essentially had no incentive to give him. Kershaw had filed for arbitration at a ridiculously high figure for a first-time eligible player, $10 million. That probably was a strategic ploy designed to create a more favorable settlement because Kershaw would have had little chance of winning an arbitration hearing when asking for so much money.
McCourt, then, very easily could have instructed Colletti and his lieutenants to simply sit on their hands, wait for a hearing they were almost certain to win and leave Kershaw at $6.5 million -- the figure at which the club filed -- for 2012. Instead, under the agreed-upon deal, Kershaw will get $7.5 million this year.
The harsh reality for McCourt is that nothing will save his legacy in Los Angeles. He will always be remembered as the guy who ruined the Dodgers, who funneled team profits into his lavish lifestyle, whose very public and very expensive divorce became a national embarrassment, who ran the team so poorly that Major League Baseball had to take over for a while, leading McCourt to put the team into bankruptcy.
But it could be worse. Again, the widespread assumption when McCourt agreed to sell the team was that the Dodgers would be gutted in preparation for the sale, and even if there suddenly was a brighter future for the franchise, the 2012 season would be a write-off before the long rebuilding process could really begin. The Dodgers aren't exactly a powerhouse, but the 2012 season isn't exactly a write-off, either. And as much as it might pain people to give McCourt any credit for anything, maybe he does deserve a small dose of it for that.
Just sayin'.