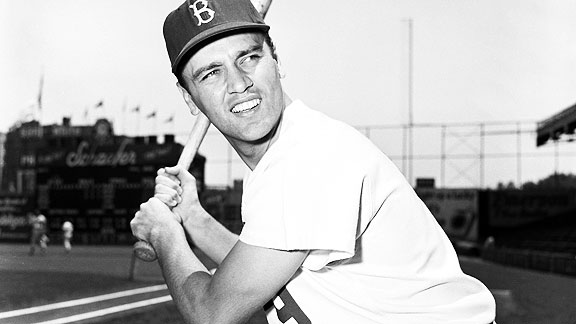 Getty Images
Gino Cimoli
Gino Cimoli, the first batter in Los Angeles Dodgers history, passed away Saturday at age 81, according to the San Francisco Chronicle.
Cimoli came up with the Brooklyn Dodgers in 1956 at age 26 and was the leadoff batter in the inaugural major league regular season game in California, on April 15, 1958 at Seals Stadium in San Francisco. Cimoli struck out in Los Angeles' 8-0 to the Giants.
"Gino was a part of history not just as a member of both the Brooklyn and Los Angeles Dodgers, but throughout the game of baseball because of his role in the first-ever big league game on the West Coast," a Dodgers spokesman told ESPNLosAngeles.com when asked about the Chronicle's report. "The rivalry between the Dodgers and Giants picked up where it left off in New York, and Gino was the fortunate one to lead off that afternoon in his hometown. He will undoubtedly be missed by all who knew him, and our thoughts and condolences go out to his family and friends."
Cimoli batted .269 with 19 homers in three seasons with the Dodgers, before going on to play for the Pittsburgh Pirates, Milwaukee Braves, St. Louis Cardinals, Kansas City A's, California Angels and Baltimore Orioles in a career that ran through 1965. In 10 seasons, he had a .265 average with 808 hits and 44 home runs.
Cimoli's Los Angeles highlight came on Sept. 1, 1958, when he went 4 for 7 with a walk and scored the go-ahead run in the top of the 16th inning against the Giants, in a game San Francisco rallied to win. The Dodgers traded Cimoli to St. Louis after the 1958 season for Wally Moon and Phil Paine.
Cimoli, who went 5 for 20 with two walks for the Pirates in the 1960 World Series, had a pinch-hit single to lead off the bottom of the eighth inning in Pittsburgh's memorable Game 7 victory. As a rookie, he was on the Dodgers' 1956 World Series team but did not bat.
More from John Shea in the Chronicle:
... Cimoli was a Brooklyn Dodger but a San Franciscan at heart. He was inserted atop the lineup by manager Walter Alston, who knew the significance of the North Beach legend and kid from Galileo High School becoming the first big-league batter following the Giants' and Dodgers' relocation from New York.

Cimoli died Saturday morning of kidney and heart complications. He was 81.

"Gino was just an all-around nice guy," said friend Bob Tobener, who had helped organize functions in recent years at which Cimoli spoke. "He was a great athlete. Out of high school, people said he was a better basketball player than baseball player. . . . He was a really good hitter." ...

... His daughter, Cherryl Keast, said, "Our life totally revolved around baseball. Baseball was our life, not that that was a bad thing. We lived where he played."