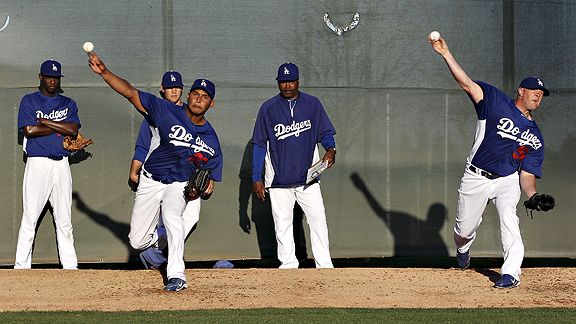 Christian Petersen/Getty Images
Carlos Monasterios and Jon Link get some work in before Friday's game.His left knee is aching. If he were an old man, we'd just assume rain was coming, but he's a ballplayer, so instead James Loney will have an MRI performed, reports Tony Jackson of ESPNLosAngeles.com:
... manager Don Mattingly said he wasn't overly concerned.Mattingly said Loney first began to feel it during stretching exercises before Thursday night's game against the Cincinnati Reds, then felt it again after playing four innings on Friday night against the San Francisco Giants.

"He feels it when he gets to a certain point in his stretching," Mattingly said. "It seems like it [isn't serious], because he isn't feeling any pain, and he played last night. But these guys know their bodies pretty good, and with the knee, we want to be a little careful. We just want to find out what it is."

Team physician Dr. Neal ElAttrache is expected to arrive at the Dodgers' spring training facility sometime on Saturday, and Mattingly said he hoped ElAttrache would have a chance to examine Loney's MRI results and render an opinion by the end of the day. ...
* * *
Mike Piazza talked to Adam Rubin of ESPNNewYork.com about potentially becoming a baseball team owner someday.

From the Dodger press notes: "The Dodgers would like to wish a very happy birthday to right-handed pitcher Mike MacDougal, who turns 34 today. MacDougal shares his big day with former Dodgers Kevin Brown, Paul Konerko and Chad Fonville. A little known fact is that MacDougal's given name is actually Robert Meiklejohn. Meiklejohn is his mother's maiden name. Now you know. "
* * *
Rafael Furcal, SS
Casey Blake, 3B
Andre Ethier, RF
Matt Kemp, CF
Jay Gibbons, DH
Juan Uribe, 2B
Rod Barajas, C
Russ Mitchell, 1B
Gabe Kapler, LF
(Clayton Kershaw, P)