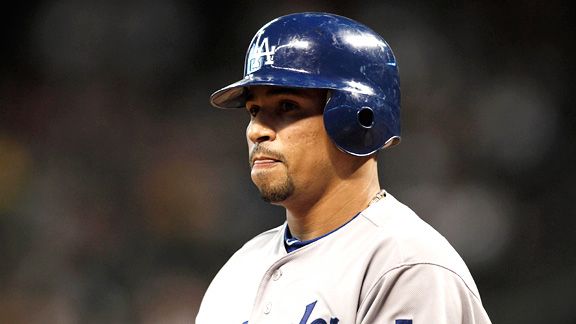 Brent Davis/US Presswire
Rafael Furcal has a .217 on-base percentage and .210 slugging in 107 plate appearances this season.
This season, Miles has started in the No. 1, 2, 3, 5, 6, 7 and 8 slots in the batting order.
Tony Gwynn Jr., LF

Jamey Carroll, SS

Andre Ethier, RF

Matt Kemp, CF

Aaron Miles, 2B

James Loney, 1B

Juan Uribe, 3B

Rod Barajas, C

Ted Lilly, P
Rafael Furcal's post-disabled list slump has reached 3 for 34 (.088) with three walks and no extra-base hits. It's the kind of slump that can happen to the best of 'em – and as far as the 2011 Dodgers are concerned, consistently seems to.
On balls hit beyond the infield this entire season, Furcal is 16 for 40 (.400) with a .900 OPS. Sounds pretty good, right? Well, compare that OPS to his previous five seasons as a Dodger on balls to the outfield.
2010 1.573
2009 1.388
2008 1.817
2007 1.222
2006 1.494
It's probably not overstating to say that Furcal is not hitting the ball with much authority this year. Is it physical? And if so, how permanent?