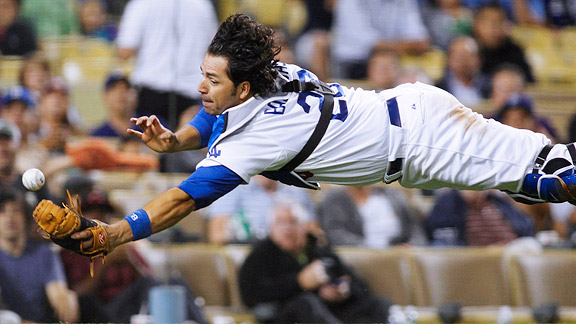 Danny Moloshok/AP
Rod Barajas dives but misses a foul ball hit by Colorado's Aaron Cook during the sixth inning.The Dodgers' four-game winning streak prompted some questions from fans here and there on the Internet about whether Ned Colletti should or would consider himself a buyer again.
It's uncanny what happens when Hiroki Kuroda is on the mound, isn't it? Six innings, one run allowed, and yet another loss. I'll update my recap of his last start:
Kuroda rallied to put together another decent outing, before getting his 12th 13th loss of the season. He has a 6-1213 record despite 1314 quality starts. He made a couple of mistakes, but with this offense, you just can't do that.
Since May 22, Kuroda is 1-10 with a 3.38 ERA. Kuroda may truly be the unluckiest above-average pitcher in Los Angeles Dodger history.