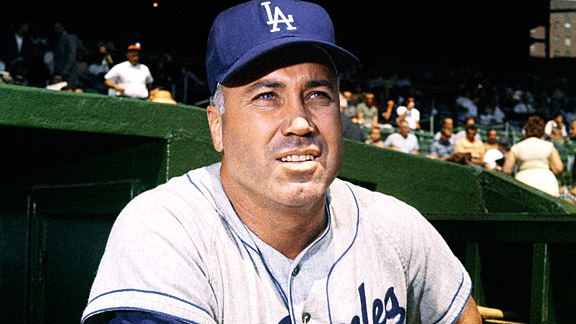 AP
Duke Snider
Dee Gordon, SS

Jamey Carroll, 2B

Andre Ethier, RF

Matt Kemp, CF

Aaron Miles, 3B

Casey Blake, 1B

Rod Barajas, C

Tony Gwynn Jr., LF

Ted Lilly, P
Tonight, the Dodgers honor Duke Snider, who passed away in February:
The Dodgers will celebrate the life and career of the late Hall of Famer Duke Snider with pregame ceremonies honoring the franchise's all-time leading home run hitter and special presentations throughout the game. In addition, fans at the game will receive a Duke Snider bobblehead, presented by State Farm, and will be able to pose for photos with Snider's Hall of Fame plaque (in Lot G Autograph Alley area from 5:10 p.m. to 6:30 p.m.), which is making a rare trip to Dodger Stadium from the National Baseball Hall of Fame and Museum in Cooperstown, New York for the event.

Snider's wife Bev, four children, Kevin, Kurt, Pam and Dawna, several grandchildren and other family members will all be at the game and will participate in the pregame ceremonies.
Also participating in the Kids Run onto the Field segment tonight will be Young Master Weisman. Running across the field in unpredictable directions was one of his favorite things to do at the end of coach-pitch practice, so it seems fitting. He's excited.