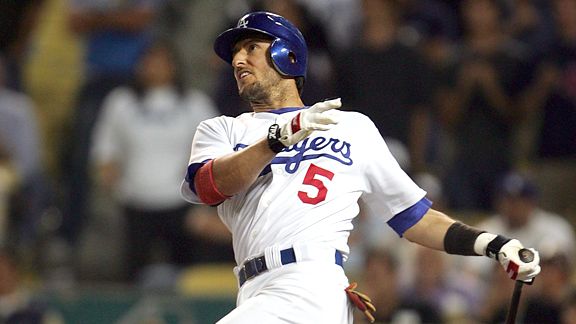 Jeff Gross/Getty Images
Nomar Garciaparra follows through in the 10th inning, Sept. 18, 2006.Nomar Garciaparra, whose place in Dodger lore was cemented with his game-winning home run in the 4+1 game, announced his retirement today. He is moving on to work for ESPN as a "Baseball Tonight" and game analyst.
Continuing the theme of the day, Garciaparra had nine walkoff hits in his career and five in his three Dodger seasons — four of them in 2006. Garciaparra had another game-winning home run six days after the 4+1 game.
Rob Neyer of ESPN.com is among those with more on Garciaparra.
* * *
Memories of Willie Davis have dotted the Internet. Here are a selected few, provided by Tony Jackson of ESPNLosAngeles.com, Phil Gurnee of True Blue L.A., Buster Olney of ESPN.com, Neil Paine of Stat of the Day and Bruce Jenkins of the San Francisco Chronicle. Also, Steve Dilbeck of Dodgers Blog interviewed former Dodger owner Peter O'Malley about Davis. In addition, here's a link to one of my favorite pieces, the 2007 SI.com column I wrote about Vin Scully in which Davis' 31-game hitting streak played a prominent role.

The Dodgers' Taiwan sojourn left behind very few infielders in Arizona, Eric Stephen of True Blue L.A. notes.

Ivan DeJesus, Jr. is the subject of the latest prospect profile at Memories of Kevin Malone.

Vin Scully Is My Homeboy documents his trip to Camelback Ranch. Love the picture with George Foster.

Forty years ago today, Ross Newhan of the Times celebrated the potential of the Dodgers' young infield of "Billy Buckner, 20, Bill Grabarkewitz, 24, Bobby Valentine, 21 and Bill Russell, 21." (via the Daily Mirror)

Don Mattingly had this to say to reporters about his Dodger future:

"Everything will come off of what Joe does. I talked to the Dodgers after my first interview with Cleveland. They expressed that they wanted me to be a part of their future. Yes, the word 'manager' was brought up."I like it here. I like California. Nothing definitive was said or done. ... I'm not worried about money or things like that right now. I'm worried about our ballclub and soaking up as much as I can. I know where I want to go, but I have to keep my priorities straight."