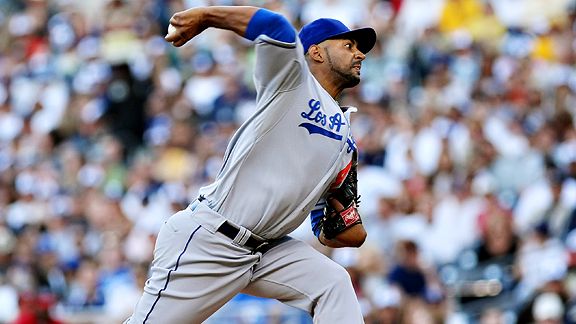 Stephen Dunn/Getty Images
Cory Wade's 2009 season still looked bright when he bailed Hiroki Kuroda out of a bases loaded jam in his first appearance of the year April 6, but things began going south soon after.
It says something about the disappearance of Cory Wade from the radar that I didn't rush to blog about his impending shoulder surgery. Okay, it also says something about my crazy schedule, but you get the idea.
Initial estimates are that Wade will be out for three months, though it's too soon to say whether that's too long or too short a guess. In any case, we're talking about a guy who's still only 26 years old. Hopefully they can solve whatever's bothering him and get him back closer to the form that made him such a critical part of the Dodger bullpen in 2008.
* * *
POTUS potables: Great reaction piece by Josh Fisher of Dodger Divorce to Jamie McCourt's Oval Office ambitions.
... My first instinct on this is that it's being blown out of proportion. This is probably just the daydream of a very wealthy woman. We all get carried away. It's just that most of us don't have the power to make people indulge us and create action plans for carrying out our whims. And, it's quite safe to say, our delusions of grandeur rarely reach as far as attaining the highest office in the world.

What bothers me more about the current situation is Jamie's attempt to spin all the negative publicity into a the-world-is-against-me stance. She's repeatedly talked about how she doesn't want the litigation playing out in the public arena. ...

... So, if you're following along at home: Jamie actively and intentionally put herself in the public eye as an owner of the Dodgers. You'll remember that among the perks she's seeking compensation for are professional makeup and table sponsorship funds for her many community and charity appearances. When the attention was positive and served her own ends--altruistic or otherwise--she sought the public eye.

Now that the attention is not so kind, she portrays her plight as the unfortunate acquisition of "unwanted celebrity." This is either naive or outright manipulative. Jamie has a habit of wanting things both ways; she wanted to be protected from creditors' claims in case the businesses failed, but now seeks half the businesses' worth. She desired attention--was paid to draw attention--when coverage was positive, but claims to be the victim of "unwanted celebrity" now that coverage isn't so rosy. ...