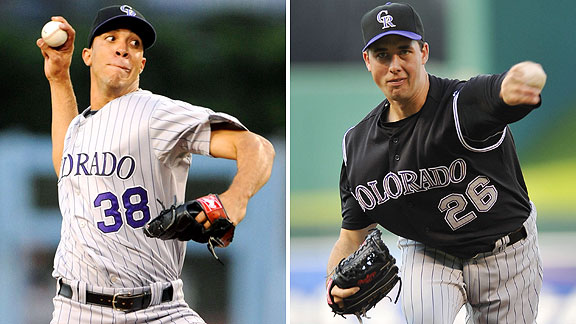 US Presswire
Ubaldo Jimenez, 26, is coming off a banner 2009 season for the Rockies, while Jeff Francis is back on the disabled list after a setback in his attempt to return to game action for the first time since September 12, 2008.
First, here are the 25-man Opening Day rosters (along with a few names of players lurking underneath) for the five National League West teams, followed by some thoughts on the division.
When compelled to do so by ESPN.com, I picked the Dodgers to win the NL West, but not with any conviction. I definitely respect the talent in Colorado – shortstop Troy Tulowitzki, for one, has become an MVP candidate at age 25 – and feel that, at a minimum, the difference between the two teams is small enough at this point that either team makes sense as a favorite.
In my darker moments, I can envision an everything-goes-wrong scenario for the Dodgers that condemns them to a repeat of the 2005 nightmare. (Yes, I can get that dark.) But you could dream up doomsday scenarios for any team.
The return of Colorado pitcher Jeff Francis to the disabled list this weekend was yet another reminder that McCourts or not, just because the Dodgers have problems doesn't mean other teams won't have them too. Colorado begins the coming season without its top reliever (Huston Street) and someone who was formerly their top starter. The Rockies obviously aren't dependent on Francis, whose last good year was 2007 and who sat out in 2009 when Colorado won 92 games. But his absence is another sign that the Rockies won't be immune to depth issues. Both the Dodgers and Rockies have the talent to win the NL West, but both need things to go right.
By comparison, however, Arizona, San Diego and San Francisco need many more things to go right.
A year ago at this time, it was easy to find predictions that the Giants would finish in last place because of their poor hitting, but I didn't see such a dire result happening with the strong pitching they had. Now, San Francisco is, for those who don't believe in Colorado, a trendy pick to win the division. Considering the Giants have hardly improved their offense in the past 12 months, I'm not seeing this happening either. The Giants surely have the ability to stay in almost any game they play – although the strength of a rotation that has the once-great Barry Zito and the inconsistent Jonathan Sanchez has probably been overrated by those who judge entire pitching staffs by their aces – but San Francisco still lacks a lineup that makes me think they can score sufficiently. I might even rather suffer through the indignity of Vicente Padilla as an Opening Day starter than get worked up over the John Bowker vs. Nate Schierholz Spring Training battle to start in right field for San Francisco. You have to love Pablo Sandoval and pay a healthy respect to some of the others (including minor-league catcher Buster Posey), but this still looks like a third-place team on paper.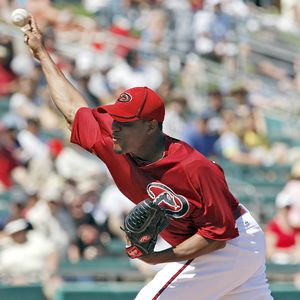 Ed Andrieski/AP
Edwin Jackson had a 5.45 ERA in the final two months of 2009.
The Diamondbacks are led by the one player who might make Matt Kemp fans jealous – 22-year-old rightfielder Justin Upton – but the state of Arizona's starting pitching should make Dodger supporters feel more secure about theirs. After Dan Haren, Arizona has Edwin Jackson (a sentimental favorite of mine whose 2009 second-half resembled Chad Billingsley's), Ian Kennedy (6.03 career ERA in 59 2/3 career innings) and Rodrigo Lopez (5.49 ERA in 298 1/3 innings since 2006) – before they even get to figuring out who will fill out their rotation. A first-rate second-half comeback from Brandon Webb could turbo-boost the Diamondbacks, but it's hardly anything to feel certain about. Though there are some great players in Arizona, I see a team as likely to return to last place as it is to ascend to first.
San Diego is a fairly universal choice for last place, and though it's not set in stone, I don't see enough in the organization right now to be the one to make the case otherwise. I'll just expect that no matter where they are in the standings, they'll give the Dodgers problems.
Anything can happen in 2010, but if Fate doesn't get crazy, there's a two-team race in the NL West between the Dodgers and Rockies. Neither team should feel insecure or overconfident; both should gear up for a wall-to-wall battle.