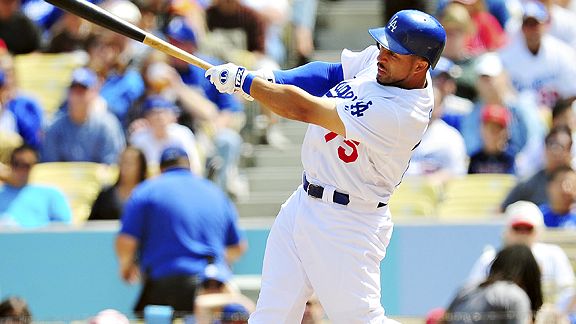 Gary A. Vasquez/US Presswire
Xavier Paul
Paul plays
Russell Martin, C

Xavier Paul, RF

Manny Ramirez, LF

Matt Kemp, CF

James Loney, 1B

Casey Blake, 3B

Blake DeWitt, 2B

Jamey Carroll, SS

Hiroki Kuroda, P
After three days of hoping and mulling, the Dodgers have placed Andre Ethier on the disabled list with his fractured right pinky-tip (news via an e-mail from the Dodger PR staff), and called up outfielder Xavier Paul from Albuquerque.
Paul has an .808 OPS in 47 career major-league plate appearances. For the Isotopes, he came back from a one-day absence Sunday to go 3 for 5 Monday, raising his minor-league OPS this season to 1.030.
Ethier leads the National League in batting average, on-base percentage, slugging percentage, OPS, adjusted OPS, total bases, home runs (tied) and RBI.
Elsewhere ...
Update: From the Dodger press notes - "Last night, the Dodgers allowed three or fewer runs for the eighth straight game, the first time they have done so while winning all eight contests since June 10-18, 2003. The run also ties the longest such streak for any team managed by Joe Torre in his 29 seasons as a big-league manager. Torre's 1998 Yankees pulled off this feat from June 2-10 of that year in the midst of a nine-game winning streak and on their way to 114 wins. The Dodgers had a 10-game winning streak while allowing three runs or less from April 20-30, 1980. ... Los Angeles hurlers have held the opposition without an extra base in consecutive games for the first time since Sept. 5-6, 2008."