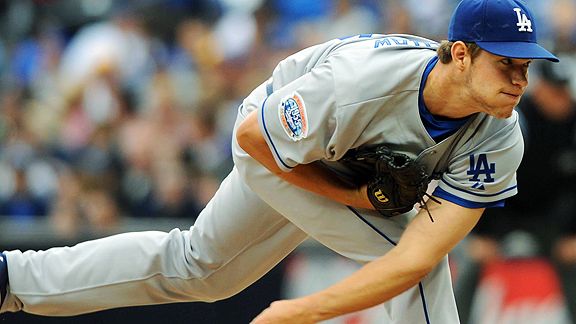 Christopher Hanewinckel/US Presswire
Clayton Kershaw is averaging 105 pitches per game in nine starts this season. Chad Billingsley averaged 110 in his first nine starts of 2009.
Who's Dempster diving?
Rafael Furcal, SS

Russell Martin, C

Matt Kemp, CF

Manny Ramirez, LF

James Loney, 1B

Casey Blake, 3B

Xavier Paul, RF

Blake DeWitt, 2B

Clayton Kershaw, P
Clayton Kershaw, 22, threw 3,020 pitches last season and, with 942 under his belt in 2010, is on pace for approximately 3,600 this season. In fact, he has an extremely viable chance of throwing the most pitches of anyone in the majors age 23 or under since 2000.
The top 10 names on the list are Felix Hernandez, Scott Kazmir, Matt Cain, Ryan Dempster (tonight's Cubs starter), Dontrelle Willis, Barry Zito, Randy Wolf, Ben Sheets, Mark Buehrle and Carlos Zambrano. Mark Prior is 13th on the list, and Chad Billingsley's 2008 season is 17th.
It doesn't necessarily mean anything, because trouble comes to pitchers with all kinds of histories. But FYI ...
* * *
Watch what happens when Dempster throws a changeup tonight. Opponents are 1 for 27 against his changeup this season, but the Dodgers are batting .305 against them, according to John Fisher of ESPN Stats and Information.
Including his 2008 playoff grand slam, James Loney has hit five consecutive fly balls off Dempster. The other four were caught. Loney's last regular-season hit off Dempster was in 2007.
* * *
Kyle Russell has been on a tear for Class A Inland Empire, with six homers in his past six games. For the season, the 6-foot-5 outfielder has an on-base percentage of .431 and slugging percentage of .652. Writes Kevin Goldstein of Baseball Prospectus: "Drafted as a college senior, he turns 24 in June so it's time to move him up, and scouts still aren't convinced that he can hit enough at the upper levels, as evidenced by his 53 whiffs in 164 at-bats. One way or another, it's time to find out." A move could be tied into a promotion for the endlessly hot Jerry Sands, who is at .457/.758 for Low A Great Lakes.