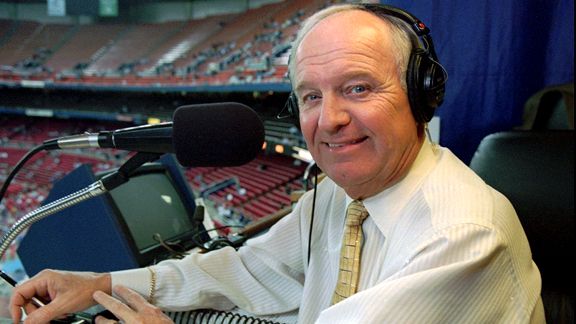 Joe Brockhert/AP
Dave Niehaus
One-of-a-kind Seattle Mariners broadcaster Dave Niehaus, there since the team's inception in 1977, passed away Thursday at age 75. Former partner Ken Levine mourns him lovingly:
The best way for a baseball announcer to endear himself to a new audience is to be with a winning team. You report good news every night and the fans will love you. Piece of cake. When I first became a broadcaster for the Seattle Mariners in 1992, I joined Dave Niehaus, who had been their voice since day one back in 1977. He said to me, "I figured it out, Kenny. For me to get to a .500 record, the team would have to go 2042-0."

Can you imagine how many truly bad, ugly games he has called over the years? Not a lot of good news to impart there. The Mariners for the first twenty years were just God awful.

And yet people in the Pacific Northwest clung to his every word. The attraction was not the team; it was listening to Dave. His passion for the game, vivid descriptions, and magnificent voice made any baseball game sound exciting, even a Mariners'.

Prior to joining Seattle, Dave worked alongside Dick Enberg calling games for the then-California Angels. Team owner Gene Autry once said to Dave, "You call a hell of a game. It's not the one I'm watching but it's a hell of a game." Actually that's only half true. It was the game you were watching, only better. Because Dave had something that so few announcers have today – SHOWMANSHIP. You were not just getting play-by-play, you were being told a tale by a master storyteller. Name me a better way of spending a warm summer night sitting out on the front porch.

Dave Niehaus passed away yesterday at age 75. Like all of Seattle, I'm devastated. We didn't lose an announcer; we all lost a member of the family. Personally, Dave was the greatest broadcast partner I ever had. I've been very lucky to work with some of the best, including four Hall-of-Famers. I greatly respect them all and am eternally grateful for their friendship.

But I loved Dave Niehaus. ...
Within Larry Stone's Seattle Times tribute is a quote from Ken Griffey, Jr. to ESPN Radio: "He meant everything. Everybody talks about the players who went there and the players who left, but he made the Mariners who they are. Without him, the guys out there are nothing. Day in and day out, he brought the excitement and drove thousands and millions of people to the ballpark to come watch us."