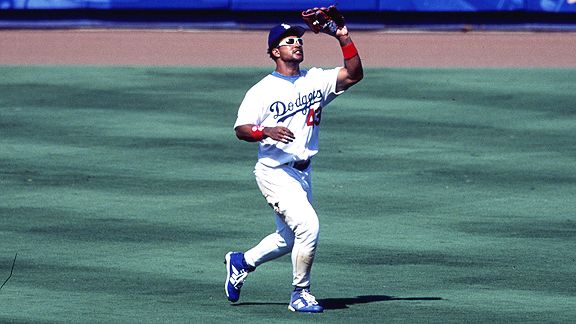 John McDonough/Icon SMI
Raul MondesiLast time the Dodgers won a Gold Glove at the following positions:
C - Russell Martin, 2007
1B - Steve Garvey, 1977
2B - Orlando Hudson, 2009
SS - Cesar Izturis, 2004
3B - None
OF - Matt Kemp, 2009
OF - Steve Finley, 2004
OF - Raul Mondesi, 1997
P - Greg Maddux, 2008
The timing wasn't right for Ron Cey or Adrian Beltre to win Gold Gloves for the Dodgers ...
* * *
The history of Bill Russell as Dodger manager gets a long look back at the Hardball Times from Steven Booth, who is searching for parallels (and coming up with mixed results) with Don Mattingly's nascent tenure in the hot seat.

Sam Miller of the Orange County Register questions a system that makes relievers 35 percent of Type A free agents.
* * *
All my best wishes and thanks to the nation's veterans on this day ...