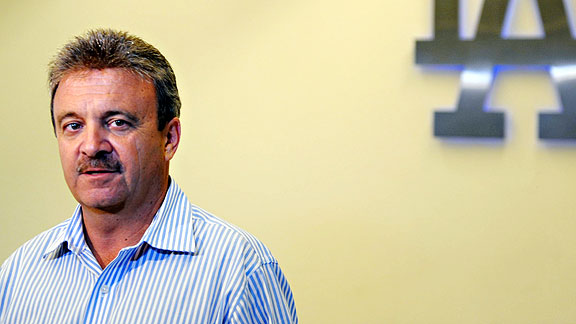 Kirby Lee/US Presswire
Dodgers Hot Stove team captain Ned CollettiNo, Ned Colletti isn't the Hot Stove Curmudgeon - Jon Weisman is. Or has been.
Each year on Dodger Thoughts, I post a set of guidelines for navigating the Hot Stove League. But this time around, lest you think the Hot Stove Curmudgeon is all curmudgeonly and never cuddly, I'm feeling the desire to keep things happy. So I've moved up No. 8 to the top of the list:
8) I'm not telling you not to have fun with the Hot Stove. Have fun! I'm just saying that from my experience here, people take the rumors way too seriously, discussion gets heated, and the fun goes away. And that's what I'd like to avoid.
1) Rumors are not facts.
2) Teams and agents often float rumors to generate attention or to misdirect rivals. The media will report these rumors without much concern over how viable they are. The rumor is the news -- whether it comes to fruition or not is not the media's problem (or so the media have decided).
3) A report that agents, players or teams "were talking" is meaningless. People talk all the time. It doesn't mean anything will come of it.
4) Any rumor attributed to an anonymous source is particularly useless.
5) Making judgments about a general manager based on a rumor reflects poorly on the judge.
6) Many deals, if not most, are never rumored, but spring up out of the blue.
7) Many are eager to pass along rumors. If you are planning to post a rumor here, please check to see if it has been posted already. But whatever you do, don't take the rumors too seriously.
* * *
Current Roster/Estimated 2011 salaries
Here's how things look for the Dodgers as of now ...
Note: Salary figures marked with an asterisk are estimates. Contract and roster information has been researched, but corrections are welcome. Minor leaguers not on 40-man roster have not been included. Cot's Baseball Contracts and True Blue L.A. were used as resources for some of the above information.
* * *
Key dates (courtesy of The Associated Press)
Nov. 16-17 -- General managers' meetings, Orlando, Fla.

Nov. 17-18 -- Owners' meetings, Orlando, Fla.

Nov. 23 -- Last day for teams to offer salary arbitration to their former players who became free agents.

Nov. 29-Dec. 2 -- Major League Baseball Players Association executive board meeting, Orlando, Fla.

Nov. 30 -- Last day for free agents offered salary arbitration to accept the offers.

Dec. 2 -- Last day for teams to offer 2011 contracts to unsigned players.

Dec. 6-9 -- Winter meetings, Lake Buena Vista, Fla.

Jan 5-15 -- Salary arbitration filing.

Jan. 18 -- Exchange of salary arbitration figures.

Feb. 1-21 -- Salary arbitration hearings.

Feb. 13 -- Voluntary reporting date for pitchers, catchers and injured players.

Feb. 18 -- Voluntary reporting date for other players.

March 1 -- Mandatory reporting date.
* * *
Some useful links
ESPN.com Free Agent Tracker (a great tool - sortable by category)
MLB.com Hot Stove Tracker (also sortable)
Keith Law's Top 50 free agents at ESPN.com
True Blue L.A. Rule 5 draft preview
MLBTraderumors.com arbitration eligibles