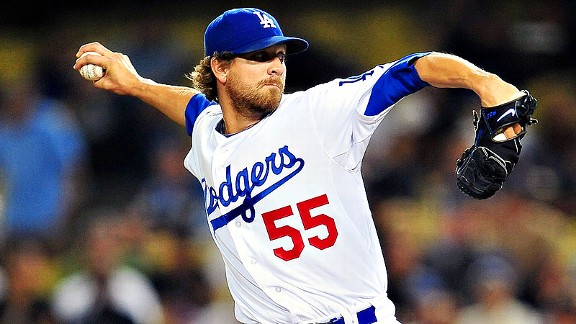 Gary A. Vasquez/US Presswire
Matt Guerrier (33)The setup: We set the stage pretty clearly when Guerrier signed a three-year, $12 million contract with the Dodgers in December ...
... Guerrier, who came up with the Minnesota Twins in 2004, has had a pretty fine career as a reliever, with a career ERA of 3.38. He has averaged 75.5 appearances the past four years. But the 32-year-old righty's strikeout rate has dropped below six per nine innings over the past two seasons, and as Eric Stephen of True Blue L.A. points out, his fielding independent ERA was over 4.00 last season, indicating he's benefited from some luck. Add to that a batting average on balls in play over the past two seasons of .224, which is exceedingly lucky — and a warning sign considering that, as David Pinto of Baseball Musings writes, he'll have a poorer defense behind him in Los Angeles.

So you know, there's some stuff that's good with Guerrier, and there's some stuff that's less good. With the exception of 2008, when his ERA soared above 5.00, the results have been there. The main concern might be asking him to continue being this productive from ages 32-35.

Since the Dodgers' last won a World Series, according to Baseball-Reference.com, the following pitchers have had an ERA below 4.00 with a K/9 rate below 7.00 for three consecutive seasons after turning 32, pitching a minimum of 50 innings: David Weathers, Steve Reed, Paul Quantrill, Terry Leach, Chris Hammond, Ryan Franklin and Jeff Reardon. I realize that ERA isn't a very good way to measure the quality of relief pitching, but I'm just exploring the possibility of someone being good, not making any definitive statement.

So you have that. He might be good, maybe for a long time.

Against that, though, I would still offer that relievers are simply, unavoidably, notoriously inconsistent. We've detailed this frequently in the past, but to sum up, it's exceedingly rare that relievers don't go through bad spells, and when you try to jump on the bandwagon of one that's been successful for a while, the odds grow against you.

There have been 66 pitchers for the Dodgers in the Ned Colletti era, from Jonathan Broxton to Mark Loretta. The highlights in the bullpen have been the low-risk investments, coming up through the farm system or coming in as cheap free agents, who have paid dividends. Perhaps, based on the failures of the 2010 bullpen, Colletti has decided he can't play that game anymore, though you'd think George Sherrill might dissuade him from placing such a big bet on Guerrier. ...
The closeup: At the start of the year, with the rest of the Dodger bullpen largely crumbling around him, Guerrier was mostly superlative. He had a terrible outing April 23 in Chicago, the game in which the Dodgers rallied from a 5-1 deficit to take an 8-5 lead, only for Guerrier to allow five runs in his second inning of work to take a 10-8 loss. They were the first runs Guerrier had allowed after 11 2/3 scoreless innings to start the season. One week later, Guerrier allowed three runs (two earned) in the bottom of the eighth inning against San Diego, turning a 2-2 tie into a 5-2 defeat. Nonetheless, through June 4 Guerrier had recovered to the point that he had a 3.04 ERA and had stranded 10 of 13 inherited runners. He allowed no runs or inherited runs in 22 of 29 appearances, and if it weren't for those Chicago and San Diego games, Guerrier's ERA through June 4 would have been 1.00 in 27 innings.
From that point on, however, Guerrier became less reliable, not only with a 4.91 ERA for the remainder of the season but by allowing 57 percent (16 of 28) of inherited runners to score – far too high a figure for any major-league reliever. Guerrier finished 2011 with a 4.07 ERA and 46 percent (19 of 41) inherited runners scoring. The average National League reliever allowed a 4.16 ERA and 30 percent of inherited runners to score.
If a rookie like Javy Guerra or Josh Lindblom had pitched the way Guerrier did, you would shrug and say "that's about what you expect" or "you get what you pay for." But for a multiyear contract man, it was disappointing – and yet, not completely surprising. I admit that I had lost track of how Guerrier was more effective in the first two months of the season – at a time when much of the team was injured or underperforming – but the total year was unfortunately inconsistent.
Coming attractions: Guerrier has two more years left on his unevenly structured contract: He was paid $1.5 million in 2011 but is owed $4.75 million in each of 2012 and 2013, with $1 million deferred until 2014. He will likely be the Dodgers' highest-paid reliever in 2012. Mike Petriello of Mike Scioscia's Tragic Illness offers more on Guerrier and his contract.