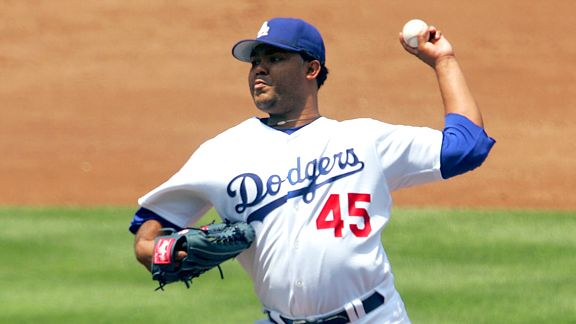 Jeff Gross/Getty Images
For 4 1/2 seasons, the Dodgers never knew what they were going to get in Odalis Perez.In the wake of the Jon Garland signing, Eric Stephen of True Blue L.A. looked at the most commonly used starting pitchers by the Dodgers since 2000, and in the process found that the Dodgers "have had five pitchers each start 30 games in a season just twice in their 127-year franchise history (1977 and 1993), and they have only had four pitchers start 30 games eight other times."
Good stuff, but I was interested in something else, too. Given my surprise to find our starting rotation settled on paper before the end of November, I was curious how often in recent years the Dodgers had appeared to enter the season in better shape in their starting five than they're in right now – and how they fared in those seasons.
Looking back at the 2000s (playoff teams in bold):
In terms of Dodger starting rotations that had proven talent in all five slots since 2000, you'd have to look at 2007 and 2002 as the leading lights, with honorable mention to 2003. Neither of these teams, of course, reached the playoffs (though the '02 team won 92 games), while the Dodgers' past four playoff teams all had question marks in at least one spot in the starting rotation entering the season.