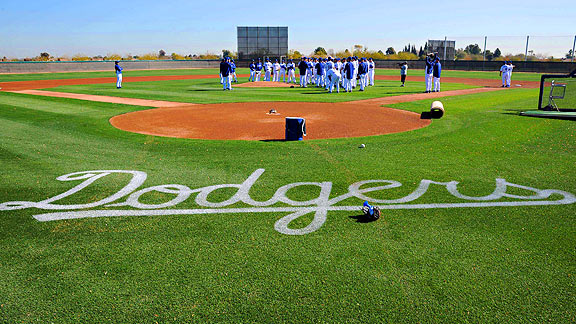 Kirby Lee/US Presswire
You've come to the right place.
Tony Jackson's Spring Training update today for ESPNLosAngeles.com focuses on Davey Lopes' tutoring the Dodgers. Some good stuff therein:
... The 45-minute session dealt mostly with the basics. But Lopes delivered his message in a charismatic, entertaining way, with a lot of the no-nonsense language one might expect from a 65-year-old baseball lifer who believes in doing things the right way, mixed with a little bit of humor.

The audience appeared to include every non-pitcher the Dodgers have in camp, and that audience burst into laughter on a few occasions, usually when Lopes would get especially animated while demonstrating the wrong way to do something.

For those who were paying attention, though, there were a lot of lessons.

For one, Lopes isn't a fan of the headfirst slide. He also isn't a fan of the slide into first base.

"There are two reasons why you slide," Lopes told the assembly. "First, to slow your body down. … Second, to avoid a tag."

And thus, Lopes said, the only time a slide into first base is justified is to avoid a tag if the player covering has to come off the bag to take an off-line throw. ...
Elsewhere ...