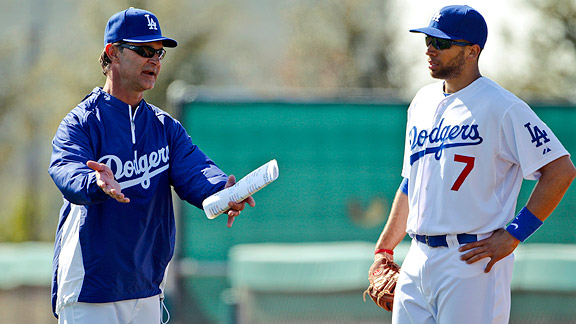 Morry Gash/AP
"See, in Scottsdale, the guy on the top bunk has gotta make the guy on the bottom's bed all the time. It's in the regulations. If we were in Tempe, I would have to make yours. But we're going to Scottsdale, so you've gotta make mine. It's regulations."Dodgers at Angels, 12:05 p.m.
Jamie Hoffman, LF
Dioner Navarro, C
Andre Ethier, RF
Matt Kemp, CF
Hector Gimenez, DH
Russ Mitchell, 3B
Jerry Sands, 1B
Justin Sellers, 2B
Juan Castro, SS
(Hiroki Kuroda, P)
Tony Gwynn Jr., CF
Jamey Carroll, SS
James Loney, 1B
Rod Barajas, C
Marcus Thames, DH
Xavier Paul, LF
Gabe Kapler, RF,
Ivan De Jesus Jr., 2B
Aaron Miles, 3B
(Tim Redding, P)
* * *
For your morning reading pleasure: Howard Cole of Baseball Savvy has a nice interview with uber-fan blogger Roberto Baly of Vin Scully Is My Homeboy.