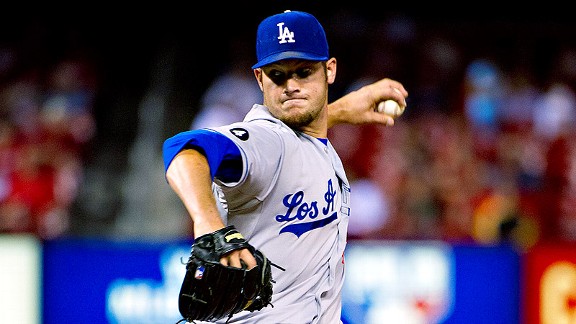 Scott Rovak/US Presswire
Scott Elbert (14)The setup: A year ago, it wasn't clear whether Elbert would pitch in the majors again. In 2010, he appeared in one game for the Dodgers, on May 29, faced six batters, walked three and allowed a hit and a run. Two days later, he was sent back to Albuquerque. In June, he left the Isotopes for undisclosed personal reasons and ended up not pitching in a professional game again until the Arizona Fall League in October. "I obviously have to earn my stay (in Los Angeles)," he told Tony Jackson of ESPNLosAngeles.com. "I know where I stand. I have to fight and earn that respect back."
As one of the final roster cuts before Opening Day, Elbert was sent to Albuquerque, where he struck out 16 in 14 1/3 innings but allowed 23 baserunners. However, with the Dodgers' bullpen depleted, he was recalled May 11.
The closeup: Very quietly, Elbert turned over a new leaf and then some. In his season debut with the Dodgers, Elbert pitched one inning against Arizona and struck out the side. He pitched 7 2/3 innings over 11 games, striking out eight, before he gave up his first run of the season, while stranding six of eight inherited runners. A rough two-game stretch followed in which he allowed five runs, representing more than half of his 2011 total. By the time the season ended, Elbert had made 47 appearances and was unscored upon in 42 of them. He had a 2.43 ERA in 33 1/3 innings with 34 strikeouts against 42 baserunners. Problems flared slightly in September, when he walked six (compared with eight in the previous 3 1/2 months combined) and allowed five of 10 inherited runners to score (compared with seven of his previous 23). But overall, Elbert's season was an unexpected pleasure, one of the undertold great stories hidden in the Dodgers' strange 2011 season.
It is true that Elbert pitched better against lefties (.267 on-base percentage, .250 slugging percentage) than righties (.344/.382), facing almost equal amounts of both.
Coming attractions: For the first time, Elbert, 26, will arrive at Spring Training with a major-league job waiting for him, a chance to build upon the progress he showed this past season.