The thing I've realized, and this relates to Vin Scully, is that getting older doesn't necessarily make you feel old. It just makes you have less time left to feel young as young as you always have.
And yes, in some ways I feel old, as I'm sure Scully does. But you know, in some ways I felt old when I was 5. And meanwhile, I continue to marvel at how many ways I feel like a pup.
Vin Scully is a grownup with a lot of kid in him. That 8-year-old that fell in love with sportscasting while camped out underneath his family's big radio in the 1930s is still with us, and for that I'm thankful.
* * *
Dusty Baker might be holding off on signing his contract extension as manager of the Reds in order to keep himself alive as a candidate to replace Joe Torre with the Dodgers, write The Associated Press and Vincent Bonsignore of the Daily News.
The possibility surprises me because of the acrimonious way Baker left the Dodgers nearly three decades ago, but I guess, after all, that was three decades ago. In fact, Baker told Bonsignore he was interested in the job before Torre got hired, although of course the transition from Grady Little to Torre was practically a simultaneous move.
Baker, who has a reputation for riding his pitchers hard, being in charge of Clayton Kershaw or Zach Lee would inspire some interesting amounts of panic.
* * *
Did you know about Hong-Chih Kuo's workout regimen? From Ken Gurnick of MLB.com:
His daily therapy regimen is legendary among any who've witnessed it, starting at 12:30 p.m. for a 7:10 night game.

"I wish you guys could see what he puts himself through," said (Dodgers trainer Stan) Conte. "He's in constant motion until 11 at night -- ice, heat, ultrasound, message, stretch, flex, leg work, working all the time just to pitch an inning."
* * *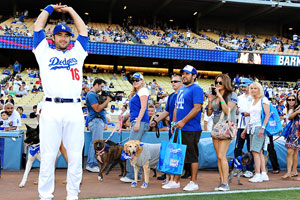 Courtesy of Jon SooHoo/LA Dodgers
Andre Ethier stretches during the Bark in the Park promotion prior to Saturday's Dodger game.