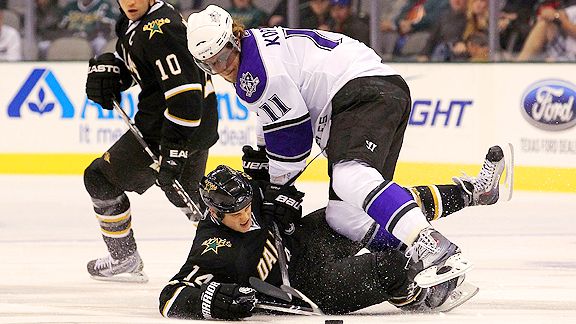 Ronald Martinez/Getty Images
Left wing Jamie Benn of the Dallas Stars falls to the ice in front of Anze Kopitar of the Kings.
Out-shot, out-hit and maybe even a little out-played.
All that would matter if not for one thing, the Kings finished on top where it counted, out-scoring the Dallas Stars, 5-2, on Thursday to wrap up their five-game road trip with a winning record.
Jack Johnson matched his career high with three assists, Dustin Brown, Alexei Ponikarovsky, Wayne Simmonds, Willie Mitchell and Justin Williams scored goals and Jonathan Quick demonstrated why he's the unquestionable No. 1 goalie for Los Angeles, stopping 30 shots to improve to 6-1 on the season.
Come on home boys!
The turning point for the Kings (7-3-0) came during a nine-second span of the second period.
With the scored tied, 1-1, Simmonds shot at the Dallas goal from an angle and the rebound came out to Ponikarovsky, who back-handed the puck into the net.
The Kings then won the ensuing face-off. Rob Scuderi collected the puck, slid it over to Johnson who made a perfect pass to Simmonds at the Dallas blue line.
Simmonds charged toward the goal and tried to slide a backhand under the right pad of goalkeeper Kari Lehtonen, who slowed the puck but it kept sliding toward the goal. Simmonds' momentum carried him toward the right post where he dislodged it just after the puck slid across the goal line.
The play was reviewed and the goal was awarded to the Kings for a 3-1 lead.
"Getting two quick goals like that can change the whole complexion of the hockey game," Johnson said during a television interview on Fox Sports West after the game.
Things were going so right, the Kings made it 4-1 in the third off a short-handed goal. Mitchell slid a cross-pass to Michal Handzus as both headed for the net on a two-on-one, but it went off the skate of recent AHL call-up Philip Larsen and into the net.
The only low point of the game came when Simmonds appeared to injure his rib-cage area after an on-ice collision late in the second period. He played a shift in the third but could not continue.
We'll get an update on Simmonds at practice Friday morning.