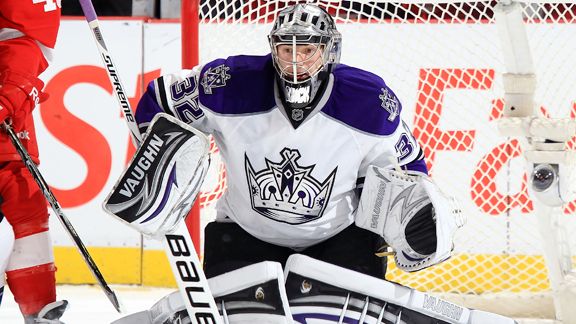 Dave Reginek/NHLI/Getty Images
Jonathan Quick made 51 saves against Detroit in a victory Monday. He is among the league leaders in victories with 15 so far this season.
After all the winning streaks, losing streaks, scoring line shuffles and blue line troubles, the Kings haven't ventured far from where they stood at this point last season.
They head into their 29th game Thursday at St. Louis with a 17-10-1 record, remarkably similar to the 16-10-2 mark they held through the same stretch last season.

Not bad, considering that run ended with a sixth-place finish in the Western Conference and the organization's first postseason appearance in eight years. Even better if compared to 2007-08, when the Kings tied for the fewest points in the NHL.
But now that they've proved to be an organization on the rise, can the Kings continue trending upward and reach the next rung on the ladder? Or are they a team that's just good enough to qualify for the playoffs, but a long way from contending for the Stanley Cup, as they were last season?
So far, the players have produced mixed results, but give the front office an A for effort.
They made a serious run over the summer at signing free-agent Ilya Kovalchuk, a 40-goal scorer the previous six seasons and one of the biggest names to hit the market in years. That courtship grounded to a halt when Kovalchuk signed with New Jersey, later telling reporters he just met with the Kings so his wife could get a free guided tour of Los Angeles.
You get the feeling that wouldn't have happened in Detroit.
While they pursued Kovalchuk, they abandoned talks with Alexander Frolov, the longest tenured member of the Kings and their leading goal scorer two of the last four seasons. Once the Kovalchuk deal fell through, they tried to come back to the table with Frolov, but he bolted for a one-year deal with the New York Rangers.
To make matters worse, by the time Kovalchuk and Frolov walked, the free-agent pool had dwindled to a puddle. That left the Kings to sign third-line left wing Alexei Ponikarovksy, the only decent free-agent forward left on the market.
In the scoring column, Ponikarovsky over Kovalchuk or even Frolov seemed like a huge step back at the time, but even those losses have been mitigated by the sharp drops in production from both Kovalchuk and Frolov this season.
In a more vertical move, the team signed stay-at-home defenseman Willie Mitchell. Few outside the organization realized the impact Mitchell would have in the defensive zone until he went down because of a broken wrist in early November and the Kings suddenly became easy target practice for opposing teams.
This week, they've completed a trade for Marco Sturm, a talented left wing back when he had two good knees but an unknown commodity while he recuperates from his second major knee surgery in the last two years. He passed his physical Tuesday and was on the ice with his new teammates Wednesday in St. Louis, but he's not expected to play against the Blues.
While that acquisition came with little risk because the Kings gave up practically nothing to acquire Sturm, it does have potential reward, especially when considering the organization's recent history of acquiring players coming off major injuries.
In July 2007, they signed Michal Handzus to a four-year, $16-million deal only nine months after he underwent season-ending knee surgery. While missing only one game since, Handzus has emerged as one of the team's best special teams players.
Two seasons ago, they traded for winger Justin Williams just four months after he returned from an Achilles injury that kept him out nearly a year. His scoring ability is the main reason the Kings opened this season 12-3-0, their fastest start in franchise history.
But in reality, the organization's five-year development plan was never contingent on free-agent signings and wily in-season trades. Rather, the team was primarily built through the NHL draft, put under the direction of an even-tempered, almost scholarly coach in Terry Murray, and provided a long leash to learn from their mistakes.
Some of their home-grown talent has already progressed beyond expectations, namely goalkeeper Jonathan Quick, a third-round pick in 2005 who is coming off a career-high 51 saves in a 5-0 victory Monday at Detroit. Heading into Wednesday's games, Quick was second in the league in goals-against average (1.83), third in wins (15) and fourth in save percentage (9.33).
Then there's forward Wayne Simmonds, a late second-rounder in 2007 who last season scored 40 points in his sophomore year and has recently taken his game to another level.
And nobody has been a bigger surprise over the last month than rookie defenseman Alec Martinez, a fourth-round pick in 2007 who was called up Nov. 23, scored his first NHL goal a day later in Montreal and likely took his last bus ride in the AHL.
Meanwhile, former first-rounders Anze Kopitar, Dustin Brown, Drew Doughty and Jack Johnson have shown signs of their potential at various points this season, but need to play better collectively, and backup goalkeeper Jonathan Bernier, a first-round pick in 2006, needs to step up and take some of the workload off of Quick.
Of course, the glass-is-half-full patrons have good reason to argue the Kings are right where they need to be. They own the league's best home record (11-2-1) and play 10 of their next 16 games at Staples Center. They've also allowed the fewest goals in the Western Conference (65), which features 13 teams with winning records.
Looking forward, the next month should provide the ideal setting for the Kings to take another step up, focus on winning the Pacific Division and not just squeezing into the top eight. The Sturm question should be answered, the defensive unit should continue to gel in front of Quick, and maybe even Bernier will find his game.
The Kings were 23-15-3 at the halfway point last season. They'd need to finish 6–5-2 over the next 13 games to match that record. Will the Kings be content to follow in the same footprints as last season, or blaze their own trail?
Only time will tell.