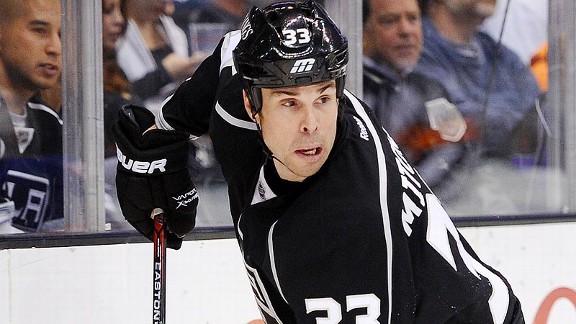 Harry How/Getty Images
EL SEGUNDO -- Proving it's never too late to become an elite two-way NHL defenseman, Willie Mitchell scored more points this past regular season than during any of his previous 11 years in the league.
He also established career highs for power-play points, game winners and shots on goal, helping the Kings qualify for the playoffs for a third consecutive season.
Which accomplishment will stand out the most 10 years from now?
"To be honest with you, I'm not going to remember anything about the regular season when I'm done playing hockey," he said.
Mitchell, who turned 35 on Monday, doesn't expect his memory to fade once he's finished with his career. He just knows how his mind works.
Mitchell plays professional hockey for the opportunity to compete in the postseason, a destination that becomes more appreciated the older he gets. As the Kings prepare to take on the St. Louis Blues in the second round of the Western Conference playoffs, it's no surprise Mitchell is playing some of the best hockey of his career, just not the best hockey.
Not yet, anyway.
Mitchell scored the first power-play goal of his career in Game 1 of the opening-round series against the top-seeded Vancouver Canucks, helping the Kings to a 4-2 victory and a series lead they never relinquished.
He then helped finish off the Canucks by blocking a career-high eight shots in Game 5, leading the Kings to their first playoff series win in 11 years.
Those are the moments he'll cherish when his career is over.
"Maybe, as you get older, [the playoffs] just become so much more important to you, especially if you haven't won [a Stanley Cup]," he said after practice Tuesday. "I haven't won, and you look at it and feel like your window's closing a little bit."
That why 2003 remains so crystal clear.
The Minnesota Wild were seeded sixth in the Western Conference but rallied from 3-1 series deficits against the third-seeded Colorado Avalanche and fourth-seeded Canucks to advance to the Western Conference finals.
With nothing but the seventh-seeded Anaheim Ducks standing in the way, the Wild were swept in four games.
It took Mitchell three years to get back to the playoffs and four more to win a series.
Despite coming up short in 2003, Mitchell considers that the best stretch of his career.
"I was on top of my game," he said. "That probably wasn't my best statistical campaign, as far as during the regular season, but during the playoffs I felt pretty good and that's the time of year for me."
Mitchell was traded to the Dallas Stars midway through the 2005-06 season, then signed with the Canucks the following summer as an unrestricted free agent. In his second and third seasons with Vancouver, a team he grew up rooting for while living on Vancouver Island, he was named the team's top defenseman and appeared destined to finish out his career with his hometown team.
But in January 2010, he suffered a concussion when he was hit by Evgeni Malkin of the Pittsburgh Penguins. Mitchell, in the final year of his contract, ended up missing the remainder of the season, including Vancouver's opening-round playoff victory against the Kings and its second-round loss to the eventual Stanley Cup champion Chicago Blackhawks.
Dogged by headaches so constant he couldn't read or drive, Mitchell secluded himself in his cabin in British Columbia, not even bothering to watch the Canucks' playoff run. Mitchell called it the toughest eight months of his life.
Unsure whether Mitchell would ever revert to the player he was, the Canucks offered him a one-year, $3.5 million deal to return to the club. The Kings countered with two years at $7 million. Mitchell opted for job security and the chance to start over with an organization on the rise.
He quietly took a spot on the blue line and went about his business of keeping pucks out of the net. He missed two stretches last season with a broken wrist and a knee injury, but his absence just proved how valuable he was, as the Kings struggled to win without him in the lineup. After qualifying for the playoffs for a second straight season, the Kings were again ousted in the first round.
Though the loss was difficult, Mitchell was happy to be playing again after his long recovery.
"You end up enjoying the game a little bit more because you think that it's going to get taken away from you forever," he said.
Mitchell has seen his responsibilities rise this season and he was rewarded in February with a two-year, $7 million contract extension. After playing partner Jack Johnson was traded to the Columbus Blue Jackets in February, he inherited rookie Slava Voynov as his right-hand man.
"I like playing with him because I play more offensively," Voynov said. "I know Mitchie is always behind me."
Later in the season, Mitchell became part of the second power-play unit, a responsibility he hadn't been given since his rookie season in Minnesota. He has proven to be a dangerous threat from the blue line.
"He's one of the best I've seen at getting the puck through consistently," fellow defenseman Alec Martinez said. "He has got a real heavy shot, too."
The Blues figure to see a lot of Mitchell, whether he's using his extra-long stick to poke the puck away from their forwards or kill penalties or using his powerful shot to pepper the goalkeeper. Mitchell has already accomplished something against St. Louis he hasn't done against any other team in the league, scoring two goals in a game back in January 2009.
Of course, Mitchell doesn't remember that, either. When he thinks back, it's still all about 2003.
"I got to the conference finals, it's as far as I went," he said. "That's what I'll remember when I'm sitting at home having a beer, feet on the couch, having some popcorn, watching the young bucks coming in behind me."
Of course, that's if he doesn't fade those memories with a deeper playoff run in 2012.