A night of firsts for the Kings was only tempered Wednesday night by an injury to one of their top players.
Andrei Loktionov scored his first NHL goal, Anze Kopitar and Michal Handzus added their firsts of the season and goalkeeper Jonathan Bernier won his first game since last April, adding up to a 4-3 victory over the Carolina Hurricanes at Staples Center.
But the parade of highlights was dimmed when star defenseman Drew Doughty left in the first period because of an undisclosed upper-body injury and did not return.
Doughty, runner-up for the best defensemen in the NHL last season, was hit by Carolina left wing Erik Cole as he brought the puck up the ice and into the neutral zone.
Kings coach Terry Murray was mum on the extent and precise area of the injury but indicated it wasn't a clean hit by Cole. Doughty will not accompany the team to Phoenix for their game Thursday night against the Coyotes.
"Doughty carried the puck out of our zone and the puck had long gone," Murray said. "He didn't have it for a long way."
Fortunately, the offense was able to carry the torch and help the Kings match their 4-1-0 start of a year ago, when they qualified for the playoffs for the first time since 2002.
Kopitar's goal early in the second period gave the Kings a 3-2 lead that dissolved when Bernier was unable to glove a slap shot from Anton Babchuk. The puck fell at the feet of Jeff Skinner, who slipped it past Bernier to tie the score, 3-3.
It was the last mistake Bernier would make, as he finished with 27 saves in his second start this season.
Loktionov, playing on the first line in just his fourth NHL game, took back the lead for good 3:19 into the third when he skated out from behind the net and sent an off-angle pass into the crease. The puck deflected off the stick of goalkeeper Justin Peters and into the net.
The Kings then survived two man-advantage situations down the stretch, both set up by interference calls on Dustin Brown. The Kings have now killed 22 of 24 power plays by their opponents, putting them near the top of the NHL in that category.
"We got some big plays at the end of the game with the special teams," Murray said. "Bernier was real sharp and we found a way to get it done."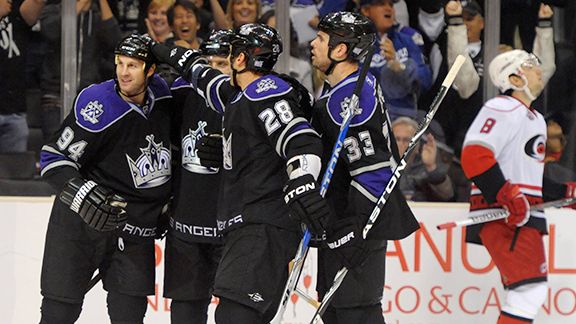 Kirby Lee/Image of Sport/US Presswire
The Kings celebrate one of their four goals in their victory over Carolina.