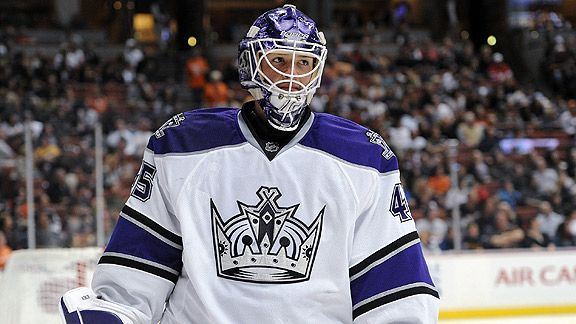 Harry How/Getty Images
Kings backup goalie Jonathan Bernier will start on Wednesday vs. Carolina as the team plays the first of two games in two nights.
Carolina Hurricanes (3-2-0) vs. Kings (3-1-0) at Staples Center, 7:30 p.m.
Five storylines to track:
1. Fourth line changes – Kings coach Terry Murray plans to insert Trevor Lewis and Kyle Clifford into the lineup in place of Brayden Schenn and Kevin Westgarth, teaming them with center Brad Richardson on the checking line. Don't view these moves as a slight toward either Schenn or Westgarth, but rather a chance to get Lewis and Clifford some much-deserved ice time. The clock is ticking on Schenn and Clifford, however. Because both are too young to play in the AHL, the Kings must return them to their junior teams before the 10th game, or eat the first year of their NHL contracts whether they stick with the Kings or not.
2. Bernier gets his second start – As was mentioned earlier here, goalkeeper Jonathan Quick is off to a phenomenal start, giving up only three goals in three games. But the Kings also play Thursday in Phoenix, their second back-to-back of the season. Since the Coyotes are a Pacific division foe and the Kings are beginning a stretch of seven games in 11 days, it makes sense to put backup Jonathan Bernier between the pipes against the Hurricanes.
3. Loktionov gets another look – One experiment Murray isn't ready to pull the plug on is lifting 19-year-old rookie Andrei Loktionov off the first line, where he has been rather unproductive in his first two games. With the Hurricanes coming off a 5-2 victory Tuesday night in San Jose, their heavy legs might have trouble keeping up with Loktionov's speed.
4. Carolina's energy level – The NHL schedule maker didn't do the Hurricanes any favors, sending them to St. Petersburg, Russia, for their final preseason game, then to Helsinki, Finland for their season openers – back-to-back games against the Minnesota Wild. The Hurricanes then returned "home" for a couple of days, then headed out on a five-game road trip, including this back-to-back West Coast dandy. It's no wonder Carolina players are reportedly still feeling sluggish.
5. Third-line magic – The road-weary Hurricanes got what they needed Tuesday night against San Jose – big-time production from players not used to carrying the offensive load. Chad LaRose had not scored a point in the previous four games, but tallied a goal and two assists against the Sharks. Fellow third-liners Patrick Dwyer had a goal and Jeff Skinner contributed an assist. Goalkeeper Cam Ward also helped out with 41 saves, but the Hurricanes may opt to go with backup Justin Peters against the Kings.