Our recent chat on Wednesday provided oodles of food for thought. Topics included the Miami Heat's chances against the Lakers, the projected minutes for everyone from Theo Ratliff to Kobe Bryant, and Pau Gasol's neck beard. A smorgasbord of interesting, trenchant and funny queries. But there was one I felt compelled to highlight in a separate post.
From Darnell in Los Angeles: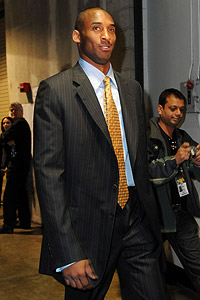 Andrew D. Bernstein/NBAE/Getty Images
If this was Kobe's uniform at games, would the Lakers remain
competitive?
If Kobe somehow was out the whole year, including the playoffs, how would the Lakers place in the west?
This scenario has been posed to Brian and me over the years, whether during the Kwame-Smush-Cookie era, The Radio Tour, or the current championship incarnation. But to the best of my recollection, I've never formally analyzed the question. Seriously speaking, how successful would this team be next season without arguably the best player in the NBA, much less on the purple and gold roster?
After mulling the premise, I've provided my answer, along with my thought process. To further clarify, I'm viewing the hypothetical with a team-wide clean bill of health. Or at most, minimal games missed. Yes, those parameters may not be entirely realistic, particularly with Andrew Bynum's history. But you also don't need to be Dr. Jack Ramsey to predict what happens if there are additional major injuries on top of Kobe missing 82 games: The Lakers won't win very often. Period. End of story.
Thus, I'm analyzing a scenario containing some degree of intrigue and mystery. With that in mind...
- In the nine games Kobe missed last season due to injury, the Lakers managed a record of 6-3. A respectable record on its face, and even better upon a closer look at the details. The first loss was by one point to the Boston Celtics. Another was by two in Denver, with no Bynum to boot. The third was a home court blowout at the hands of the Clippers, but Jordan Farmar had joined Kobe and Drew on the shelf, and no starter played over 30 minutes. Clearly, the outcome was being treated as trivial by Phil Jackson. All in all, no truly embarrassing stinkers.
In the meantime, there were victories in Salt Lake (no Bynum), Portland (their Kryptonite town) and against San Antonio. Solid wins in a vacuum, much less within these specific parameters.
The Lakers weren't as nearly dangerous or dynamic without Kobe, but they often executed on both sides of the ball with consistent mindfulness. This reaction was largely prompted by the pragmatic realization life sans Mamba lessened any cushion for mistakes. Thus, less freelancing on offense and gambling on defense -- and not for nothing, but the Laker often guiltiest of either sin is Kobe himself -- as the team displayed the focus necessary to win under challenging circumstances.
These nine games won't fool me into thinking a .666 winning percentage awaits the Lakers in a regular season without Bryant. For that matter, postseason high points -- whether game-winning putbacks from Gasol and Ron Artest, or the supporting cast covering for a flailing Kobe in Game 7 against Boston -- doesn't guarantee victory in the postseason. But the prosperity has been meaningful enough to reassure a collapse without Bryant is preventable.
- Shannon Brown -- who dropped by the PodKast on Friday -- got the nod in Kobe's place during seven missed contests and managed some quality numbers. 15.3 points, 4.3 rebounds, and nearly three dimes. Even better, he managed these numbers in the second half while negotiating a thumb injury clearly causing problems. Brown is no facsimile of Kobe, and an entire season of starter's minutes and responsibilities could mean biting off more than he can chew. But if he can hold down the fort reasonably well, maybe it's enough with the other guys surrounding him. A Fisher-Shannon-Artest-Gasol-Bynum lineup isn't as scary as the version featuring Kobe, but it's hardly terrible.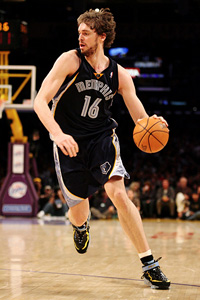 Kevin Reece/Icon SMI
Pau Gasol isn't "Kobe in 2010," but he's also not "Pau Gasol in 2004," either.
- Without Kobe on board, Gasol becomes the proverbial "man," "guy," "alpha dog," or whatever preferred jargon for a team's first option. (I'll even accept "first option.") Pau wore this hat in Memphis with mixed results. Glass half full, he helped carry the squad to a 50-win peak and three consecutive playoff appearances. Glass half empty, the postseason was 0-12 under Gasol's watch. The latter is not a particularly reassuring clip, but I'm also doubting El Spaniard as El Jefe in L.A. would be "lather, rinse, repeat."
For starters, the team surrounding Pau has been upgraded. These Lakers are about as seasoned as teams get. The returning core players all have at least one ring. The key newbies yet to raise the O'Brien (Matt Barnes, Steve Blake, Theo Ratliff) are experienced. This crew is also considerably more talented than the one led by Gasol in Memphis. With all respect to Mike Miller, Shane Battier, Jason Williams, Bonzi Wells, James Posey and Lorenzen Wright, and a past-his-prime Eddie Jones (the best of the bunch), they don't hold a candle to the dudes taking the floor with Gasol now. The discrepancy is pretty staggering and would definitely make his life easier.
Plus, most importantly, Pau is a better player in every imaginable capacity than he was in Memphis.
He's grown as a scorer. He's grown as a defender. He's grown as a leader. He's grown as a conqueror of adversity. He is now arguably the best big man in the NBA. No doubt, the leap came in part as a result of being teamed with Kobe. But skills are skills, and Pau is much better suited (and supported) for duty as a team's focal point, should the gig be forced upon him.
Good enough to make everyone forget Kobe? No, but few if any players are, so it's a moot point.
- So after adding up the particulars, how would I peg the fate of the Mamba-less Lakers? Well, I'll start with the biggest question. The O'Brien wouldn't maintain its residence in L.A. Kobe is too essential and irreplaceable for a Three-peat. Yeah, if the Lakers happened to reach the Finals, then it's just a matter of winning four games, and maybe the matchups might happen to shake out in their favor. But it's also hard to imagine even reaching the Finals. Eventually, the energy expended making up for Kobe's production, presence and talent over 82 games, plus playoff change, would catch up to the Lakers. A collision with the wall is inevitable.
But not before making the postseason, which I'm positive would happen. For that matter, I'm confident the Lakers would hang around a while, even without Bryant. While Kobe is undoubtedly their best player, a universally intimidating force better equipped than any Laker to scale the hump when the chips are down, what actually makes the purple and gold so unique and difficult to stop is size. That overwhelming length remains a powerful ace in the hole even with Kobe shelved. Ditto the other assets at the Lakers' finger tips. Jackson's coaching. Fisher's leadership. Artest's defense. Bynum's size. Lamar Odom's rebounding and versatility. Legitimate depth.
That ain't chopped liver, even if it ain't quite Kobe beef.
Final answer: I'll go 52 wins in the regular season, plus a trip to the Western Conference Semifinals. The Western Conference Finals isn't impossible, depending on the draws in a somewhat weakened Western Conference, but I'll take the grounded bet. A sizable degree of success battling a season without Kobe, albeit short of the possibilities with him. With any luck, we'll never have to test my guesswork.
What say you, LO'L faithful? Hit the polls and the comments section to make your voice heard.
How many regular season games would the Lakers win without Kobe Bryant?customer surveys
How far would the Lakers advance in the playoffs without Kobe?online surveys
Without Kobe, which Laker would need to step up most during the playoffs?customer surveys
Without Kobe, which Laker would need to step up most during the playoffs?Market Research