As part of our look ahead at the Lakers' projected roster next season, we continue to work our way from the bottom to the top of the rotation. Next up...
Player
Derek Fisher
Salary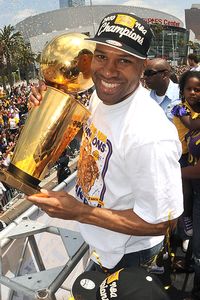 Andrew S. Bernstein/NBAE via Getty Images
Fish is an important piece of the championship puzzle, even if less could equal more next season.
Role For The Lakers In 2010-11
More than any Laker, Derek Fisher proves beauty remains in the eye of the beholder... and beholders tend to view things through a lens of extremity.
To some, Fisher is feisty, wise and virtuous -- a local treasure who knocks down big shots with a frequency surpassed by only Kobe Bryant during his second tour with the Lakers.
To others, he's well past his prime, and sentiment helps fuel his popularity. To them, Fish gets used defensively by every point guard in the league, and clutch as he may be, the old man bricks more than his share of ho-hum shots.
Like most heavily debated topics between people on polar opposite sides, everybody is kinda right, kinda wrong, and the truth lies somewhere in between. This ambiguity will undoubtedly grow as Fisher's value as a player continues to shift from the quantifiable to the intangible.
For example, Fisher's biggest strength on D is his uncanny knack for subtleties like taking charges or breaking up passes. Yes, his relative (if sometimes exaggerated) lack of foot speed is noticeable, but the aforementioned little things still mean a lot. Similarly, Fisher's biggest offensive virtue is the ability to shine under intense pressure, a skill unmeasurable by egghead formulas. You either have it or you don't. Unfortunately, issues like shooting percentage, efficiency and shot selection are considerably easier to evaluate, and last season witnessed Fisher at arguably his career-worst along those lines.
Even his playoffs, generally strong and occasionally brilliant,featured a dozen consecutive misses from behind the arc heading into Game 7 against Boston. But in a winner-take-all situation, Fisher went 2-2, including a ginormous trey to force a 64-64 tie with just over six minutes remaining, all the while delivering the speeches legendary in Laker Land.
And this gets to the heart of why loyalists and detractors, proclivity for hyperbole aside, all have a certain degree of credibility: Fisher's importance can't be overstated, but the Lakers are nonetheless pushing their luck if his minutes continue hover between 25-30 a game.
Fisher lives to embarrass critics fluffing his pillow for a professional dirt nap, and took great pleasure in cementing his worth last season. Unless the money demanded was fiscally irresponsible, the Lakers would have been insane to let him walk. But this doesn't erase how Fish's actual production often left something to be desired. If Steve Blake can't fare better than Jordan Farmar, Javaris Crittenton, Shannon Brown and even Sasha Vujacic in the quest to lighten Fish's load, I suspect something will in fact give, and sooner rather than later.
Best-Case Scenario
Blake hits the ground running with his new squad, allowing Fish to take a seat a few minutes earlier every first and third quarter. These extended breathers strike the perfect balance between keeping Fish in the flow and remaining fresh for the playoffs, when he truly makes his mark. Fisher adjusts quickly to the reduced PT (an admitted struggle last season) and establishes a shooting groove in smaller stints. The President of the Players Association uses the extra time on the bench to brainstorm a workable Collective Bargaining Agreement compromise. The looming work stoppage is avoided, and yet another feather is added to the cap of the most celebrated role player in recent memory.
Worst-Case Scenario
Blake doesn't play well enough to force his presence, leaving Fisher to carry the load as usual. Or Blake actually is up to snuff, but Fisher is distractingly unhappy with a diminished role. We're talking about a pro's pro, so I'm not especially worried about the latter scenario. But as Brian noted earlier this summer, this will undoubtedly be a tough evolution for a player deservedly prideful. In either scenario, without an upgrade in Fisher's accuracy and decisions when to launch, the hardwood time itself could become a moot point.
Previous Breakdowns
Luke Walton
Matt Barnes