As part of our look ahead at the Lakers' projected roster next season, we continue to work our way from the bottom to the top of the rotation. Next up...
Player
Pau Gasol
Salary
$17,823,000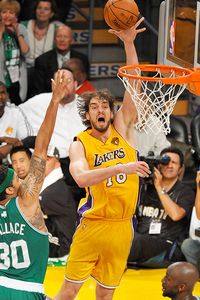 Garrett W. Ellwood/NBAE/Getty Images
Pau Gasol has been to the Finals three straight times with the Lakers. How good does he need to be this year to reach a fourth?
We've grown so used to the metronome-worthy consistency it was jarring to see him struggle, relatively speaking, but from the moment he tweaked a hammy in training camp nearly a year ago, Pau Gasol set himself up for much tougher sledding than any he'd seen since arriving in L.A. (And not simply because it doesn't snow here.) Twice he was forced from the lineup with hamstring problems, missing 17 games overall, and because he was injured so early in the process Gasol spent the season chasing, but never reaching, ideal fitness.
It was enough to dent some of Gasol's numbers. His field goal percentage dropped from 56.7 percent in '09-'10 to 53.5 percent last year. The assist rate was down, the turnovers up. The mid-range jumper, so key to Gasol's game, wasn't nearly as accurate in '09-'10 as it was a season earlier.
So why did so many of Gasol's metrics- PER and win shares, for example- rise?
Because he compensated in ways detractors wouldn't have expected: He did all the "tough guy" stuff. Gasol's rebound rate leaped from 14.7 to a career high 17. He blocked shots, going from one a game to 1.7. He scored more frequently through contact, raising his "and-one" percentage from .43 to .57. In four of seven games against the Celtics in the Finals, Gasol hit double digits on the glass, including a monstrous 18 in Game 7. Gasol had more offensive boards that night (nine) than the Celtics (eight), including a critical grab of Kobe Bryant's missed three with under thirty seconds to play.
It was one of many key plays over the final minutes turned in by Gasol, who like Bryant had trouble with his shot through most of the game.
Nobody is going to sign Gasol up for a post-career jaunt in the octagon (the man has other things on his mind, anyway). He's never going to get all Kenyon Martin on the opposition (the scruffy neck beard would obscure the neck tats, anyway). Who cares? Bottom line, Gasol again showed he has more than the requisite toughness for a championship caliber player, continuing a very public reshaping of his image, rooted in playoff failures with the Grizzlies and highlighted by L.A.'s disappointing Game 6 loss in the '08 Finals.
And it's not like the guy totally slacked offensively, either.
Shaving a few hairs off his '08-'09 numbers still left Gasol as one of the more efficient power forwards in the league, and his incredible court vision and passing skills are tailored for Phil Jackson's offense like a bespoke suit. Despite a usage rate (20.3) leaving him a hair behind Sam Young and tied for 94th in the NBA with, among others, Roy Hibbert, Gasol's impact on the action is profound. Think what could happen if, you know, he, like, got to touch the ball more and stuff. (The best defense teams have for Gasol, so say some coaches and scouts I've spoken to, is the Lakers simply don't deliver him the rock enough.)
At this point, it'll surprise nobody to hear I'm a serious proponent of the Spaniard's work. There isn't another power forward in the game I'd rather have, and I'm not the only one.
Still, despite consecutive titles and All-Star appearances, there's a sense Gasol remains underrated (Kobe Bryant thinks so, and he's a sharp cookie). I tend to agree. But whether this is the year Gasol's perception nationally catches up with his talent and value doesn't much matter to the Lakers. As it has been since his arrival, Gasol will provide the perfect balance up front for what Kobe does in the backcourt, taking heaps of pressure off Bryant to generate every look for the Lakers. Whether working out of the low, mid, or high post, Gasol has the ability to be the hub of L.A.'s offense on any given trip.
Put the two of them together in the pick and roll, and the Lakers are almost unguardable.
On the other end, Gasol's mobility, rebounding, and shot-blocking will again be a major factor for one of the league's stingiest defenses. Keep in mind, Gasol's mark for defensive win shares last season (4.2) was higher than Kobe's (4.0), trailing only Lamar Odom (4.9) for the team lead. After two seasons of strong work, including good play in last year's Finals and a very solid performance the year before against Dwight Howard, it's time to call Gasol a complete, two-way player.
It's Bryant's team, no question, but Gasol is hardly "2" to Bryant's "1." The Lakers are fortunate to have a 1/1A leading them, and will need strong play from both to win a third straight title.
Best Case Scenario
Fresh from his first restful summer in memory, Gasol plays with renewed vigor and vitality, staking his flag at the summit of Mt. Superstar in the consciousness of basketball fans. Gasol significantly lightens Kobe's load as his efficiency and output (in those areas dipping last season) rise to, or even beyond his '08-'09 levels. So good is Gasol, so good are the Lakers, he gets a little love when the MVP voting rolls around. Not enough to actually win (or even threaten), but a nice little feather in his sombrero nonetheless.
Worst Case Scenario
The days of worrying Gasol will wither and wilt are over. Now, it's about injury. Gasol suffers another early one, again putting him behind the eight ball physically. He spends the season trying to catch up physically, and come playoff time isn't in his happy place. He's off, and so is the team. No Threepeat.
Previous Roster Breakdowns
Luke Walton
Matt Barnes
Steve Blake
Lamar Odom
Ron Artest
Derek Fisher
Andrew Bynum