With training camp around the corner, we asked a group of local and national roundball experts to weigh in on some of the big Lakers questions heading into the 2010-2011 season. Call it a preseason prognosticationpallooza.
Our panel: Andy and Brian Kamenetzky (ESPNLA.com Land O'Lakers Blog), Elliott Teaford (L.A. Daily News), Kevin Ding (O.C. Register), Kevin Arnovitz (ESPN TrueHoop), Eric Pincus (Hoopsworld), Chris Clark (Silver Screen and Roll), J.A. Adande (ESPN.com), Darius Soriano (Forum Blue and Gold), Kurt Helin (ProBasketballTalk.com), Mark Medina (L.A. Times.com), Arash Markazi (ESPNLA.com), and Dave McMenamin (ESPNLA.com):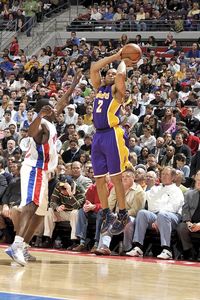 Allen Einstein/Getty Images
Fish was great in the clutch. But like most Lakers, he struggled to consistently make outside shots.
Today's question:
What is the Lakers' greatest weakness?
The Results:
Outside shooting: 5
Complacency: 3
Health: 2
Lack of athleticism: 1
Point guard: 1
New pieces not fitting: 1
My take: The Lakers have won consecutive titles without consistent outside shooting. Three-peating means overcoming the same issue. Steve Blake will help, but the Lakers still aren't rich with reliable three-point shooters. (But fear not. This won't prevent these little scamps from continually ignoring Pau Gasol and Andrew Bynum down low in favor of bombing from downtown, bless their little hearts!)
Other responses:
Brian Kamenetzky: Blake provides a huge boost to the team's outside shooting ... but it's still not going to be good unless [Derek] Fisher rebounds, [Shannon] Brown improves, and Kobe's percentages rise.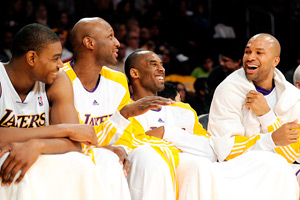 Lisa Blumenfeld/Getty Images
Every day can't be Casual Friday in Laker Land.
Teaford: Well, they could take a seriously long nap at midseason, blow the chance at the best record in the West and then get surprised in the early rounds. There's going to be some bad nights, I can tell you that by looking at the schedule and seeing all those long road trips. Letdowns are sure to happen. It's a question of just how motivated these fellows are going to be in January and February.
Ding: Complacency, as usual. It's undeniably hard to want it as much when you've just gotten it.
Pincus: Other than Shannon Brown and possibly Devin Ebanks, the Lakers aren't especially athletic. L.A. has slowly become a veteran team, which can be an issue over dense portions of the schedule. The Lakers also need to keep Andrew Bynum healthy.
Clark: The standard pick would be point guard, but I think the biggest weakness is outside shooting. The Lakers shot terribly from the outside last year, and while Steve Blake will help, it's important to remember he's essentially replacing the one guy last year who shot the ball pretty well (Jordan Farmar). For all the talk about how quick point guards destroyed the Lakers, their defense was miles ahead of the offense in terms of production, with outside shooting, or lack thereof, being the key.
Soriano: I think outside shooting may continue to be Lakers' biggest hurdle. Though bringing in Blake helps, there's no guarantee that Fisher or Kobe will shoot any better this upcoming season and it's not like [Matt] Barnes or [Ron] Artest or Sasha [Vujacic] are players best described as "snipers" or "consistent."
Medina: Honestly, it's really hard to think of one. They have the coaching, the talent and the depth around them to three-peat. If the Lakers don't three-peat, my hunch is that it will be because a) the Lakers got hurt; b) they played with complacency and/or c) the new additions didn't help team chemistry.
Markazi: I still think point guard is an issue despite re-signing Derek Fisher and signing Steve Blake. Both are nice point guards but neither is particularly great or quick. They'll always be at a disadvantage when they face the likes of Rajon Rondo, Russell Westbrook, Deron Williams, etc. in the playoffs.
Previous Preseason Expert Panels