The latest update from our colleague, Dave McMenamin, who's along for the ride on the Lakers' European tour.
BARCELONA -- When the NBA hands the Larry O'Brien trophy over to its title winner every June, it doesn't dub the team the team as "American champions" or "champions of the United States," it calls them the "world champions."
Because of that distinction, the back-to-back world champion Los Angeles Lakers feel a twinge of extra pressure headed into Thursday's preseason game with the 2010 Euroleague champion, Regal FC Barcelona.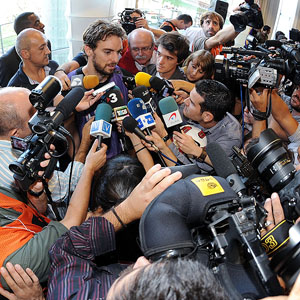 Andrew D. Bernstein/NBAE/Getty Images
Pau Gasol talks to the media during a news conference at practice in Barcelona.
Normally, the outcomes of preseason games don't matter much. Remember, the 2008 Detroit Lions were a surprisingly delightful 4-0 in the preseason and a historically dismal 0-16 in the regular season. But the outcome of this game matters more than a little bit more for the Lakers for three reasons:
They want to win it for Pau Gasol in his homecoming game against his former team.
They want to win it for the NBA, to show that, even with an injured Andrew Bynum and a severely limited Kobe Bryant, the NBA produces a better champion than the Euroleague does and thus remains the premier basketball league in the world.
And they want to win it so they can salvage a Europe Live trip that got off to a dubious start with a sloppy 111-92 loss to the rebuilding Minnesota Timberwolves in London on Monday and not return to Los Angeles winless to start their march towards a three-peat title.
"I hope Pau performs a little bit better, I know he'll want to," Lakers head coach Phil Jackson said after Gasol finished with just seven points, three rebounds, four turnovers and five fouls against Minnesota, while only going 3-of-7 from the foul line. "He'll want to have a real good showing … I think they'll be a more gallant attempt."
Gasol, who wore an omnipresent smile as he was showered with cheers from more than 5,000 young fans shouting, "Firma! Firma!" ("Can I have your autograph?") during the Lakers' open practice at the Palau Balaugrana on the FCB Campus on Tuesday, hopes he has as much reason to be happy after the game Thursday.
"All the motivations in the world, I have them," Gasol said. "It's a game that I want us to play well, I want us to win, I want us to play at a higher level than we did [Monday] … Even though it's just early in preseason, it's a game I would hate to lose, pretty much."
Lakers co-captain Derek Fisher addressed the issue of pride that Regal FC Barcelona will play for, to try to peg their championship status against the Lakers'.
"I do think we have to take into account what the game could mean for them, more than us, per se," Fisher said. "The emotion will be tangible in the building, playing against the home team."
Fisher also thinks that his team will step up to help Gasol return home, and leave home, as the conquering hero.
"We should want to win and have a good showing for [Pau]," Fisher said. "Not that we didn't necessarily take pride in our performance [against the Timberwolves], but we should recognize the game on Thursday means a little bit more."
The Lakers beat Barcelona, 108-104, in a preseason game at Staples Center in October 2008 and needed 28 points from Bryant to do so. That day Juan Carlos Navarro led FC Barcelona with 34 points. Navarro still plays for them, as does Ricky Rubio, the Timberwolves' top-five pick from the 2009 NBA Draft.
Bryant, said he will play "minimum" minutes on his right knee that is only 60 percent healed from offseason surgery by his estimation. Bryant sat out practice once again Tuesday, watching his teammates run up and down the floor from a training table set off to a corner of the court as he received a massage on the knee by physical therapist Judy Seto.
Bryant and Fisher said that they don't expect Gasol to play many more minutes trying to get the win than the 23 he played against the Timberwolves. Bryant added, "I'd much rather have Pau have that type of performance against his brother in Memphis or something."
Bryant later softened his stance a little.
"This is exciting and I'm excited for him because he's going back home, this is where he grew up and now he's going back as a two-time champion, so I'm hyped for him," Bryant said.
Gasol sounds more determined than excited, however.
"I'm willing to play as much as coach allows me to play," Gasol said. "It's important for me to go out there and make sure we play well and we win the game."
Brown, Odom emerge in midst of injuries
With Bryant recovering and Bynum so far away from a return date that he didn't even bother attending practice Tuesday, staying back at the hotel instead, there will be some minutes at shooting guard and at center up for grabs in the early part of the Lakers' season.
Lamar Odom and Shannon Brown have the inside track so far.
Two of the only positives Jackson could find after the loss in London was the play of Odom and Brown. Odom led the Lakers with 17 points, to go with six rebounds and three steals. Brown came off the bench to score 13 points on 6-for-10 shooting and took on a leadership role while being paired on the floor with new faces to the team.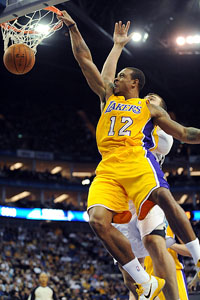 Andrew D. Bernstein/NBAE/Getty Images
Shannon Brown dunks against the Timberwolves at the O2 Arena Monday in London, England.
Odom said he could have played better defensively and was down on himself for going 5-for-11 from the free throw line, but he has already been named the starter in Bynum's absence and Jackson's praise of him does not come easy, so you know he has been playing at a high level.
Brown's performance has been more surprising, especially because he is competing with free-agent signees Steve Blake and Matt Barnes in the guard rotation. Do not forget that Brown was a free agent himself this summer and turned down more money elsewhere to return to L.A.
"I've been in this system long enough and been around long enough to know what's going on, so I now I have to assert myself more aggressively -- not force anything, but kind of make things happen," Brown said of his mentality Monday night.
Brown was the new guy the last couple of seasons, but that has changed once Blake, Barnes, Theo Ratliff, Derrick Caracter and Devin Ebanks arrived.
"It's easy playing with the guys who have been here for a while and to run the system, but for the guys who haven't been in this system, you have to try to kind of coach them a little bit and try to tell them what's going on," Brown said, "which means I have to know what's going on."
If Bryant's knee worsens or just takes longer to heal than expected, Brown is a possible short-term replacement while Bryant is out.
Brown proved to be an able spot-starter in the seven games he got the nod at shooting guard when Bryant was injured, putting up 15.3 points, 4.3 rebounds and 2.9 assists over that stretch.
"I got to stay ready, got to stay aggressive," Brown said. "I have to keep banding with my teammates, keep listening to the coaching staff and keep getting better every day."
This and that
Barnes tweaked his right ankle early on in Tuesday's practiced, sidelining him for the remainder of the time. The sprain was mild according to the team and Barnes is expected back to practice Wednesday.
Dave McMenamin covers the Lakers for ESPNLosAngeles.com. Follow him on Twitter.