It wasn't exactly a vacation, but last week's exhibition swing to Europe wasn't training camp in any recognizable form, either. Now the Lakers are back in L.A., hopefully ready to shake off the jet lag with a solid week of practice and three games over the next seven days. Final scores in pretend games still aren't the most meaningful barometer of the team's progress, but having already lost first to one of the worst teams in the NBA, then again to a squad not even in the league, it wouldn't hurt to finish a game with more points than the other guys.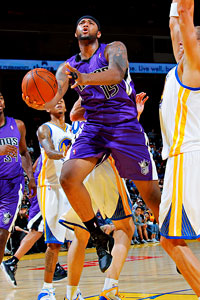 Rocky Widner/NBAE/Getty Images
Among the more interesting players the Lakers will see this week: Sacto rook DeMarcus Cousins.
They'll get three cracks at it this week.
Schedule:
GAME OF THE WEEK
Wednesday vs. Sacramento (7:00 pm PT, Thomas and Mack Center, Las Vegas)
Winners of only 25 games last season, the Kings are almost guaranteed a return to the draft lottery. Still, on many given nights they'll be a royal pain to play, particularly in the paint. At guard, reigning Rookie of the Year Tyreke Evans is nearly impossible to keep out of the lane, and down low, where first-rounder DeMarcus Cousins will bring his considerable size and skill. Watching him in Vegas this summer, Cousins clearly has the talent to be a dominant big. Great feet, a nice touch, good ball skills, serious size, and so on.
By reputation, at least, he's also got a touch of the crazy, which helps explain why he "slipped" to the fifth spot in the '10 draft, despite having pure talent and potential valuing him higher, at the very least ahead of Derrick Favors (not that Cousins is paying attention to such things, right?). Some believe Cousins has the potential to be better than anyone in his draft, including John Wall.
In a perfect world, this would have been a fun early look at a potential long-term, Western Conference rivalry in the post between Cousins and Andrew Bynum, but by now Lakers fans know ours isn't a perfect world. Instead, Pau Gasol will try and show the rook a few things. Additionally, Derrick Caracter could get a few minutes on him as well. It's D.C. vs. D.C., in a slightly more meaningful environment than their first matchup in Vegas SPL!
I kid, but how Caracter fares will be an early clue as to how he might hold up in whatever playing time he gets in Bynum's absence.
OTHER GAMES
Saturday and Sunday vs. Denver and TBD (both games at 7:30 pm PT, Staples Center)
Our first opportunity to ask Carmelo Anthony what ZIP code he currently punches in while looking online at prospective houses outside Denver. But while he might want out of Denver, at least on this night I'm sure he'll be happy to be a Nugget, because any professional discomfort is well worth an opportunity to take a team to a title. Not the NBA title, but in the even more prestigious Staples Center Shootout (Note: I'm not sure a team actually "wins" this weekend's "event.") I'd recommend paying less attention to 'Melo, and more to Al Harrington, Denver's only significant upgrade this offseason.
The TBD could be either Utah or the Clippers. The former provides an early look at how the Jazz change with Al Jefferson in place of Carlos Boozer, the latter a chance to see Blake Griffin, who has been extremely impressive in two of the LAC's three preseason games thus far.
Player to Watch:
Kobe Bryant
At 2-18 shooting through two games, without a turnaround there's a chance he could start losing minutes to Shannon Brown and Sasha Vujacic at the two.
Or not. Kobe could shoot at his own basket for the rest of the preseason and still enter the season playing 37 minutes a night and an MVP candidate. 24's numbers at this point have little meaning, because numbers aren't what people are looking at.
So while the Lakers have plenty of new dudes still steeping in the ways of the triangle, nothing any of those guys may do is more important to L.A.'s fortunes than the continuing progress of Bryant's knee. Steve Blake, Matt Barnes, and Devin Ebanks could all drop triple-doubles while simultaneously developing a potent new flu vaccine, but if Kobe leaves a game this week with even a hint of a limp, nobody will care.
I'd have limited Kobe's minutes more judiciously in Barcelona, but going from six minutes in the preseason opener to 25 a couple days later is an extremely positive sign. Nobody, from the team to Kobe himself, is going to screw with his long term health in the second preseason game of the year. It would be great if more shots started falling, but his movement and explosion are more important. If Bryant moves freely, the rest will follow.