This offseason at a charity poker tournament, Los Angeles Lakers owner Dr. Jerry Buss caught the attention of Lakers fans and media alike by pontificating the potential of his current two-time defending champion squad:
"I think that's really called camp spring fever. Every time I've ever gone to camp, everybody starts talking and saying, 'This team could be the best team we've ever had,' and I guess I fall into that same trap because when I look at this team, every single individual on that team seems to me capable of playing a very important role next year and as of now, I feel there's a good chance this could be the best team we've ever had."
That is, no doubt, a comment qualified with admitted giddiness. But this being a quest for a third straight title, pondering the question certainly doesn't feel outrageous.
Could the 2010-2011 Lakers be the best squad bankrolled by the iconic owner?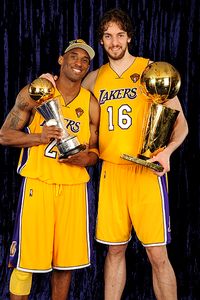 Win McNamee/Getty Images
Would a third straight title and a fourth straight Finals appearance push the Kobe-Pau era to the tops in franchise history?
If you wanna go whole hog, could this be the greatest Lakers team of all-time?
Could a third straight title bump the current incarnation of Lakers (2008-present) past Phil Jackson's first three-peat era? The 1972 champs with Jerry West, Wilt Chamberlain and Gail Goodrich (plus the previous seasons with Elgin Baylor)? The George Mikan era, which started it all?
Even Showtime?
It's a question impossible to answer now, with no games in the books and the 2011 title still up for grabs. It's a question arguably impossible to answer at all, since elite greatness is difficult to rank.
"You really can't do that," said long-time Lakers Assistant Coach Frank Hamblen of making comparisons. "You can, but it's all hypothetical."
Assistant coach Jim Cleamons, whose playing days include a '72 championship ring, agreed.
"It really is [hard] because each generation basketball kind of changes, and the personalities come out that represent a different type and style and play," Cleamons said.
Be that as it may, at the heart of most sports debates is an attempt to count angels on a pin head. With that in mind, the question we plan to address throughout the season is where do the 2011 Lakers appear to stack up, and what are the criteria for defining the best?
If talent is king, Showtime's big three of Magic Johnson, Kareem Abdul-Jabbar and "Big Game" James Worthy could be an impossible foundation to trump. Of course, various trios involving Elgin, "The Logo", Chamberlain and/or Goodrich were hardly chopped liver. On the flip side, two can sometimes do the work of three, especially when the duo is Shaquille O'Neal, at his most dominant, and Kobe Bryant, at his most athletic. The same might be said about a more mature Kobe and Pau Gasol, at the top of his toughened game and about the squads from when the team was in Minneapolis, which boasted five Hall of Famers (plus, the same number of championships).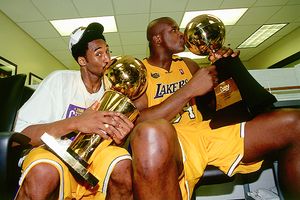 Andrew D. Bernstein/NBAE/Getty Images
Kobe's time with Shaq is hard to equal, whether
measured in drama or success.
With so much star power spread about, maybe it comes down to supporting players. Do you covet most the rebounding of Happy Hairston, Bob McAdoo as a sixth man or Lamar Odom's versatility?
Your choice for shutting down an elite scorer: Michael "Coop" Cooper or Ron Artest?
Heck, it's no cakewalk choosing between Derek Fisher as a bulldog in his 20's or sage leader in his 30's.
Showtime dominated the 80's, but its only contribution to three-peat history was Pat Riley, who trademarked the phrase. Yes, had Magic and Byron Scott avoided hamstring injuries during 1989 Finals, a third straight title might have happened. Then again, was Andrew Bynum available and Trevor Ariza more than barely functional in 2008, the Lakers might currently be working on a four-peat. We live in the real world, a universe with one purple and gold three-peat and another squad itching to follow.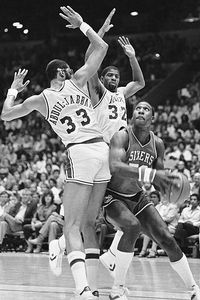 AP Photo/Doug Pizac
Showtime didn't three-peat, but it's tough discounting their accomplishments on any level.
Assuming the Lakers prove 52 of ESPN's finest minds correct, how can one era push ahead of the other? On one hand, the Shaq-Kobe crew boasted a 15-1 playoff record in 2001 and dominance over a perennially brutal Western Conference draw. But the 2000 Finals opponents, the Indiana Pacers, were decidedly inferior to the ones taken down by the reigning back-to-back champs. Depending on who the Lakers theoretically bounce in the next Finals, which opponent will carry more weight? Are there extra points awarded for a quartet of consecutive Finals appearances?
Bear in mind, greatness is often dictated by record books. The Logo-led teams may have only grabbed gold once, but what a ride getting there. The team had 33 straight victories, a streak unrivaled in professional sports, much less the NBA. That doesn't happen by accident, so perhaps the lone title wasn't a question of (relatively) inferior talent but the misfortune of running into an unparalleled Boston Celtics buzz saw. As in life, timing is everything.
Throw it all together and the variables are dizzying enough to keep every barroom and barbershop arguing for years.
One man bold enough to enter the fray is noted Lakers historian Roland Lazenby, author of "The Show: The Inside Story of the Spectacular Los Angeles Lakers In The Words of Those Who Lived It."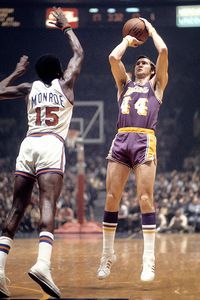 Focus on Sport/Getty Images
Have you ever been on team that ripped off 33 wins in a row? Yeah, that's what we figured.
"It's a heck of an interesting question," said the scribe via e-mail. In his estimation, the Mikan teams were dominant in his era but "not in this conversation." The early West-Baylor squads were "two-man teams that couldn't beat the balance and brilliance of the Bill Russell Celtics," and the late versions with Wilt were "mostly a huge exercise in frustration." Phil's first stint featured smart veterans but nonetheless "mostly operated on Shaq's blunt force trauma."
"I suspect Jerry Buss holds the Showtime teams as his favorite," Lazenby said. "I'd probably have to agree with him on this one, although the current team has earned a solid place in the conversation."
As he notes, the reigning two-time champions win out in a few intangible areas. For starters, he said he feels running the triangle requires a greater discipline than Showtime displayed. There are two crucial traits currently exhibited in spades:
"I love both teams because of their tremendous displays of heart," Lazenby said. "As great as the Showtime Lakers were in terms of heart, with Magic and Michael Cooper, the current team features Kobe Bryant, Derek Fisher and Ron Artest. Those three bring huge hearts to the task. And the current team is oh so cerebral as well, with Bryant, Fisher and Gasol."
The edge goes to Showtime for now. "Obviously, those teams brought a tremendous mix of style and substance," Lazenby said. "In fact, they were so flashy people tended to overlook just how good defensively they were."
The balance Lazenby mentioned could be the missing ingredient that could push the current Lakers over the top. The Showtime D may have been underrated, but nobody could overlook the 2010 team's nasty lockdown, which may improve this season. Matt Barnes joins Bryant and Artest to forge the NBA's best wing-defending trio. Steve Blake is a decided upgrade over Jordan Farmar. Even the aging Theo Ratliff is a better overall defender than D.J. Mbenga. With Bryant and Bynum (theoretically) healthier come playoff time, we could be looking at some historically stingy stuff.
This Lakers core has surrendered fewer points, but they've scored fewer in the process. As Brian noted in March, last season featured anemic offense measured against recent championship standards. Their offensive rating (points estimated per 100 possessions) rounded out to 108.8, 11th in the league and 18th best in franchise history. Figures in 2008 (113.0) and 2009 (112.8) provide a striking idea of the direction things have quickly moved.
Comparatively, Magic-led teams predictably own the best clip (115.6 in 1987) and the second through sixth best marks.
Is there reason to believe buckets could again be falling with ease? You bet. Artest has a year under his belt in the triangle, and the preseason has featured a decidedly-comfortable vibe. He's recovered from a hand injury that clearly affected his second-half shooting last season. The same goes for Shannon Brown, whose jumper and handle look fantastic in mid-October. Age be damned, it's hard to believe Fisher's 2011 will be as starkly inefficient as 2010. A summer stuffed with basketball has Odom already in mid-season form. Blake should improve the team's suspect outside shooting and make the second unit a better oiled machine, two areas which undoubtedly contributed to last season's slippage.
There's work to be done, but Lazenby can absolutely see the potential for a changing of the guard at the top of the mountain.
"It's Showtime, unless of course these guys turn in another thrilling close like they did in 2010," Lazenby said. "Another one of those and I may have to change my mind."
To be continued, for certain ...