It begins.
Game of the Week
Tuesday vs. Houston, 7:30 p.m.
There won't be many weeks where it's easier to choose the highlight 48 minutes on the schedule. The banner goes up, the rings come out. Ron Artest said Sunday at practice he's heard this year's hunk of hardware- the one he's going to raffle off in support of mental health- will be even better than last year's. That's saying something, because after the '09 title the Lakers didn't exactly hand out Ring Pops. Anything larger would have its own gravitational pull.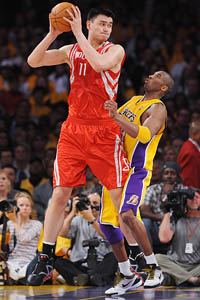 Noah Graham/NBAE/Getty Images
It takes a very tall man to make Kobe Bryant look like a hardwood dwelling hobbit.
Ring nights are great, but strange, events. In a "What have you done for me lately?" sports culture, they offer among the only acceptable opportunities to bask in previous achievements once the new season begins. Between players excited to get their hardware and fans all hopped up to see the banner unveiled, it's easy for the actual game- the first of 82 actually counting for something- to have some life sucked out of it before the opening tip.
As for the Rockets, they're a popular dark horse candidate in the Western Conference. Yao Ming is back (for 24 minutes a night, at least), and with Kevin Martin gunning from the perimeter, Aaron Brooks creating problems from the point, and a roster filled with gritty, team-first performers, Houston has a chance to be formidable as long as they stay healthy.
"As long" may last a week, but on day 1 they're good to go.
Other Games
Friday at Phoenix, 7:30 p.m.
A rematch of last year's Western Conference Finals, except these Suns aren't those Suns now that Amare Stoudemire has moved on to New York. Phoenix imported a host of players, including Hedo Turkoglu, Josh Childress, and Hakim Warrick, to try and fill the void. Whether they will remains to be seen. I'm guessing not- defensive questions aside Stoudemire is awfully good- but am not convinced the Suns will slide off the playoff ladder like some poor sap landing on space 87 in this whimsical children's board game. Steve Nash is still great, and there's enough around him to make the these guys competitive.
Sunday vs. Golden State, 6:30 p.m.
Having just played the Suns, the Lakers ought to be well prepared for Golden State, assuming consecutive games to finish the preseason didn't do the trick.
Player to Watch
Pau Gasol
With Kobe Bryant on the mend, Phil Jackson spent most of the preseason prodding Gasol to take a larger role, both in regards to leadership and on-court performance, the better to lighten Bryant's load while he heals. Jackson poked on nights when Pau played poorly, he did it on nights after Gasol went for 28/9/4, with four blocks. Didn't matter. None of it had anything to do with the game Jackson just watched, anyway.
For Gasol, this preseason was different than most, because he didn't play internationally for his native Spain. Good for his body? Yes. Bad for his preseason efficiency? Absolutely. However, I have a sneaking suspicion if Pau is fresher this spring fans will be willing to forgive his 46.5 percent shooting in eight exhibitions.That said, Jackson's point is well taken. The Lakers need Gasol to take some weight off Bryant and play like one of the game's great bigs. Which he is. In some respects, Jackson's request is misleading, because there's at least some whiff of implication Gasol hasn't pulled his weight for the last few seasons. Obviously, that's not the case. But as it was at points last season while Bryant was either out or hurting, the more Gasol does over the first few weeks of the year, the less temptation will exist for Bryant to push harder than he should.
It's not all on Pau- there are other guys on the roster- but a strong start for Gasol would be a boon for the Lakers.
Three Thoughts
1. Friday's game represents Phoenix's home opener, so expect the Gorilla to be particularly keyed up.
2. Jackson says they'll work to limit Kobe's minutes until he's more fully healed. What will that look like? Would the Lakers keep him on the bench even in moments a game could get away? Will Kobe self-regulate? All of these questions can be avoided if the Lakers play solid ball behind him, putting opponents away as early as possible.
3. If the Lakers are going to experiment with Steve Blake at the two, as they did here and there in the preseason, it'll be against teams like Phoenix and Golden State. Both teams provide Jackson an opportunity to try a few different floor combinations, in part because the matchups will demand it at different points of the game.