The currently undefeated Lakers face the also-unbeaten Golden State Warriors tonight. The last time the Warriors began a season at 2-0, Latrell Sprewell was the leading scorer, Chris Gattling was still on his first NBA team and Don Nelson was about to get fired for the first time by the franchise. Yes, 1994 was a long time ago.
Of course, unblemished starts don't guarantee quality finishes, as that 26-56 season proved. It would be premature to treat one good October week as a sign Golden State is emerging a dark horse playoff contender. (I'd actually be stunned if they finished in the Western Conference top 10.) But they are playing well at the moment, so it would be equally presumptuous for the Lakers to treat them like a joke. As the Lakers look to maintain an 82-0 pace, here are a few items to keep an eye on:
No Steph Curry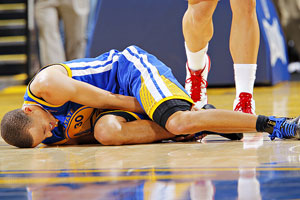 Rocky Widner/NBAE/Getty Images
Steph Curry aggravated a preseason injury Friday.
The Warriors' budding star turned an ankle during Friday's win over the Clippers, an aggravation of an injury sustained during preseason action. (As I've often said, the ultimate goal of exhibition roundball is getting out of it in one piece.) He won't make the trip to L.A., which (I'm guessing) thrusts Reggie Williams into the starting lineup. While not quite the scoring threat of Curry, his 2010 stats confirm the ability to fill a bucket if needed. The undrafted, second-year player may not even be a household name in Bay Area homes, but there's always a danger of turning him into one. Any Laker assigned to shadow him needs to pretend there's already a robust Q-rating at play.
In the meantime, Monta Ellis' role becomes even more intriguing. Dude is on a scoring tear to open the season (30.5 ppg). He also torched the Lakers for 41 in the preseason finale. In theory, making up for Curry's absence could equal a mind-set to go ballistic. Of course, no Curry also makes Ellis the best play maker on the court. If he's not creating for his teammates, it becomes that much more difficult for anyone else to find a flow, and a one-man show is typically easier for NBA teams to overcome. Thus, it may become necessary to dial back the scoring for the sake of the bigger picture.
What approach will the mercurial combo guard take? We shall see.
The Glass, the paint and Lamar Odom
The Dubs have fostered a deserved rep under Nellie for jacking up outside shots at a frenzied clip while ignoring the paint and every facet of defense, including the boards. I'm not saying the Keith Smart era will invoke imagery of hard hats and lunch pails, but early returns have at least hinted at an evolution in the works.
For starters, the Warriors currently boast the 6th best rebounding average in the league, along with a solid +6 differential in their favor. David Lee's 13.5 snags per game (T-4th, NBA) are a big catalyst, but Andris Biedrins (7.5) and Dorrell Wright (5.5) can't be discounted. In the meantime, while the Warriors still don't exactly play inside-out ball, a 75.7 percent conversion rate at the rim (3rd-NBA) reflects an enviable efficiency when they do attack the basket.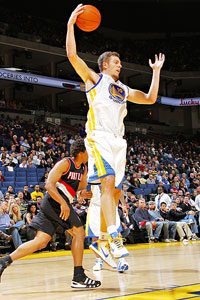 Rocky Widner/NBAE/Getty Images
David Lee needs to be kept off the glass as much as possible.
I mention this because during the previously referenced final preseason game, with Lamar Odom and Theo Ratliff unavailable, Pau Gasol was left by his lonesome to protect the Lakers' paint and glass. The Warriors proceeded to outrebound the Lakers 47-35 and Brian Shaw went out of his way to deem Gasol's performance unacceptable. Things should change, however, with LO back in the fold. He brings an identical rebounding average as Lee to the table, plus an ability to run the break off those grabs and create Laker opportunities.
In the meantime, I'd put considerably more money on his ability to effectively slow Lee than the other way around. Odom could get Biedrins into foul trouble as well, and having them on the bench would go a long way toward controlling the glass.
Three-Point Shooting, Fast Paced Intelligence
The Lakers launched 27 times from distance during Friday's win against Phoenix, a total I'd generally deem much too high for a squad blessed with such a decided size advantage. Having said that, it was also hard to get aggravated by these bombs, and not just because of the 44.4 percent connection rate. Shots were generally set up through penetration or from the post. Rarely did any Laker fire unnecessarily early in the shot clock or upon creating for himself along the arc in lieu of ball movement. And it definitely wasn't the result of the Lakers getting sucked into Phoenix's style of play. They didn't necessarily go out of their way to slow the tempo, but they didn't let speed equal bad decisions.
Tonight's contest pits the Lakers against other undersized squad with a tendency to push pace. No doubt, the Lakers should look to put Golden State in half court sets on both sides of the ball, as it doesn't play to their collective strengths. But the Lakers are also a good running team, and they shouldn't avoid any and all fast break opportunities for the sake of tempo. But it's mandatory to make sure speed doesn't equal carelessness. Take care of the ball and continue to create quality shots.
Airball
Vlad Radmanovic will shoot one tonight. Book it. Anyone who remembers his time in purple and gold knows what I'm talking about.