The Grizzlies were among the league's bigger surprises last season, whether you're talking their 40 wins (up from 26 in 2009), Zach Randolph fitting in, or Allen Iverson failing to follow suit. Okay, the last development was more predictable your garden variety Hollywood rom-com, but still, the Griz emerged a tough competitor in the West, and provided fits for the Lakers while splitting their final two meetings. They're looking to build on that momentum, while the Lakers try to remain undefeated. Here are a few items to ponder as we see if something gives:
Pau vs. Marc
We've now entered the third season of Pau competing professionally against his younger brother Marc, and if the process has become old hat, it would represent a major milestone. Gasol's numbers against his old team lag by his career standards, indicative of the difficult psychology of playing against a franchise you once lent a face, plus the issues inherent with this setup. There's no question which brother is the more polished, complete player. But Marc has rapidly evolved into a quality NBA big, and in the meantime, has appeared less thrown by the concept of tussling with his hermano.
Of course, Marc's perspective contains less ennui.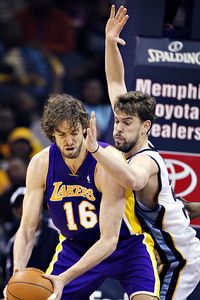 AP Photo/Jim Weber
For Pau, besting his little brother is a goal, but not an easy one.
Pau is a heady cat. For the most part, this intelligence is a major plus, whether on the court or away from it. But a hyper-aware brain has drawbacks, certainly the case for Pau while squaring off against his younger brother. The two are very close, and Pau is very sympathetic to the strides Marc's made to overcome the stigma of being associated with a trade initially considered the most lopsided in recent NBA history... plus a persistent tag.
"At first, he was always 'Pau's brother,' " noted Gasol during Monday's practice. "He had to work really hard. People started calling him by his name instead of being my brother. It took a little time, but I think that helped him, to fight through that and be eager to get to that point."
And that, boys and girls, is the rub.
On one hand, Pau is a competitive guy with a desire to be considered among the best in the league, much less family reunions. In a vacuum, he always wants to beat his younger brother. (Believe me when I say, nobody ever enjoys losing to their younger brother.) But at the same time, besting Marc in an NBA setting means, at its most literal, hindering the aforementioned progress.
The conflict of interest is understandable, and doesn't even end when Marc happens to be matched against a different. Pau then wants him to succeed, but not well enough to force a Laker loss. The whole thing gets pretty twisted, like when your roto QB is pitted against the defense of the team you root for in real life.
Like Pau recently mentioned, these games are nerve-wracking for his parents, much less him. Still, he mentioned "getting used to" these meetings, so maybe he's reached the mental point of moving forward. And if that's the case, he needn't take time to thank his coach. After acknowledging yesterday this matchup being "very hard on [Pau]," Phil Jackson proceeded to share the ways he makes it even harder:
"A lot of times we say we traded the wrong guy, and tell him Marc is tougher, a more powerful player than he is. He doesn't have the shooting touch yet, but his defense, his rebounding is very good. He gets a kick out of playing against Pau. He's actually a little more physical than Pau is."
So, I asked, you don't necessarily go out of your way to ease Pau's nerves?
"I like to bring it to his awareness," said PJ with a wicked grin.
Oh, Zen Master. You little scamp!
How does Tony Allen fit in?
Kobe Bryant's performance Sunday night against the Warriors (20 points, eight-of-16 from the field) marked the latest episode in a steady return to scoring form. With a day to recover, I expect Kobe to exhibit some bounce, which makes the fella charged with guarding him a reasonably important matter. Well, Lakers fans surely remember long-time Celtic Tony Allen making Kobe work extremely hard for his during the Finals. Without question, there's no Griz better suited to check 24, and if Bryant continues rounding into form, it may be necessary to give Allen some extra minutes off the bench.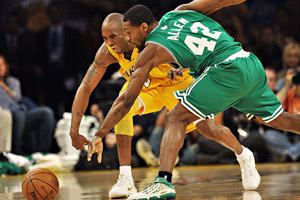 Paul J. Richards/AFP/Getty Images
Is Tony Allen's defense worth the missing offense he doesn't provide?
There's just one problem. On his best day, Allen doesn't bring much to the offensive table. On his worst, he's a train wreck. In particular, he handles the ball like it's a greased pig. Even as someone openly rooting for the Lakers during the championship round, Allen dribbling would stress me out. His presence typically sacrifices offense, which means floor combos could turn tricky.
Do you offset Allen with Mayo -- 20 points or higher in his last two games -- and sit Mike Conley? After all, the latter is a $45 million dollar player. No. For reals. He is. But jarring dollars aside -- David "small market teams may need to contract" Stern probably chugged a fifth of vodka when he read the news -- Conley is in fact balling at the moment. 15 points and nearly four steals, plus eight assists important for a team often shockingly prone to stopping the ball. You could play three guards, but that's a small lineup against most teams, much less one boasting the collective size of the Lakers.
This could be a moot point if Kobe remains relatively quiet (or the Lakers play well enough to rest him for large chunks). But should The Mamba keep trending upward, Lionel Hollins may be forced into decisions.
No Z.Bo?
As of this morning, a bruised tailbone may prevent Zach Randolph from suiting up. Should he remain on the shelf, it's not simply a matter of replacing last season's 20.8 points and 11.8 rebounds. (Although don't get me wrong, it's important somebody does.) It's a matter of frontcourt depth quickly falling off a cliff.
Darrell Arthur has done an admirable job filling in for the 2010 All-Star, but he'll need to take it up a notch to breathe the air currently circulating through Lamar Odom's lungs. From there, the big man pickings are razor thin. Hasheem Thabeet averages one block per contest, a number that nearly triples his scoring average. Hamed Haddadi and DeMarre Carroll have earned Hollins' confidence to the tune of (almost) eight combined minutes per game. Yikes!
Randolph unavailable makes attacking a vulnerable middle mandatory. The Lakers should always adopt an inside-out mentality, but this scenario makes it even more imperative.
The Phrase That Pays