Courtesy of Dave "McTen" McMenamin, we learned Wednesday Andrew Bynum, upon his eventual return, will immediately join the starting lineup, a move that slides Pau Gasol back to power forward and Lamar Odom back to second unit kingpin. During yesterday's chat, several readers asked how we felt Phil would handle this eventual scenario, given Gasol's and LO's chemistry and Odom's through-the-roof production. Dude's averaging 16.6/11.4/3.6, plus gaudy percentages from the field (70.8) and behind the arc (80). Throw in Lamar's typically underrated defense and the success experienced with him as a triangular conduit, and it's understandable fans and media alike have wondered if Jackson might opt to flip the presumed script.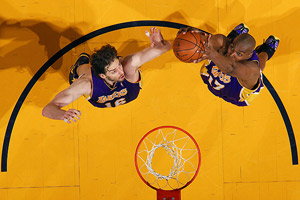 Rocky Widner/NBAE/Getty Images
Andrew Bynum and Pau Gasol will keep a
lot of opponents off the glass as a starting
duo.
As I predicted, he won't. And as I stated, he's making the right decision.
For starters, starting is easier on Andrew from a physical standpoint. Knee injuries have a way of stiffening if idle on the bench too long. Upon warming up before a game, it's important to get him on the court ASAP and keep everything loose. McMenamin noted how Jackson's general use of Bynum will bear this in mind, so health interests alone could arguably trump everything on the court.
But that's even not the case. From an on-court perspective, the logic is also sound.
As a pure force, Bynum and Gasol form an unmatchable frontcourt. I can't think of any two players with more collective skills and -- especially -- size playing side by side. Beyond whatever stats and the ability to compliment each other, Drew and Pau are flat out overwhelming. No doubt, Odom's value as a starter can't be questioned, and the early returns are hardly chopped liver. But there are inherent limits, because he and Gasol are similarly built. Bynum brings a different, larger dimension to the starting five, which should ramp up the basket protection and defensive rebounds snatched.
Equally as important, Lamar brings more to the second unit table than Drew.
No doubt, Bynum could provide a notable presence down low, which is a plus, but also isn't unique to the roster. Gasol replicates this during his inevitable minutes with the reserves and Jackson plans to play Bynum at the top of second quarters as a preventative for stiffening. Bynum will log minutes with the reserves no matter what. But specifically slotted as their primary center, Drew ultimately offers little more than a conventional big man presence, albeit a talented one.
Lamar, however, can help The Renegades in a variety of ways, all serving to accentuate different strengths on the floor. You can run the offense through Lamar from anywhere on the court, which takes some facilitating pressure off Steve Blake. (As fantastic as second unit action run inside-out through Bynum sounds, he's yet to consistently demonstrate that aptitude.) Odom will grab the offensive rebounds Matt Barnes doesn't, and unlike Barnes (much less Bynum), can create opportunities running a break off the defensive glass. Shannon Brown has made tremendous strides as a scorer, but LO attracting additional attention prevents him from carrying too big a load.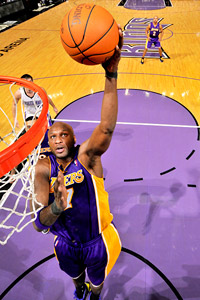 Rocky Widner/NBAE/Getty Images
He's played well as a starter, but Odom will make the Lakers' bench that much deadlier.
Admittedly, we've seen Odom waver as a source of bench points, but I have a strong feeling a predominantly veteran second unit will change this. Throughout the last two seasons, Lamar mentioned his efforts to set an example for the youngsters about playing selflessly. Upon seeing LO refrain from calling his number, the kids would theoretically learn there are more ways to make a mark than "getting yours." The lesson not only didn't take -- Jordan Farmar and Sasha Vujacic were serious non-valedictorians -- but LO often sacrificed his buckets to placate a crew prone to individual agendas and bickering.
Barnes, Blake and (when needed) Theo Ratliff accept their roles and whatever points follow, prolific or nil. These guys will be looking for LO to score, and mentally, I think he'll be freed up to do so.
Plus, as longtime blog readers and PodKast listeners know, I consider "Who starts?" the most perennially overblown of NBA talking points. People routinely view it as a declaration of the best five players, when it's often more about floor combinations and meshing skill sets. The starting five doesn't dictate an outcome nearly as much as the rotations throughout games, minutes allotted, and the crew playing critical fourth quarter stretches. With that in mind, there's another reason to start Bynum when he returns:
It doesn't drastically alter how the Lakers operate.
I expect Lamar's PT to equal or even top Bynum's, especially at the outset. I expect the customary sight of LO on the floor with Gasol during crunch time. I expect the Lakers to continue winning. Nothing really changes, except for the options at Jackson's fingertips.
This decision isn't a celebration of Drew or a demotion of Lamar. It's simply the sensible use of a returning impact player.