The Lakers won 108-103 over their neighbors from up north, the Toronto Raptors on Friday. Here's 10 things to take away from it.
1. Matt Barnes wasn't a huge factor for the Lakers on Friday, scoring a lone bucket on a put-back layup and only racking up two more rebounds, two assists and a steal in the 17 minutes he played in his yellow jersey, but had he been wearing Raptors red it could have been a different story.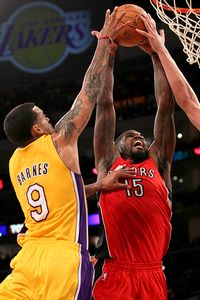 Stephen Dunn/Getty Images
Matt Barnes ended up signing with the Lakers for $3.6 million after losing out on a $10 million contract.
It almost happened that way too. Toronto tried to pry the free-agent forward from the Orlando Magic by working out a sign-and-trade deal that would have ended up making Barnes close to $10 million over two years. Instead, less than a week later he was signing a two-year deal with the two-time defending champs worth $3.6 million.
"It got announced on TV that I was going there and I really didn't even know [until then]," Barnes said. "But let's just say I'm very happy where I'm at ... Going to Toronto, it would have been my job. I would have gone there and played as hard as I could, but with that said I'm glad they worked out the way they did."
If Barnes is bitter about losing close to $6 million when all the dust settled, he doesn't show it. He's found a role behind Ron Artest at small forward and is quickly becoming counted on by Phil Jackson for quality minutes.
It seemed doubly-embarrassing at first not just because of the money, but because Barnes supposedly announced to the world that he was coming to Toronto before the deal was finalized. Barnes cleared up the Twitter controversy that surrounded the situation after the game Friday. There was a tweet from his Twitter handle, @Matt_Barnes22, on July 19 that read: ""Nxt season I will b playing for the Toronto Raptors. I wanted to thank the fans in orl you guys were amazing the way u guys excepted." By July 20, of course, the deal fell through over complications that were "contract and salary-cap based," according to Raptors coach Jay Triano. Barnes said his fan club was responsible for sending out the premature announcement.
Triano said Barnes appealed to Toronto because he was a "wing player who had a toughness to him ... we liked that." The Raps coached said he hasn't lamented the loss of Barnes because he never actually had him on his team, but it did sound like he was paying a little extra attention to him when Triano accurately cited Barnes' defensive rebound average (4.0 per game) before tip-off.
So what happened between July 20 and July 23 when he signed with the Lakers?
"As soon as I found out the deal was dead, that's when I called Kobe [Bryant]," Barnes said. "We made it happen here."
Bryant remembers the phone call.
"I was recovering from surgery," Bryant said. "We talked before that and the Toronto thing kind of popped up and he hit me up and let me know what was going on and he told me it fell through. He said, 'What can we do?' I said, 'Let me make a call, I'll call you back.' And then that was it."
And who exactly did Kobe call?
"I know people."
2. Not to get all Zapruder on you and break down that last story by Kobe too much, but we in the media never knew an exact date for Bryant's right knee surgery this summer. We reported that it was successful on July 24. Based on Barnes' and Bryant's stories, it sounds like the surgery happened on July 20. What does this mean? Not a whole heck of a lot, but it's kind of been a question floating in my head since the summer. Now to keep trying to find out the terms of Phil's contract ...
3. Here's a connection between the two teams you probably didn't know about: Jackson and Raptors assistant coach P.J. Carlesimo coached against each other in Puerto Rico's National Superior Basketball league in the 1980s.
Said Phil: "I coached in Puerto Rico and P.J. was coaching down there but he was in the big city so they spoke mostly English in San Juan, but I was out in the country and you had to do Spanglish a little bit to coach these guys."
4. L.A. has Portland coming to town on Sunday, maybe the first true test of the early schedule. Despite losing nine out of their last 10 at the Rose Garden, the Lakers have actually beaten the Trail Blazers 14 out of the last 17 times they've played at Staples Center.
5. The first four 3-pointers that Steve Blake attempted went down as Blake finished with 14 points and two assists and went 4-for-6 from deep. A point guard by trade, Blake is used to be the one passing to the open man, but he sure didn't mind being on the receiving end and launching away.
"Most of my shots were off my teammates creating," Blake said. "I think the first one Lamar [Odom] pushed it on the break and hit it to me and I knocked that one down. And then Kobe, a couple times, breaking the defense down, sucking the defense in and just him kicking it out. So when you have players that are able to create like that, you just have to be ready to shoot."
Even though Blake has the ball in his hands a lot, he said he actually prefers catch-and-shoot opportunities rather than attempting pull-up jumpers off his dribble.
6. My editor said I should work on the titles of these posts. He thinks "The McTen: The [Team X] Game" is kind of stale. Any suggestions moving forward?
7. Luke Walton made his season debut, waiting just 35 seconds before taking his first shot (a 3-pointer, which he missed badly). Walton played a little more than six minutes and registered one steal, but also deflected another pass that led to a Toronto turnover.
Jackson said Thursday he wanted to see how Walton fared in a full-contact practice before dressing him in a game, but had to settle for what he saw from Walton in full court three-on-three games between the reserves to be convinced to give him the OK.
"It's been continual games being played these first 14 days or 16 days since the opening game so we really haven't had an opportunity to have the type of practice that we have so we're just going to have to go by feel tonight a little bit," Jackson said before the game. Jackson also noted that he wanted to get Walton back on the court because he could offer direction and an identity to the Lakers second unit and he his a face the referees know so he can be the communicator for the reserves' cause when he's out there.
Walton was in great spirits after the game.
"It was a lot of fun getting back out there," Walton said. "I'm just looking to play, have fun, help out where I can. Move the ball, box out, whatever I feel that the game needs at that time."
As for his lower back and strained right hamstring that have plagued him through last season and the start of this year, Walton said he's healthy once again.
"Everything felt great," Walton said. "I was excited. It was nice to be out there feeling no pain and hopefully I wake up [Saturday] feeling the same way."
With Walton in the lineup, rookie Devin Ebanks was deactivated from the 12-man roster for the night.
8. Lamar Odom had his worst game of the year by far -- seven points, nine rebounds on 2-for-10 from the field and 3-for-7 from the foul line -- but Triano couldn't stop himself from heaping the praise on L.O. pregame. Even though Triano is Canadian, he got the call up to be an assistant coach on the U.S. Senior Men's National team at the FIBA World Championship in Turkey after helping out USA Basketball the last several summer as the coach of the Select Team (the group of younger talent the Senior Team harvests to pick players from in the future). Triano went in place of New York Knicks head coach Mike D'Antoni who had back trouble.
"I thought Kevin Durant was absolutely fantastic over there, but I thought Lamar Odom was the guy was the reason the team was successful," Triano said. "He was the glue, he was the veteran, he was the guy who had won a championship before, he was the guy who was the anchor at the defense end and it was the defense that won the whole thing for us.
"The European game is a lot different and the 4s in Europe not only play inside, but they're bigger, stronger guys who can go out and shoot the basketball and Lamar took that challenge upon himself and had to go out and guard 4s that play out facing the basket away from the rim and was able to still get back and rebound the basketball at a very high rate for us. I honestly think he was the key to us being successful."
So, what does Triano think happens to Odom when Andrew Bynum comes back?
"Then he becomes maybe the Sixth Man of the Year in the NBA. He's very valuable, he's a very good teammate and I was really impressed with him as a person and as a basketball player."
9. Quote of the night: "It felt like he wasn't there one time last year when we played them … He was already in Miami." -- Phil Jackson on how the Raptors are different this year without Chris Bosh. For the record, Bosh played in both games between L.A. and Toronto last year, averaging a clean 20 points and 10 rebounds that didn't make much of an impression on PJax.
10. Stats of the night: The Raptors outrebounded the Lakers by 18, 49-31 ... L.A. natives Amir Johnson and DeMar DeRozan combined for 27 points and Johnson grabbed 15 rebounds off the bench -- one less than Pau Gasol (seven) and Odom combined ... As mentioned above, Blake started 4-for-4 from 3. Kobe holds the Lakers record for most 3s in a game without a miss. He went 7-for-7 on Jan. 6, 2006 at home against Philadelphia.
Dave McMenamin covers the Lakers for ESPNLosAngeles.com. Follow him on Twitter.