The general consensus among ESPN pundits has the Blazers just a notch below elite status in the West, much less the standing of squads like the Heat, Celtics or Magic. (I personally consider Portland as dangerous a squad as the left conference has to offer, but what do I know?) Still, nobody would deny their talent, even with Greg Oden and Joel Pryzbilla shelved and Rudy Fernandez questionable. The Blazers are a dangerous team, easily the best faced by the Lakers in this young season.
I've had this game circled on the calender as the first true test for the Lakers, between how well the Blazers match up against them and a desire to break through after a few seasons of arrested development. Here are four items to keep an eye on during what should be a very entertaining night at Staples Center.
Ron Artest vs. Brandon Roy
During the 2009 playoffs, then-Houston Rocket Ron Artest raised eyebrows by declaring Roy "the best player I've played against," as far as perimeter scorers go. Asked if he remembered Kobe Bean Bryant was still in the league, Artest didn't waver. This being Ron-Ron, the commentary was interpreted as anything from an honest assessment during a heated series to the pre-emptive diss of his semi-finals assignment (Bryant).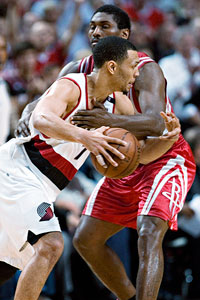 AP Photo/Don Ryan
Artest praised Roy throughout the 2009 playoffs.
But no matter what you make of Artest's words, it doesn't change the fact Roy is truly a bad man on the hardwood. He can get to the cup, drain the mid-range J or hoist from deep (albeit without quite the same success as the aforementioned spots). And while divvying ownership of the rock with Andre Miller remains a continual adjustment, he's growing more comfortable playing off ball as well. All in all, there aren't many weaknesses to Roy's game, period. He's just a very complete overall player, among my biggest man crushes in the NBA.
That being said, he could have his work cut for him against his purple and gold admirer, and beyond what's assumed while battling someone with Artest's defensive credentials.
For starters, Roy's 22 points per game arrive courtesy a 41 percent clip from field (rounding up), hardly the most efficient use of his shots. Whether the result of recent knee issues (Roy actually got scoped during the 2010 playoffs) or simply a matter of a shot not falling with ease, his flow clearly hasn't been there to start the season. Artest is a master at disrupting rhythm in any case, but Roy isn't entirely in the zone to begin with, all the better.
That's also not the only way for Ron to wear down the visiting All-Star. Presumably, defensive ace Nicolas Batum will be covering Kobe (more on that later), which likely makes Roy-Artest a two-way matchup. Artest has an inch and (at least) 40 pounds on Roy. That size advantage is tiring enough when Ron leans on Roy to prevent scores, but when defensive assignments consist of getting posted up or driven on by a dude built like a middle-linebacker, Roy could really be tuckered out. I'm hoping Artest makes a point of playing physically taxing offense as well as defense.
Kobe Bryant vs. Nicolas Batum
Speaking of dudes who dealt with offseason knee issues, it seems like 100 years ago people were sweating Kobe's recovery from summer surgery. The regular season has featured a steady diet of Mamba-esque physicality and production. Game by game, he looks more and more like Kobe. He's faced defenders with past success against him (Shane Battier, Tony Allen), but this will be the first time in a young season against a quality defender with young legs and long arms to boot. Batum is a confident kid who won't back down to this challenge, and the chess match on display could be thrilling.
When the roles are flipped, Kobe needs to be aware of Batum around the arc. His three-point prowess has been all over the place across seven games, but he caught fire last night against Toronto and shot 41 percent last season. Batum is the kind of B-List scorer Kobe sometimes transforms into an A-Lister by virtue of disrespect.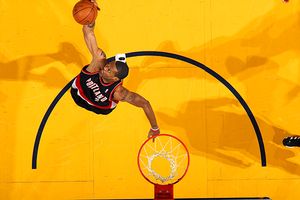 Rocky Widner/NBAE/Getty Images
Predictably, glass-eater extraordinaire Marcus Camby is doing predictable damage.
Defensive Rebounding
Despite a 6-0 record, the Lakers have taken a fair amount of heat for their defense. Save the Golden State Warriors (Irony alert!), the defending champs have yet to hold an opponent to double figures, rather striking for a team whose recent title was secured largely by virtue of the D. But for all the lax lockdown chatter, I think the defensive glass has left the Lakers more vulnerable. A defensive rebounding rate of 69.1 percent is among the league's worst, and further accentuates whatever problems have occurred defensively. Thus far, the Lakers have gotten by on their other strengths (including exceptional work on the offensive glass), but tonight features a matchup problematic for this particular shortcoming.
The Blazers lead the league in offensive rebound rate (percentage of offensive rebounds grabbed) with a 34.23. Predictably, glass-eater extraordinaire Marcus Camby is doing predictable damage. But you might be surprised to learn Camby's four offensive rebounds are matched for team-best by starting front court mate LaMarcus Aldridge,a forward sometimes accused of softness throughout his career. For that matter, Batum and Miller (among the best rebounding point guards of recent memory) are good for a pair each contest. Bottom line, Portland makes a point of creating second chance opportunities, which directly speaks to a Lakers weakness. Friday saw the Toronto Raptors snare 19 of their own misses, with nine alone by Amir Johnson off the bench.
Against a better team than the NBA's Canadian representatives, that could very well equal a loss. Against the Blazers, I'm almost certain it will.
Turnovers, or the lack thereof
With 13.3 turnovers per game, the Lakers share top honors for best ball care in the league. The Blazers (13.7) are nipping at their heels. Thus, it would behoove both teams to execute at their cleanest, because counting on the opposition to shoot themselves in the foot is essentially playing the lottery. Winning will likely require superior execution.