After an uninspired effort Friday night against the Raptors, the Lakers responded with a much more juggernauty performance Sunday, wiping out the Blazers at Staples. Clearly the whole "fall back" thing didn't throw them off. (I, on the other hand, thought last Sunday was daylight savings day, and spent all week wondering how my microwave managed to reset itself to the proper time.)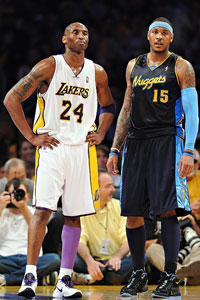 Lisa Blumenfeld/Getty Images
Carmelo Anthony is off to a great start for the Nuggets. It's an open question whether his finish this season will still come in a Denver uniform.
Here's the docket for the next seven days...
Game of the Week
Thursday at Denver, 7:30 pm PT (TNT)
So much has happened around the Nuggets over the last year, between George Karl's battle with cancer and the saga surrounding Carmelo Anthony's future in Denver, it's easy to forget there is an actual team still showing up for the games in its schedule. Thus far, despite missing Chris Andersen and Kenyon Martin (leaving Shelden Williams- last seen accomplishing little in the NBA Finals for Boston- in the starting lineup), Denver has won four of six, in reasonably impressive fashion against a tough early schedule. 'Melo and Co. split a pair with Dallas, won in Houston, beat Utah by 22, and lost a very tight game in New Orleans.
As for Anthony, he's certainly not sulking, averaging nearly 25 points a game and shooting 51.4 percent from the floor. This to go with 7.7 rebounds (almost 1.5 more than his career average), and 3.7 assists. Free agent import Al Harrington is adding over 16 points a night to the offense, despite not playing in the preseason thanks to a foot injury.
Like a lot of people, last season's turmoil combined with the drama enveloping Anthony's future helped me push Denver off the list of legitimate Western Conference contenders. In the long term it's probably still a very fair sentiment, but for now the Nuggets are playing well and will be a tough challenge, particularly on their floor, located at last check quite a ways above sea level.
Other Games
Tuesday vs. Minnesota, 7:30 pm PT
OK, Kurt Rambis, now it's personal. Last year, you brought Kevin Love off the bench, weird given his productivity and the total lack of hope for your team, but at least there was a reasonable foundation. While Al Jefferson was on the team, a frontcourt combination of Big Al and Love was the defensive equivalent of a welcome mat. But now Jefferson is in Utah, and Love remains. Rambis has moved him into the starting lineup, but continues to limit Love's minutes to absurdly low levels. 26.5 minutes a game? Really? For a guy averaging 17 and 11, and a few dimes a night?
Sure, Love can often be mistaken for a parked car on defense, and the Wolves are probably not quite as good on that end with him on the floor (though he's easily the team's best rebounder). But, to quote Mom, "Here's the thing": They're not a good defensive team without him on the floor, either. They're not a good team, period. So it makes very little sense to skimp on minutes for a franchise building block, unless you think Anthony Tolliver, like Moses did the Isrealites, will lead the Timberwolves out of the wilderness.
Especially- and here's the "it's personal part"- when I spent a third round pick on the guy in my fantasy draft. As the expression goes, now you're messing with my money, Kurt.
Sunday vs. Phoenix, 6:30 pm PT
The last meeting between these teams earned Phil Jackson his 1,100th career victory. It was a competitive game, but one the Lakers controlled throughout, taking a seven point lead into the half, and an eight point lead into the fourth, thanks to an 11-3 run over the final minutes of the third. Six players finished in double figures, and L.A. benefited from 25 points between Matt Barnes, Shannon Brown, and Steve Blake.
Phoenix hasn't exactly set the world on fire in the first few games of the post-Amare Stoudemire era, but like it is with Denver, the schedule adds some context. They've played on the road in Portland and Utah, plus Sunday afternoon in Atlanta. At home, the Suns have welcomed the Lakers, Spurs, and Memphis. That's six playoff or playoff adjacent teams (the Grizz absolutely would have made the top eight in the Eastern Conference) to start the season.
3-3 doesn't seem so bad.
Player to Watch
Matt Barnes
His line Sunday was a quiet highlight. 13 points, six boards, four assists. A little of this, a little of that, put together to make a lot. He's been doing it all season. I noted last week some of the reasons why Barnes is fitting in so well, and the games this week will provide more opportunities for continued growth in L.A.'s system. Minnesota plays at the league's fastest pace, and isn't afraid to load up on wing players or go small, when needed. Denver's attack is no secret, nor Phoenix's. (Barnes played 18 minutes in the first meeting.)
Good as he's been, Barnes' role on the team is a work in progress, and more likely perhaps than anyone else on the roster to evolve in different ways as the season goes along. One potential mark of his comfort as a Laker? On a per-40 minute basis, through the season's first seven games Barnes is busting through an awful lot of career highs.
Random Thoughts:
1. The 7-0 start has rekindled a lot of talk about 72 wins, or at the very least, making a strong run at the league's best record. The former is highly unlikely, the latter more so but still a hefty challenge. Either would be a great accomplishment, but after Sunday's game, Phil Jackson and Pau Gasol reiterated how the Lakers just don't think in those terms. It's one thing to let it happen organically, but to actually push the team past a point proving constructive for the playoffs makes no sense.
"We're not going to do anything like that," Jackson said. "The season's too long, travel's too difficult in the [Western] Conference. You just have to try and step out ahead of people in our division, our conference, and play as it comes along."
The Lakers want to win as many games as possible, but can't think about winning as many games as possible. Only the game they play next. Cliched, but true.
2) The Lakers haven't found themselves in a deep hole since opening night against Houston. At some point, though, it'll happen again, and I'm looking forward to seeing how they respond. I suspect most nights they'll find their rally caps, but it remains to be seen. The nature of a team when it plays from behind is just as important as the ability to get and stay ahead.
3) The Wolves don't run as much triangle as the Lakers, but if you want an idea of how masterful a handle L.A. has on the system, compare and contrast in those moments when Minnesota does bust out the sets.