It's no secret the Wolves aren't good. They finished 2010 with a NBA second-worst 15-67 clip, and a current 1-6 clip isn't improving on last season's pace. They're arguably the league's premier laughing stock franchise, what with the Knicks on a theoretical road towards Asbestos-free respectability. But the ineptness is worse than people may even realize.
The Timberwolves have lost three times by at least 25 points, and if that feels like a lot of blowouts over just seven games, you're correct. According to the brains at Elias, in the last 20 seasons, only two other teams have suffered three 25-point losses in their first seven games: the Bulls in 2003 and the SuperSonics in 2005. In other words, we're talking historic badness, without any signs of locating the proverbial tunnel, much less whatever light might be at the end of it.
Still, the Wolves are on the schedule and the Lakers must suit up against them or forfeit the result. Here are a few matters to be mindful of once the ball is jumped.
Darko Milicic
With NBA free agency's rich history of turning summers into silly season, it takes a very special contract to emerge as the consensus "What the . . . ?" contract. Well, Darko Milicic at $20 million over four years was a head-scratcher for the ages. We're talking about one of the biggest busts of recent memory, a dude who vowed to take his ball and go back to Europe. Safe to say, Team Darko's phone wasn't expected to ring off the hook. (To put things in perspective, fans who complain the Lakers bid against themselves in 2007 for Luke Walton may be correct... but compared to the interest in Darko, Walton could have aired his own version of "The Decision.")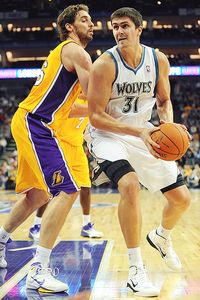 Andrew D. Bernstein/NBAE/Getty Images
Whether Darko plays well or poorly, he'll always remain fascinating.
Shockingly (or predictably, depending how you look at it), everyone's favorite dubious basketball thinker saw a diamond in the rough. David Kahnnnnnnnnn!!!! threw a boatload of money at Darko. Al Jefferson was moved to secure PT for the Serbian legend. Seven games and a 23 percent clip from the field later, here we are.
In the interest of balanced reporting, Milicic averages nearly three swats per game and would grab about ten rebounds in 40 minutes. He also leads the team in defensive plays, according to Hoopdata.com. Still, Darko's +/- is fourth lowest on the team in just 20 minutes per game, which makes me wonder if the situation is similar to Kwame Brown back in the day. In Kwame, you had an excellent post defender, a reasonably good pick-and-roll defender, and a dude so bad at everything else, returns typically diminished the longer he was on the floor.
In any event, I've long harbored a bizarre fascination with Darko's career, and plan to closely observe his pairing against Pau Gasol. El Spaniard is fresh off a triple-double where he carved up the Blazers like a Thanksgiving turkey, and earlier won Western Conference Player of the Week honors. Milicic, however, marks his first matchup against a physical presence with zero offensive responsibilities (although Darko notched 16 and 13 point games, the latter with five assists, against L.A. as a Wolf). I'm curious to see how Pau handles this assignment.
Rebounding
Remember how in "Full Metal Jacket," Private Pyle (Vincent D'Onofrio) struggled horribly at every boot camp task until discovering he was an excellent shot? (The end result of this discovery was a bummer, but the skills were nonetheless impressive.) Well, the Wolves are basketball's Private Pyle. Their offense is anemic. Their defense, with its 110.7 efficiency rate, is a sieve. They don't have play-makers. They don't take care of the ball.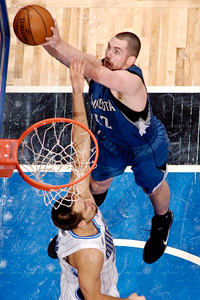 Fernando Medina/NBAE/Getty Images
Keep Love and Co. off the glass!
But similar to Pyle, the Wolves do one thing very well: Rebounding.
The league leaders in boards per game (48.7), the Wolves excel on both sides of the glass by any measurement. Their eighth-ranked defensive rebounding rate (75.41) smokes the work by their hosts (71.12), and their offensive rebounding rate (31.01) rounds out the league's top five. Granted, the latter figure is arguably more of a survival mechanism than prowess. When a team shoots 39 percent from the field (rounding up), second chances are mandatory for a shot at cracking 80 points.
Still, good work is good work. Kevin Love (a team-leading 11.7 rpg), Anthony Tolliver, Darko and Michael Beasley all average five or more rebounds in under thirty minutes of work. Backup center Nikola Pekovic snares over two offensive boards in half that time. The Lakers should always make a point of hitting the boards, but against the Wolves, the emphasis makes particular sense. Keep this team off the glass and they're truly wielding a plastic butter knife at a gun fight.
Focus
Friday, the Lakers hosted the Toronto Raptors, a non-contender even with Chris Bosh in the lineup last season, much less their current campaign without him. The Lakers played easily their worst game of the season, and more strikingly, their most unfocused. Two days later, enter the Portland Trail Blazers, a team missing two key players (Greg Oden, Joel Przybilla), but still widely considered the toughest squad the defending champs have faced this season. The Lakers proceeded to beat the snot out of them. From start to finish, the purple and gold were exceptionally dialed in.
Tonight features a visitor that makes the Raptors look like world beaters. Do you see where I'm going with this?
Look, I have zero worries about the Lakers getting upset. They might literally be able to win this game with one arm tied behind Kobe Bryant's back. My concern, however, would be Kobe playing 40 one-armed minutes. This is the perfect setting for Bryant and his fellow starters to log around 30 minutes on the court and 18 minutes icing knees. Failure to make this happen is a wasted opportunity in its own right, even while remaining undefeated.
Listen
Rambis appeared yesterday on Mason & Ireland to talk about the game. It's a terrific conversation featuring candid comments from Rambis about the Lakers, the Wolves and why he doesn't play Love as much as expected. (I don't buy his logic for the third matter -- Kurt's still tinkering and hasn't landed on a rotation-- but candid is candid.) I highly recommend giving it a click.