They're baaa-aaack! After a brief tour of the northern Midwest, the Lakers have touched down in L.A. and will host the Golden State Warriors. It's a date against first- and second-place holders in the Pacific, but with all respect to the Warriors' surprisingly strong start, the Pacific remains the Lakers and four teams taking up space. Here are a few items to be mindful of after the ball is jumped:
Monta Ellis
What a difference a year makes. Around this time in 2009, Monta Ellis was angry about Stephen Jackson's departure, skeptical about Steph Curry's presence and rumored to be on the block if a taker was willing to bid. About 365 days later, Ellis is content, gets along with Curry and is embarking on the best campaign of his career. His scoring prowess (27.7 ppg) isn't impressive simply for ranking second in the league, but rather its efficiency. Ellis is shooting 52 percent from the field overall with a career-best 37 percent clip from behind the arc. In particular, Ellis is killing it at the rim, converting almost 72 percent of shots from point blank.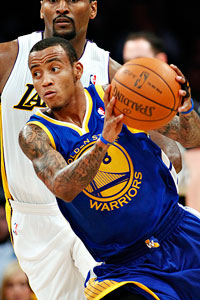 AP Photo/Lori Shepler
This man can do serious damage filling up a bucket.
During the preseason, Ellis ran roughshod all over the Lakers for 41 points. A Halloween regular-season match, however, was a different story. The speedy guard was "limited" to 20 points on 9-of-20 shooting and, equally crucial, offered just a pair of trips to the line. (Ellis averages 6.9 freebies a night, 13th-highest in the league.) Of course, a bad ankle shelved Curry, making it easier to key on Ellis and spread the labor defending him. With the baby-faced point guard -- no slouch in the scoring department himself -- on hand, Ellis instantly becomes a tougher cover.
Who'll take the assignment is an interesting question. Ellis is much too fast for Derek Fisher. Ron Artest has been up to the challenge in the past, but a nerve issue in his back -- according to Phil Jackson, if nothing else -- might leave him staring too often at the back of Ellis' jersey. Thus, it wouldn't surprise me to see Kobe spend a large amount of time checking the Warriors' leading scorer.
Ideally, the Lakers would avoid burdening Bryant with this type of defensive assignment on top of his scoring responsibilities, but he's probably the best option. If I may be so bold to offer a tip, forcing Ellis into 2-pointers from 16-23 feet out (his worst spot on the floor) would be a sound strategy. Or the Mamba could just turn the tables by aggressively attacking Ellis and exploiting a size advantage. That ability to score, impressive as it is, drops dramatically while he's pinned to the bench with foul trouble.
David Lee's absence
An inadvertent bite from the Knicks' Wilson Chandler landed David Lee in the hospital, where antibiotics and an IV were needed to combat bacteria.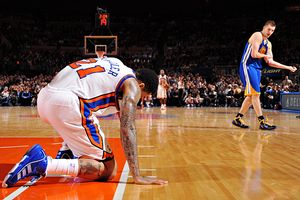 Jesse D. Garrabrant/Getty Images
Wilson Chandler's teeth are nothing to trifle with.
Since this incident, Lee has yet to play (which should continue this evening), and the once-hot Warriors have come back to Earth. Golden State is 1-3 in games without their starting power forward, and as the Lakers recently taught us, a win over the Pistons is nothing to brag about. Lee's 14.3 points per contest would obviously come in handy, but the 11.3 rebounds appear especially missed. The Warriors were outrebounded by nearly 10 boards in their three losses and squeaked a 44-42 rebound battle against the Pistons, a squad horrible on the glass. And as Keith Smart has learned while tinkering lineups like a mad scientist, Golden State's remaining big man options are either mediocre rebounders (Brandon Wright, Vlad Radmanovic) or mediocre players (Dan Gadzuric, Vlad Rad again).
The Lakers lead the league in rebounds per game and are fourth in rebound differential. This is a setting where they should perform as such.
Focus at home
After the recent home loss to Phoenix, Phil Jackson and players noted how time on the road can sharpen a team's focus. Judging by the Lakers' dominating play in Milwaukee, Detroit and Minnesota, this theory holds water. True, the fall to the Suns was more about an opponent's historic shooting than faulty execution, but the same could be said about a loss in Denver and even a win hosting the Wolves. Attention to detail and a game plan had waned at times but was rediscovered outside the confines of the Staples Center.
The Lakers are clicking again on all cylinders but need to maintain this in an environment where they typically dominate. Otherwise, they could find themselves in a battle much more difficult than need be.