Heading into last weekend, Charles Barkley was the only player in NBA history to record 20+ points without a miss on at least five attempts from the field and the line, plus five rebounds and five assists. Heading into Tuesday's game against the Chicago Bulls, Sir Charles' place in the record books is short some elbow room.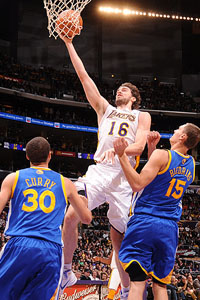 Noah Graham/NBAE/Getty Images
First came Matt Barnes. Then Ol' Thunder Stealer. Will another Laker follow?
Friday against Minnesota, Matt Barnes notched 24 points (seven-for-seven from the field, five converted free throws in as many tries), seven rebounds and six assists in a career-night for the journeyman. Before Lakers fans had time to wrap their heads around the situation, Pau Gasol bum rushed the show. Ten baskets on ten attempts and eight converted free throw opportunities, plus nine boards and 5 dimes. You can debate which performance was better, but what can't be argued is how the Lakers make forays into history look so easy, a caveman could do it.
The question heading into the Bulls' game doesn't feel like "if" the streak will continue, but rather by whom. Thus, I decided to handicap the odds on the next Laker to achieve unblemished greatness.
For the sake of simplicity and (relative) realism, odds were only laid for dudes in the rotation. No offense to Derrick Caracter, Devin Ebanks, Luke Walton or Sasha Vujacic, but they're long shots for enough PT to qualify, and even if unexpectedly long minutes surface, I have my doubts about catching fire. Caracter leads the ninth-12th men with a 42.9 percent clip on largely point blank attempts, and at the other end of the spectrum, Luke's missed twelve of his thirteen shots attempts. (7.7 percent, for those willing to keep very low score.) If this were Vegas, they'd be off the board.
As for the eight legit candidates, here are your odds, in order from best to worst...
Kobe Bryant
Pros: As capable of such a roll as anybody in the NBA, much less the Lakers. He once hit a dozen three-pointers in one game, which sounds like a good warm up. Can a man of Kobe's insane competitiveness sit idly by and watch Gasol and Barnes pull this off without diving into the pool? Save Defensive Player of the Year, a perfect game is about the only achievement Bryant's yet to accomplish, and he's on a career path of leaving basically every stone unturned. No time like the present to flip this one.
Cons: He'll often be checked by Luol Deng (according to our man Nick Friedell from ESPN Chicago), a quality defender with excellent length. Kobe's willingness to put up shots nobody else on the planet would attempt often leads to misses nobody else on the planet would endure. His 30 percent mark from downtown is his lowest since the 1999 season, hardly a good omen.
Odds: 15-1
Shannon Brown
Pros: Dude is shooting the lights out this season, and in particular throughout November. Eight out of eleven games at 50 percent or higher, and with the month's end fast approaching, better strike while the iron's hot. His shot selection these days is also arguably better than any Laker, which certainly helps his cause. He's on the early short list for "Most Improved Player" honors, so this would be fantastic resume material.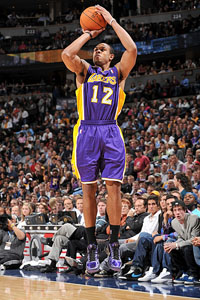 Garrett W. Ellwood/NBAE/Getty Images
Shannon can't miss these days, which could make him perfect on Tuesday.
Cons: Might this be too lofty a goal for a player just starting to come into himself? Last season, the lights during the dunk contest appeared a little too bright. Plus, the Bulls gave up on Shannon rather quickly in 2008, and players, particularly young ones, sometimes have a tendency to attempt too much against old teams. (I believe the clinical term is called "The Ariza Syndrome.")
Odds: 20-1
Pau Gasol
Pros: We know he's capable. The only rotation regular with zero trey's launched this season, and high-percentage looks only aid his quest. If Taj Gibson can't go, Joakim Noah may slide to the four and Gasol's defensive assignment could be offensively-challenged Turkish rook Omer Asik, allowing him to preserve energy towards offensive perfection. As we learned after Kobe's triple-double against Sacto and Barnes' perfect game, Gasol is such a pathological thunder stealer, he'd probably swipe it from himself.
Cons: He could spend much of the game checked by Joakim Noah and (assuming he plays) Gibson, the Bulls' co-leaders in defensive plays. Sledding won't be easy. Can he handle the pressure of a back-to-back perfection? Will he even be interested? Gasol's copycat style has clearly been established. More likely he'll kick back, wait for a teammate to do something spectacular, then Bogart his buddy's moment in the sun ASAP.
Odds: 35-1
Derek Fisher
Pros: Not a player likely to cave under this pressure. The man hits bigger shots than these would constitute in his sleep. Of any rotation regular, he's shooting the best from behind the arc (58.6 percent). A 47.2 percent mark from the field represents the foundation of a career-high at age 36. Fish lives to tell cynics putting him out to pasture to kiss it, so a perfect game as an "old man" would provide clear satisfaction.
Cons: Clutch as Fish is, he's also a maddeningly streaky shooter. Thus, Sunday's five-for-five effort in Minnesota -- coupled with a four-for-six showing against Golden State -- smacks of a proverbial shoe about to drop. As the Player's Association Prez, he's currently saddled with the burden of averting an impending labor strike. That Fisher's managed to concentrate this well with such a weight on his shoulders is quite impressive. Let's not push things.
Odds: 75-1
Lamar Odom
Pros: The highest percentage of any regular from the field (57.7) and the second highest from behind the arc (52.4). These 14 games feel like the start of a career-best campaign, which makes a perfect game feel like an actual possibility. With three championships (two NBA, one TEAM USA since 2009, LO is on quite the roll. Last season, Lamar joined elite company for a rather quirky distinction (eighth-youngest to 6000 rebounds and 3000 assists), so another oddball record would be fitting.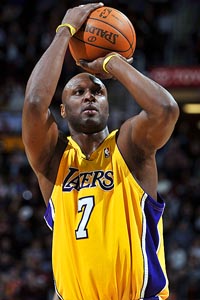 David Liam Kyle/NBAE/Getty Images
Time at the stripe and Khloe's Tweets could do Lamar in.
Cons: The lowest percentage of any regular at the stripe (59.5), and by a sizable margin. It's tough to picture LO canning two freebies in a row, much less a slew of them. Conversely, Odom's always good for a game (albeit fewer this season) where he doesn't take enough shots to qualify. Khloe Tweets constantly during games to cheer on her "Lam Lam," and while the support is sweet, we all know what happens when you talk too much about a perfect game in the works. A well-intentioned jinx could await.
Odds: 100-1
Matt Barnes
Pros: Like Gasol, been there, done that. He's playing out of his mind right now, siphoning minutes once earmarked for Ron Artest. Barnes is also nothing if not a "chip on his shoulder" kinda player. After seeing Gasol steal his thunder, the reaction could very well be, "Two can play at this game, %$&#!" Thunder stolen right back.
Cons: Much of Barnes' energy could be devoted towards chasing Derrick Rose with the ball or Kyle Korver coming off screens. Dude may be a little too pooped to maintain another perfect clip. Call me a skeptic, but doesn't two perfect games in five days from a guy on his eighth teams in seven seasons feel like the fix is in? I'd be looking around for Tim Donaghy in the stands.
Odds: 125-1
Steve Blake
Pros: Arguably the best pure shooter in the field, and his 47 percent clip for three-pointers is more than respectable. The perfection pattern has been new Laker (Barnes), then holdover Laker (Gasol), leaving Blake the natural candidate to maintain continuity. The worst field goal percentage of any rotation regular, so if you believe in guys being due...
Cons: Again, the lowest field goal percentage. Has only one game with more than six shots this entire season, making him feel ineligible before things even get started. Like Khloe, his wife also tweets a lot, leaving him vulnerable for the "don't say anything to the pitcher" jinx.
Odds: 200-1
Ron Artest
Pros: If Deng's main assignment is Kobe, Artest could find himself matched often against Keith Bogans, providing quite the exploitable size mismatch. His shot has been off these days (only one game above 40 percent since Nov. 14), but if Game 7 proved anything, when you least expect it from Ron, expect it. Plus, this could mean Artest formally taking questions, and the basketball gods must desire another Ron-Ron press conference.
Cons: Beyond not shooting the ball well lately, not even shooting it much period. Artest could log even more minutes than Barnes, upping his exhaustion potential. And perhaps this foray into the history books is low on Ron's to-do list. After all, there's an impending NFL second act to worry about.
Odds: 250-1