A hot bed of action at Staples Center, as the Lakers survived a serious challenge from the up-and-coming Chicago Bulls. 98-91 when the smoke cleared, allowing Laker fans to exhale and drink in what was probably the most entertaining game of the young season. Seriously fun times, especially with the "W" included.
Three good
Kobe Bryant
Throughout my time covering the Lakers, I've made clear my pet peeve about how the word "aggressive" is applied to Kobe Bryant's play. Typically, "aggressive" is code for "taking over as a pure scorer come hell or high water with no exceptions," which drives me insane. It's such a narrow way to define putting a stamp on a game, as if setting up teammates and controlling the action on a string is somehow "passive." (When's the last time Steve Nash was referred to that way?) Tonight was a perfect example of how Kobe can match any on-court "assassin" step for step without putting up shots like a 21-year old kid at his first open bar.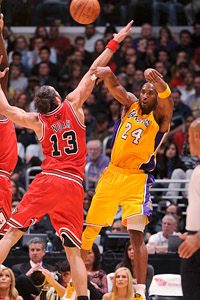 Andrew D. Bernstein/NBAE/Getty Images
Despite often working as a "facilitator," Kobe kept much of this game on a string.
20 points (12 in the first half) were notched a reasonable eighteen attempts. More often than not, he was backing various defenders down in the mid-post area, then turning around for the jumpers he makes look so easy. In the meantime, everyone else's offense was often orchestrated with Bryant as a starting point. Particularly during the second half, when he worked out of the high and mid-post and made a slew of fantastic reads when help defenders arrived. Five dimes won't turn heads, but that's only half the story. The NBA doesn't formally log hockey assists, but a few key baskets came as the result of Bryant making the initial pass, and everyone reacting from there. These extra passes became contagious, as Matt Barnes, Steve Blake and Shannon Brown all took turns swinging the rock around.
If Kobe playing puppet-master like this qualifies as "unaggressive," sign me up for a sedated Mamba every day of the week. Dude was like an orchestra conductor, and it was a pleasure to watch.
The bench
During the first half, starters not named "Kobe" or "Bryant" struggled mightily from the field, combining to miss 15 of 19 shots. Still, intermission Gatorade and orange slices were enjoyed while nursing a two point lead. How did that happen? Because Brown went absolutely bananas. Six-of-nine from the field for 18 points, including four from downtown. His decision-making was also on point, highlighted best on a sequence where Blake nearly turned the ball over, but Shannon's head up awareness led to the ball scooped up, then taken it all the way to the rim with the clock running down.
Last year, he might have rushed the sequence, but this basket came under perfect control. As each game progresses, Shannon's evolving into a more complete player, his stated goal at the end of last season.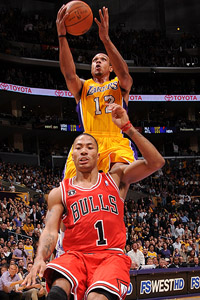 Andrew D. Bernstein/NBAE/Getty Images
Shannon elevated his game, literally and figuratively.
Brown's performance set a tone for a night owned by the "Killer B's," "Renegades" or whatever your preferred jargon for the second unit. Barnes entered the first half early after Ron Artest picked up two quick fouls and was all over the court, making good things happen on both sides of the ball. Blake was very quiet before halftime, but turned it on strong during the second half. A pair of critical treys were drained in the fourth quarter, and like his fellow reserves, the point guard did a terrific job moving the ball to the right spot on the floor.
It dawned on me just how well the bench was performing after I suddenly noticed in the closing minutes Lamar Odom had been sitting since the 8:48 mark. It certainly wasn't a punishment, because LO played quite well. 21 points and eight rebounds, plus a put back dunk over Turkish rookie Omer Asik so violent, I was worried about an impending international incident. LO is typically a key part of crunch time, and on any other night, floor time would be a given. But he was a spectator just like you and me, because the second unit was simply that good.
Fourth quarter D
The Lakers found a way to clamp down when it counted the most. The Bulls shot just 31 percent over the final 12 minutes, and Derrick Rose missed all four of his tries. Yes, Chicago got to the line 13 times, but the Lakers still did a considerably better job challenging shots throughout the final frame. Plus, the Bulls didn't convert, missing five of their freebies. You'll take that over easy buckets any day of the week.
Three Bad
Pau Gasol's overall effectiveness against stiff competition
I hesitate to label this "bad," in that Joakim Noah has a strong chance to make the All-Star team for the East and Taj Gibson is a quality sidekick at the four. They're as disruptive a frontcourt as the NBA offers and capable of making even the best struggle. And that's exactly the effect Gibson and especially Noah had on Pau. While he did block four first half shots, Gasol was also limited to five points on just three attempts, his rhythm clearly thrown by Noah's length and constant activity. The Gator also kept El Spaniard off the boards, out-rebounding him 11-6 over three frames in a discrepancy strikingly suffered by the Lakers.
Gasol picked things up as the game wore on, but for the overwhelming majority, it was decidedly "Advantage Jo."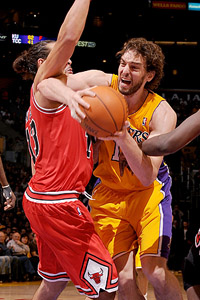 Noah Graham/NBAE/Getty Images
Gasol found scoring inside to be tough sledding.
The attempts at slowing Derrick Rose
I REALLY hesitate to label this "bad," in that we're talking about not only a guaranteed All-Star this time around, but perhaps even a second team All-NBA candidate behind Kobe and Chris Paul. Dude carves up the entire league like the Thanksgiving turkeys you'll be gobbling down on Thursday. Having said that, this game would definitely be scored "D. Rose 1, backpedaling and/or frozen Lakers, 0."
Rose rounded out the night with 30 points, eight assists, five rebounds, plus two or three steps on most defenders. Everyone from Artest to Blake to Derek Fisher took a shot at corralling the speedster, and none enjoyed much in the way of steady success. Blake was particularly victimized on a wicked crossover along the arc en route to a bucket. The veteran guard has seen a lot of fancy dribbling in his NBA career, but I guarantee this move by Rose burned a memorable spot in Blakes' mind.
Again, no true "shame" involved, but it was also a big part of the story.
Ron Artest
Struggling against a player of Rose's caliber is understandable even for an elite defender. But coupled with a one-for-shooting performance -- three misses in as many tries from downtown -- and just two points, it was a night were Ron-Ron couldn't get much going on either side of the ball.