If the Land O' Lakers readership is anything like me (or BK, since I witnessed the damage my brother did last night), they're still stomach deep in semi-digested turkey, mashed potatoes and pumpkin pie. Thus, the notion of exercise, much less in a competitive setting, is a less than appealing proposition. Thankfully, the Lakers have generously allowed you to vicariously shed holiday calories through them.
The purple and gold are in Salt Lake City for a battle against the Utah Jazz, 11-5 and in control of the Northwest Division. Despite an inability to strike playoff gold against the Lakers, the Jazz will never be confused for an easy out. Not with Jerry Sloan still their demanding coach. Not with Paul Millsap now the starting four, which I recently pegged an upgrade over the departed Carlos Boozer on a few counts. Not under any circumstances, really. That's never been how this franchise rolls, and this season is no exception.
This should be a quality challenge for the Lakers, and here are a few items to keep an eye on once the ball is jumped: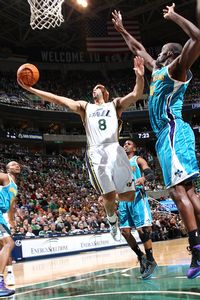 Melissa Majchrzak/Getty Images
Deron Williams has often needed to be this close to the rack for baskets this season.
Deron Willliams' shooting
Williams is scoring 21.3 points per game, the makings of what could end up a career-high in bucket filling. The stat, however, comes with a caveat attached. He's also shooting just 43.5 percent from the field, his worst clip since his rookie campaign. In particular, the mid-range game has suffered, as Williams' 33.3 clip from 10-15 falls well below his typical success rate. That he's also taking more three-pointers than ever (4.1 per contest) while canning them at just an average rate (35.4 percent) also plays into the problem.
Still, when the Jazz and New Orleans Hornets battled on Wednesday, you'd have been clueless about D-Will's struggles from the field. 26 points racked on a nine-of 18 shooting clip, with four freebies falling from downtown in five tries. Perhaps nothing more than a talented guy playing up to his expected level, but you have to wonder if the performance was sparked in any way by the presence of Chris Paul. The two are very close friends, but have spent their entire young careers mired in "Who's better?" comparisons. CP3 has generally been considered the consensus victor, but injuries and the Hornets' drop off last season led to placement in Williams' rear view mirror. Buddies or not, Williams is an extremely competitive dude, and perhaps was inspired to play especially well and maintain last season's spot on the totem pole.
With that in mind, the Lakers should remain aware of Williams' shot refusing to drop, and perhaps even initially defend him as a guy you'll give space in exchange for preventing the blow-by. Put the onus on him to prove the slump is trending in the right direction. But if competitive situations spark the best in Deron, a date with the two-time defending champs (the same team knocking Utah out of the playoffs three-years running) could fit the bill.
Bench battles
That Matt Barnes, Steve Blake and Shannon Brown have formed the core for a vastly improved bench unit is surprising in the sense that they've spent relatively little time working together. But in a vacuum, meshing for success is logical, because they're smart players whose skill sets compliment each other. Blake is a veteran point guard who runs a system first, then fires his estimable outside shot second. Brown provides ridiculous athleticism, plus a rapidly improving jumper. Barnes is a poor man's Lamar Odom, doing a little bit of everything while remaining in perpetual motion. The trio makes sense playing together, so much that the projected learning curve has basically gone out the window.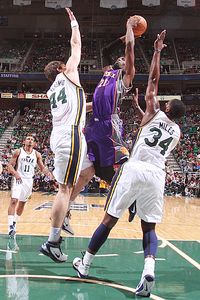 Melissa Majchrzak/NBAE/Getty Images
The Jazz's bench unit is a rag tag crew, but they make it work.
Interestingly, they'll be matched against a Utah second unit also enjoying its share of good fortune. Francisco Elson, my boy Kyrylo Fesenko, C.J. Miles, Ronnie Price and Earl Watson -- S.C.R.A.M., if you will -- own the Jazz's top 5 spots for +/- this season, indicative of the roles they've played in a string of come from behind wins. And unlike the Lakers' version, the Jazz reserves are enjoying success despite expected incompatibility. Watson and Price are both point guards, and small ones at that. Elson and Fes are both true centers teamed up to shoot under five times a game (although the former has been a bigger outside threat than reasonably anticipated.) And as the Salt Lake Tribune's Brian T. Smith notes, their collective raw talent isn't exactly off the charts. Save perhaps the inconsistent Miles, none of these guys would ever start for a team unless it was an absolute emergency.
Still, this group manages to make the most of what can be limited minutes, a classic case of sum being greater than parts. All things being equal, I expect the Laker reserves to get the best of this matchup, if for no other reason than talent often provides the tie. However, a legit battle to gain that advantage is likely in the works.
Folks like these charming gals
Make no mistake. Jazz fans are jarringly nasty lot, willing and eager to take heckling to a whole new level of personal and out of bounds. Having spent an entire Thanksgiving holiday in "niceties" mode, they'll probably even be more fired up than ever to release the verbal hounds at a despised enemy. The Lakers are as experienced a squad as the league offers, so I don't expect them to get "rattled" by crowd, particularly during a regular season game of little stakes in the grand scheme of things. But there's a reason Utah has traditionally performed so well in their house.
The hosts feed off the fans' hostile energy, which gets further accentuated the arena's close quarters. The Lakers must be prepared to respond in turn.