Under most circumstances, I would peg a week against the Grizzlies, Rockets and Kings (a trio with 16 wins between them) as relatively easy. Then again, most circumstances don't typically feature the Lakers hitting the road on a two-game losing streak, but here we are today.
Does this mean I'm worried about the Lakers? No, nor do I think fans should be. It's far too early in the season for such a reaction. Having said that, the Lakers on the schneid makes it illogical to take things lightly. There's a positive roll in need of creating. Thankfully, the chance to enjoy the upcoming Saturday on a three-game win streak is a real possibility, should the opportunity be seized.
Game of the week
Tuesday @Memphis, 5pm PT
None of these squads boast a winning record, but Memphis is at least above .500 at home, whereas Houston hasn't been terribly successful in any locale, and Sacramento is in the midst of an extreme tailspin (1-9 in the last 10 games). Beyond the ability to challenge inside FedExForum, the Griz have been consistently competitive in defeat. Of their ten losses this season, six came by six points or fewer. Throw it all together and Memphis may be outmatched on paper against the Lake Show, but not incapable of providing fits.
There are the usual plot lines to monitor. Los hermanos Gasol going mano y' mano, a showdown historically causing familial conflict-of-interest for Pau. (Outplaying his sib in early November was a theoretical sign of a mental block being conquered.) The Southpaw battle between Lamar Odom and Zach Randolph. A bruised tailbone prevented Z.Bo from participating in the Lakers' November win, but the game changes dramatically with the All-Star power forward in the fold. Randolph is draining nearly 51 percent of his shots (16.8 ppg) while pulling down 11.3 rebounds a night. Four offensive boards per game are especially impressive, so the Lakers must remain conscious of boxing out.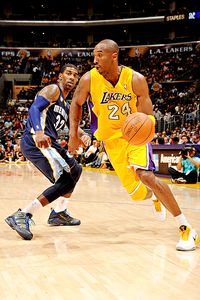 Andrew D. Bernstein/Getty Images
Will Xavier Henry have more luck defending Kobe than O.J. Mayo?
Moreover, there's the new wrinkle in O.J. Mayo's recent shift to the bench, a lineup switch also intriguing Phil Jackson when I broached the subject with him before the Indiana game. During the last meeting between these squads, Randolph's absence thrust Arthur into the first five, further accentuating Memphis' lack of second unit scoring punch. With Mayo as a 6th man, the Laker reserves now must account for a potentially explosive option, albeit one struggling with his shot. The baller USC refuses to acknowledge put up 23 off the pine Friday against the Warriors and represents a handful for Shannon Brown, the Laker jumping to PJ's mind as Mayo's primary defender.
In the meantime, Laker fans will be deprived of the familiar sight of Kobe Bryant attacking -- destroying, to be blunt -- Mayo on defense. Guarding 24 in the post had been especially brutal for O.J., and P.J. noted how this offensive-defensive matchup had been specifically utilized to "take [Mayo's] game away from him by that process." Rookie Xavier Henry now starts, and the kid's superior size (6-6, 220) isn't lost on Jackson. Backing down Henry could be a tougher proposition for Kobe.
Then again, it could be cake. Jackson doesn't really have a solid bead on the Kansas product as a defender, and in all likelihood, there's an element of surprise still in play for Memphis as well.
"They're still not in sync yet with that lineup," explained Jackson.
Finally, Henry is largely anonymous to the casual NBA fan, the kind of player Kobe often decides isn't worthy of his respect and attention. This assessment has a strange habit of giving C-Listers their 15 minutes of fame. Something to keep an eye on.
Wednesday at Houston, 5:30 pm PT
Oh, Shane Battier! You face-guarding little scamp! Who doesn't look forward to a date between Kobe Bryant and one of the more successful Mamba-checkers of recent years? "The No-Stats All-Star" treats guarding Bryant as a test steeped in science and strategy. Both have gotten the upper hand on each other and the deep respect is mutual.
Noah Graham/Getty Images
Fun times always await when these two tangle.
Friday vs. Sacramento, 7:30 pm PT
On paper, the Kings strike me as a well-constructed rebuilding job. They have two budding young stars (Tyreke Evans, DeMarcus Cousins) surrounded by a compliment of role players providing everything from size to shooting to play-making. But rebuilding is by definition a process, one apparently wearing on this squad.
The Sacramento Bee has been littered these days with reports of frustration over failed execution and teamwork, plus the Kings' palpable leadership void. Tough times in our state's capital, and while the season is undoubtedly young, gauged in a vacuum, it feels like Sacto has hit rock bottom.
Of course, a threat with an opponent on the skids is their potential for collectively -- and successfully -- deciding this mess will no longer be tolerated. Could a date with the two-time defending champs spark a "Come to Jesus" moment? Group minds and psychology are hard to predict, particularly with a largely inexperienced team, but the Lakers need to treat the Kings as more dangerous than vulnerable, regardless of which adjective is more accurate.
Player of the week
Shannon Brown
Strong all-around play and a scorching touch from outside has sparked talk conversations about "Most Improved Player" honors, "Sixth Man of the Year" honors and "Will the Lakers be able to afford this dude when he inevitably opts out his deal?" honors. Shannon's growth from last year has been so striking, fans can't help but be a little skeptical. Small purple (and gold) bruises decorate the arms of the Laker Nation as they pinch themselves and wonder if this is just a dream too good to be true.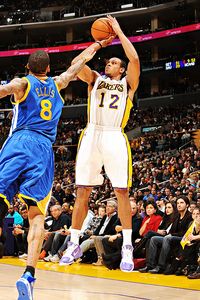 Noah Graham/Getty Images
For the first time this season, Shannon doesn't feel automatic.
Cue Shannon going four-for-17 against Utah (Thursday) and Indiana (Sunday), followed by the grumbles on Lakers Live! and Lakers Late Night! about this being the part where we just woke up.
My two cents? I don't think these games constitute Shannon "coming down to earth," but rather the reality he won't enjoy a 50/40/90 season. These are numbers Steve Nash respectively flirts with from the field, arc and stripe, and with all due respect to Shannon, he ain't Steve Nash. Then again, few players are. In any event, I do think Brown's improvement demonstrated over 17 games is real, so worries about a harsh slap to the face feel premature.
I am curious, however, to see how Shannon reacts to a two-game slump. Will the young player become impatient and try to force things back to "normal," or will he take this skid in stride and continue hoisting quality shots within the construct of the offense? The latter approach is just as crucial a part of Shannon's maturation as any on-court production, so it will be interesting to watch how he handles things.