When last these teams met, November 2nd at Staples Center, the Lakers rolled up a 27 point lead on the Grizzlies heading into halftime. Memphis managed to shave a few points off the final margin, but it amounted to nothing more than window dressing. Take a look at the HoopData box, and save turnover ratio (thanks to a sloppy second half) it's hard to find an area the Lakers didn't just win, but dominate.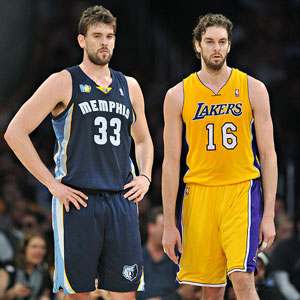 Kirby Lee/US Presswire
Gasol vs. Gasol is just one thing to watch tonight as the Lakers visit the Grizzlies.
It was right in the heart of the salad days, when the Lakers would win eleventybillion games, each by more points than the last. They were invincible, an offensive juggernaut so talented they could probably turn even Theo Ratliff into a volume scorer, if it came to that.
Overstatement? Probably, but it's fair to say whatever unnatural exuberance overcoming some in LakerLand earlier this month has passed, replaced by a cocktail of still-healthy optimism mixed with a few dashes of sober-minded realism. This team is very, very good, but not infallible, most recently demonstrated in consecutive losses to Utah and Indiana.
Tuesday's visit to FedExForum provides a chance to right the ship (not that it's particularly wrong) against an inferior team, but one talented enough to leave the Lakers with a genuine losing streak should they not arrive ready to play. Memphis is 5-4 in their building, including three straight wins. Could have been five if not for a pair of tight losses against quality teams- by one to Portland, by six in OT to Boston.
Things aren't quite as bleak for the Grizzlies as their pedigree might imply. Andy hit a lot of the high points regarding the matchup in our weekly preview, most prominently:
The return of Zach Randolph gives Memphis another dynamic scorer and rebounder (and subpar defender), adding explosiveness to a team in the bottom third of the league when it comes to offensive efficiency.

First round pick Xavier Henry has replaced O.J. Mayo in Memphis' starting lineup, and the look is a little different. (While most of the time guys don't like losing their gigs, for this game Mayo probably won't complain. Kobe Bryant has made a habit out of torturing the former Trojan in the post.)
Here are a few other nuggets to watch...
1. Outside Shooting. The Grizzlies are just a hair out of the league's upper third in defensive efficiency, but are either particularly unlucky or they don't defend the three point line all that well. In the first meeting, the Lakers hit an absolutely smokin' hot 61 percent of their threes (14-for-23). Of course, it was before talk of unsustainable numbers and the current shooting slumps for Derek Fisher (only three makes in his last 21 tries), Shannon Brown (four in his last 17), and the team generally (11-for-38 from beyond the arc in the two recent losses). Like a lot of teams, the Grizzlies will at least periodically pack the lane and force the Lakers to either find more creative ways to get the ball inside, or stretch the defense with good shooting. If they can figure out the former, the numbers say the Lakers should have a good chance to accomplish the latter, too.
2. Rudy Gay. Throughout the summer, I spent time mocking the Memphis Grizzlies for how they handled Gay's status as a free agent. Worried they'd lose him, Memphis solved the problem by offering him a max level contract worth about $82 million before Gay could even dip a toe in the market. Because he's not a stupid person, Gay accepted. Great move for him, not so much for the Grizzlies, who even busted out a live band to celebrate the signing. I've always thought of Gay as the hoops equivalent of a Lil' Debbie Snack Cake. Sweet and delicious, but ultimately just empty calories with long term negative effects on your health. And while you'll never convince me they didn't handle his negotiation poorly and overpay, at least Gay is playing better, by his standards. 21.5 points, 6.9 rebounds, and 2.9 assists, all career highs.
He's raised his PER to career levels, too. Unfortunately, said levels just don't scream "max player." Maybe they would be if he played the Lakers every game? In the first meeting, Gay went off for 12-of-18 shooting for 33 points, plus four boards and three assists, much of it coming at Ron Artest's expense.
My guess is Ron Artest is waiting patiently for another bite at the apple. With Randolph now available to boost the frontcourt, how Artest handles Gay on the wing will be a big factor.
3. Consistency. The problem in Sunday night's fourth quarter for the Lakers wasn't really the late close on Roy Hibbert or the poor rebounding inside freeing Josh McRoberts for cheap points. L.A. held the Pacers to 18 points and 35 percent shooting. That's good, no matter how you slice it. The problem was that 35 percent shooting and 18 points in the fourth wasn't enough because the first three were inadequate on one level or another. Getting off to a good start and maintaining a high level of play is a lot easier than trying to dig late out of a deep hole.
The Lakers buried Memphis early in the first go round. A repeat performance would be welcome, especially with the Lakers playing again tomorrow in Houston.