For the first time since April of 2007, the Lakers own a four game losing streak, a run of poor play none of Phil Jackson's 11 title teams have ever seen. Ultimately, that factoid may not mean much, but it's still a little unsettling, given the sample size of P.J.'s championship squads.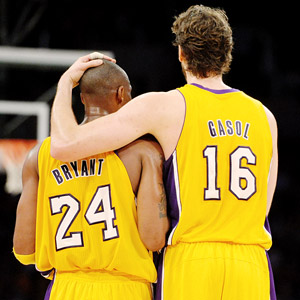 Kirby Lee/US Presswire
"It's ok, man. I know you're struggling with your shot." "Thanks, man. I know you're struggling, too."
For an explanation, fans can point to a fading defense, too many minutes for Pau Gasol, offensive imbalance, and shooting woes for a once-white-hot three point squad, just to name a few. But on a more elemental level, the explanation may be a little more simple: The Lakers have two stars, and both are playing poorly. Gasol's struggles are well documented and much discussed, and meanwhile Kobe Bryant hasn't shot the ball well at all over the last two weeks. To break it down:
Over his last seven games, Bryant is 66-for-164 (40.2 percent), and only nine-for-30 (30 percent) from downtown. Only three times in Kobe's last 10 games has his shooting percentage been over 45 percent, and only once in his last seven. On the season, Bryant is shooting 42.8 percent, which projected over the season (it's early for such talk, I know) would be his lowest mark since becoming a starter after his second year in the league. He's shooting more three's this year than the two seasons prior (4.7 vs. 4.1/4.1) but hitting only 32.1 percent (vs. 32.9 a year ago, and 35.1 in '08-'09).
Gasol got off to a start so good it generated MVP chatter, but over his last five games is shooting only 40 percent, on 24-for-60 from the floor. Since his "perfect game" against Golden State on November 21, only once (at Utah last week) has Pau passed the 20 point mark, and Wednesday in Houston he scored a season-low eight points. Along those lines, the four lowest scoring games of Gasol's season have come in the last five games.
Per the Elias Sports Bureau, their combined 41.44 field goal percentage is the worst over any five game stretch since Gasol became a Laker.
Both slumps are explainable- Kobe is (lest we forget just because he doesn't like talking about it) recovering from offseason knee surgery and didn't get much of a chance to build a rhythm in the preseason, while Gasol is playing four billion minutes a night. But I can't remember a time since Gasol came to the Lakers where both have been this bad for a sustained period at the same time. (Neither, apparently, can Elias, at least as it pertains to shooting and efficiency.) The whole point of having multiple stars is that one can pick up the other when the natural slumps hitting every player (even the great ones) occur. When both are off, it's an entirely different story.
The Lakers clearly need to do some work defensively, but at the same time it's hard to see when they'll gain some consistency until at least one of their A-listers gets back on track.