Things look bad right now for the Lakers, losers of four straight for the first time since April of 2007. Big picture, today's problems, real as they are, don't have to mean tomorrow's failings. This is still a championship caliber team, one welcoming the Sacramento Kings to Staples Friday night. Given how much the Lakers could use a win, the Kings are likely a welcome sight. But there's another benefit, as well:
It's a perfect chance for fans to view a team truly gone off the rails.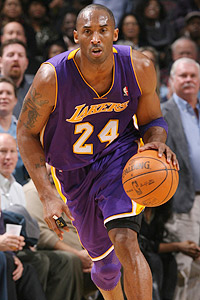 Joe Murphy/NBAE/Getty Images
With the Sacramento Kings in town, Friday's result will be much more about how the Lakers perform than anything the visitors do.
Since starting 3-1, Sacramento has lost 11 of 12, and in only three of those defeats managed to keep the score inside eight points. Cracks are appearing in the already young relationship between rookie big DeMarcus Cousins and coach Paul Westphal (though Cousins was contrite in the wake of a dismissal from a recent practice). Tyreke Evans is in a horrible slump, shooting about 34 percent over his last six games (including one-of-10 from downtown). Beno Udrih has been benched thanks to poor defense. His replacement? Luther Head. Yikes. The Kings are 27th in offensive efficiency, 23rd in defensive efficiency.
I could keep going.
They're a young team playing terribly, meaning the results of Friday's game have almost nothing to do with the Kings, and everything to do with the Lakers. Any sort of reasonably solid game almost certainly gives L.A. a win ... except of late there's been nothing certain about the prospect of the Lakers playing a solid game.
To find out more about what's been happening with the Lakers over the last 10 days or so, I caught up with assistant coach Brian Shaw Thursday in El Segundo.
Q: When you hit stretches like this, do things disintegrate piece by piece, or does it just fall off a cliff? What changes from when things are going well to when they're not?
Shaw: When they're not going well, you start pointing out things that maybe you let go when you won. So now you have reasons to say, ok, this is why we're losing. This is why luck isn't going our way, or whatever you want to call it. Because all the little things start to turn. So I don't think it's a falling off a cliff thing, but more one little thing led to another, and then it becomes a big thing.
It's gradual.
Q: The problems started in game five, but show up more in game 12?
Shaw: Right. And the problem is, sometimes you do get away with it. You still win the game, and it kind of masks [problems]. The bottom line is that teams are playing harder than us, playing smarter than us. We're the defending, two-time champions, they're going to be up for us and give us their best game. Teams that I've played on in the past that have been championship teams, or teams that I've played on that have played against championship teams, there's an aura that you carry with you that can go one of two ways. A team will usually get up for the champs, and then you smack 'em down and by the end they know why you were the champs. Or they just come in fearing you from the beginning, like we don't have a chance to beat this team and you just run right over them.
Teams are facing us, and they may hang for a little while, but then when we don't knock them out, they say oh, they're not that tough. They're confidence is grows, and so now we get [the tough game].
Q: What accounts for the lack of the knockout punch?
Shaw: That's what we're working on, and trying to figure out. Usually when we lose a game, or you lose two games in a row, you come out mad and it shows in the way you play. We're not going to let this happen again. Now this has gone four games, where games we should have won, games where we had leads, leads in the fourth quarter, and we haven't put teams away. Part of it is playing harder, playing smarter. Putting teams down when we get them down, and keeping them down.
Q: If the deterioration is incremental, is the process of fixing things incremental as well?
Shaw: You just have to let certain things slide [on the floor]. You have to nip things in the bud, and correct the habits. So you watch more film, breaking things down, and then you have more teaching segments during practice. Whereas sometimes you just let the guys play and figure it out, now we're going to have to point it out and fix it.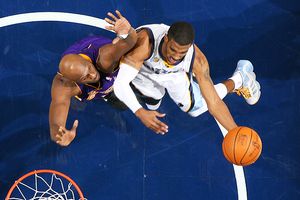 Joe Murphy/NBAE/Getty Images
Mike Conley is among the array of players who have found the path to the bucket a little too clear for the taste of Brian Shaw and the coaching staff.
Q: What problems are you finding most prominently to fix?
Shaw: Defensive rotations, communication, execution on the offensive end in terms of getting everybody involved. Not just throwing the ball to Kobe at the beginning of the shot clock and then just standing around and letting teams converge on him. A combination of all those things.
Q: Why is defensive communication so tricky? It seems it ebbs and flows, whether you're playing pickup ball or in the NBA.
Shaw: When you're winning and defending teams at a high level, it's fun. It's a challenge. We were leading the league in scoring, so that mentality that sets in is that we can outscore a team if we have to. That's the mentality of the Phoenix's and Golden State's. Teams like that, that perennially score a lot of points. They also give up a lot of points. We don't want to fall [into that]. It's nice to be able to lead the league in scoring, but at the same time the challenge is that not too many teams have been able to lead the league in scoring and lead the league in defense.
It's a natural thing to fall into thinking you can outscore teams when you scoring a lot of points. But we're giving up a lot of points now, too.
Q: Where are the signposts you can look at as a coach when you're watching the game, and say, "OK, this is what it's supposed to look like. This is progress. We're back on a better track."
Shaw: Typically if we start the game offensively going inside first and establishing our inside game, I always feel like we're going to play a good game. That softens up the other team's defense, it opens things up for guys to get open perimeter shots, everyone is touching the ball, and so everyone has more energy to give on the defensive end.
If you come down and start off the game jacking up jumpshots, or Kobe has been more aggressive these last few games, attempting more shots in these last few games—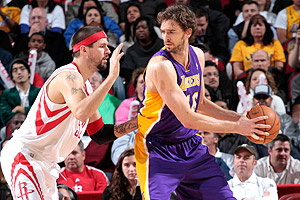 Bill Baptist/NBAE/Getty Images
Pau Gasol is fighting his hamstrings, and fatigue. While the Lakers got the ball inside against Houston, Pau wasn't part of the action.
--Q: In that situation, is it attempting shots early, before other guys get touches?
Shaw: You want other guys becoming a part of the game. So it's like if you just come down and the first pass goes to him, then he explores and takes a shot as opposed to Fish coming down and hitting Ron, Ron throwing it into Pau, Pau hitting Lamar, and now swinging it back to Kobe and then he takes the shot. He's still taking the shot in that possession, but everybody's part of it.
So if it happens three, four, five, sometimes 10 times in a row where [the other guys] don't touch the ball at the offensive end and [Kobe] takes the shot, and they're not going in, or whatever the case may be, now you're not running back as hard and giving as much energy on the defensive end, because you don't feel like you're a part of it.
Q: Against the Rockets, you guys went inside early and often, but then the game deteriorated as you went along? You had a good start on that level, so what deteriorated after?
Shaw: Well, I don't think that Pau ever established himself inside against a team that he should. Lamar had a good game, but we didn't get the Pau that we would normally get. Typically, when I talk about the ball going inside, I'm talking about it going inside to Pau. He can make plays for himself, he can make plays for his teammates. The ball still went inside, but a lot of times it went inside to Kobe, who had [Kevin] Martin on him. But it's still different when it goes inside to him as compared to when it goes inside to Pau.
When it goes inside to Pau, you're not having five guys- when you watch the film, there were particular plays where the whole Houston Rocket team converged around him, and everybody else is just standing around the perimeter. Even our seven footer, who when Kobe is inside, where does he go? Standing on the outside.
Q: What are the components to getting Gasol the ball at the elbow. He's so effective there.
Shaw: If we get into it and hit the first open man, it'll hash itself out. He'll find himself in positions where he does get the ball on the elbow, where he can be very effective. Especially against guys who want to be physical and bump him and bang down on the post. He can turn and face, and use a different skill set that he has. But when you don't allow the offense to get to that point, that's where our problem is right now. Impatience.
Q: On a scale of 1-10, with 10 being bad, how bad do you think you are offensively right now?
Shaw: 10 being bad? We're probably a seven or an eight right now. We're pretty bad. The second unit has actually been playing better, the offense has been working better, than with the first unit. They've been the ones that have kind of been developing the tempo of the game. When they've gotten in, the ball moves, you get the energy of Matt's cuts, and Shannon, and Steve Blake pushing the ball up the sidelines.
Q: And the other end? On a scale of 1-10, how bad has the defense been?
Shaw: (Raises an eyebrow, with no response…)
Q: 10? 12? 14?
Shaw: (Smiling) Right. Exactly.